CyberPower's UPS systems are robust, reliable and affordable with cutting-edge power protection features that allow businesses and home offices to run their networks and computer setups uninterruptedly in the event of an outage or spike.
Your CyberPower UPS beeping can mean a couple of different things. For example it could indicate that the power is out, the battery is low, or it could indicate an overload condition. This article explains why these beeps happen and what you should do about it as well as how to turn off the audible warning if you prefer.
Table of Contents
Why does my UPS beep?
Although uninterruptible power supplies (UPS) are designed to be silent, sometimes they will make a beeping sound. The reason why your CyberPower UPS unit beeps might differ depending on the situation and type of equipment you have. Below are some examples of what could cause the unit to start making noise:
Beeping twice every 15-45 seconds: This is an indication that your UPS unit is running on battery power only and it needs to plugged in or waiting for power to be restored.
Rapidly beeping: The UPS is running out of battery power and needs to be plugged in.
Long solid beep: An overload condition exists, such as too many devices connected to an outlet.
How to stop CyberPower UPS beeping?
UPS unit is running on battery power: Beeping twice every 15-45 seconds.
Make sure the wall outlet is turned on and working correctly. To test try plugging device into another outlet. Try plugging something into the wall outlet like a lamp or fan and see if it works. Alternatively the charging cable could be faulty and need replacing.
Check to that the UPS device is receiving power. The best way to be sure that the UPS is receiving power is to see if its indicator light is on. To check this, unplug the unit and wait a few seconds before checking again.
UPS is running out of battery power: Rapidly beeping.
If the UPS is running out of battery rapid beeping will start when battery has 25% charge remaining. The UPS will automatically shutoff when battery level gets to low. With the UPS off now of the power outlets will work and devices connected to the UPS will shutoff also.
An overload condition exists: Long solid beep.
This might be an indication that your UPS unit is not keeping up with the demand from all the devices connected to it. You might want to consider upgrading your UPS.
If you experience a long slow beep, Likely to many devices are drawing from the UPS device. The quickest fix for this issue is to unplug any less important devices or electronics from the main UPS unit outlets and plug them into the CyberPower Surge-only outlets.
If after unplugging all devices connected to the UPS unit and it's still beeping. Try unplugging the unit from the wall power outlet.
How to Mute CyberPower UPS beeping?
Important note: Alarms are in place for a reason. Turning any beeping alarm off runs the risk of missing an alert. This is a decision you need to make and accept the associated risks.
It is possible to mute the device after an alarm has gone off so that it wont continuously beep.
To turn off your CyberPower UPS users manual should contain instructions about how to do this.
Each device is slightly different so for device specific instructions its best to refer to the user manual.
For the CyberPower CP1500PFCLCD model. Holding the "UP" button for more than 2 seconds will silence the alarm.
Users manuals can be downloaded at the CyberPower website here.
Users Manual
To download users manual simply enter the model number of your CyberPower UPS device in the search box located in the top right of the navigation bar.
Locate your UPS model in the search results
Find and Select the "downloads" tab
Download the 'User Manual'.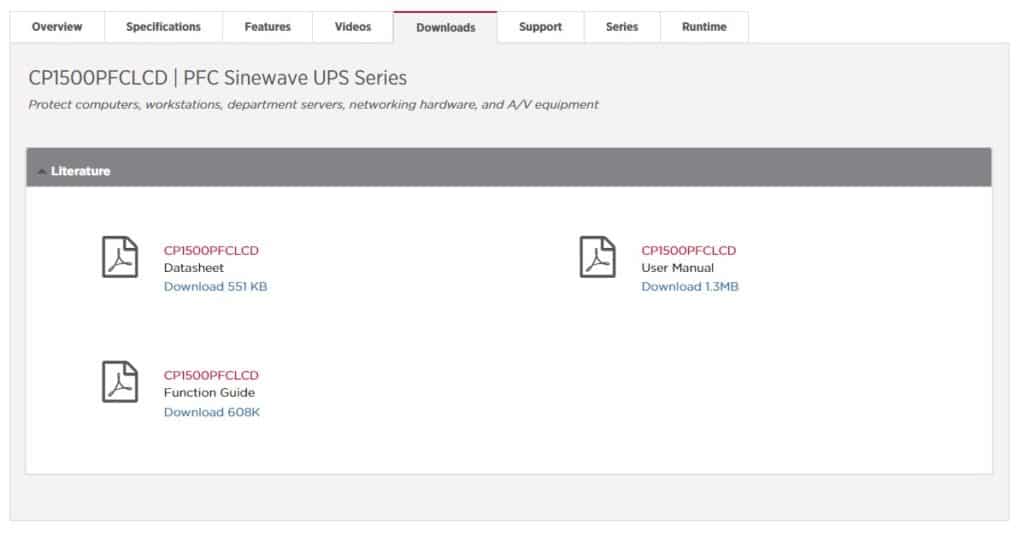 When your UPS device is running on battery power only an alarm beeping twice every 15-45 seconds will occur.
Software Download
If you prefer to not mute alarms manually. it's possible to "disable alarms during power events".
In the following section I will briefly outline how you can download software via the CyberPower website to mute your CyberPower UPS beeping using software settings.
To do this: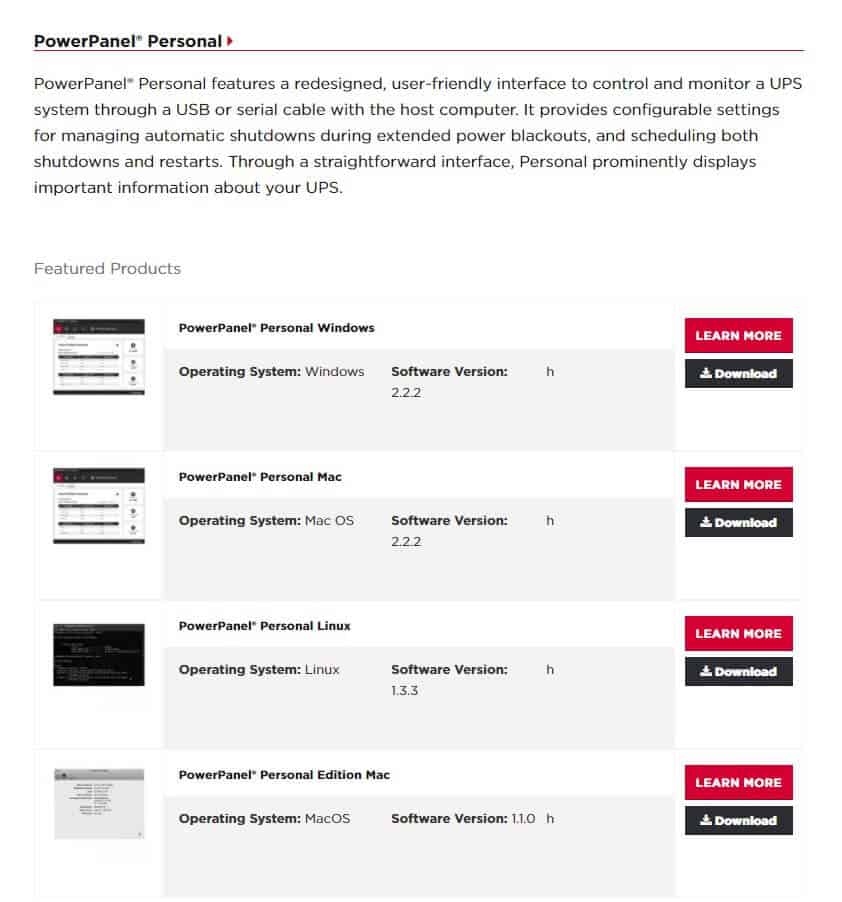 First go to software section of the CyberPower website.
Locate the "PowerPanel Personal – Software Version" for your computers operating system. Select "Download".
Save file to your preferred location.
Open the downloaded software .exe file.
Proceed through the install wizard, accept terms of use, select installation location and wait for software to install.
Once software has installed. Make sure UPS device is plugged into PC. Check that software recognizes device.
Using Software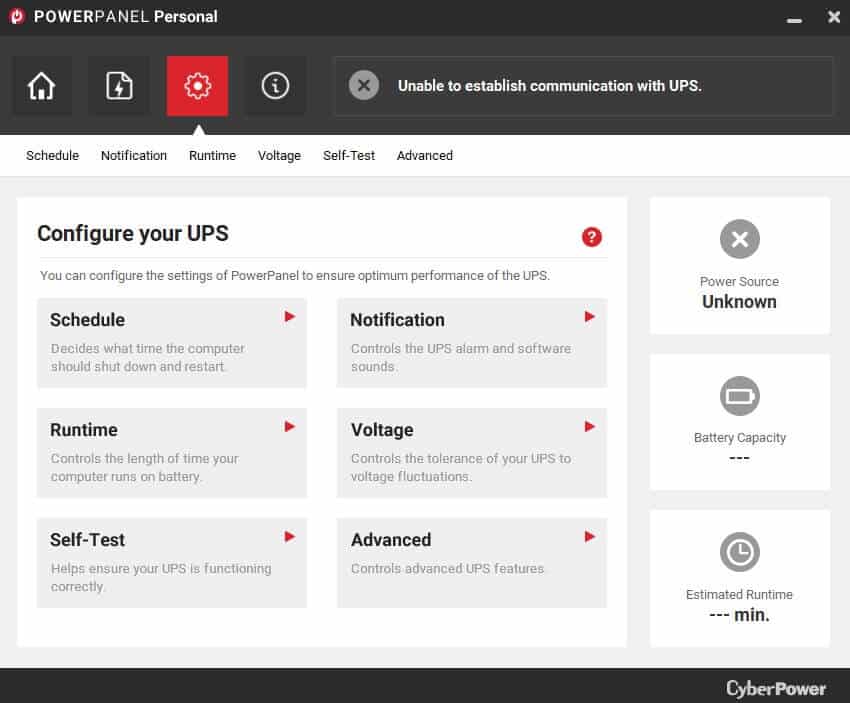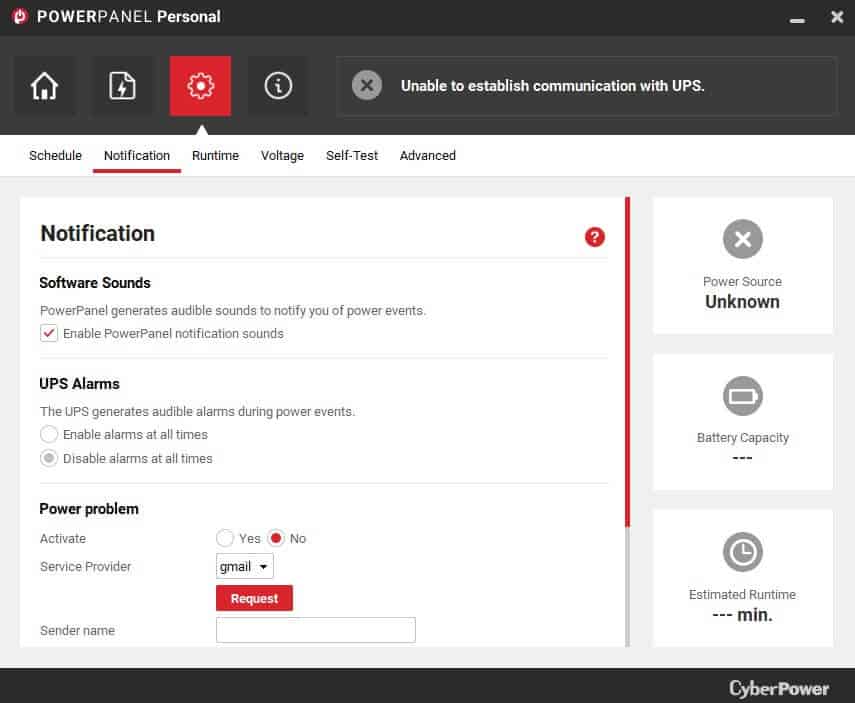 In the software interface window. Go to "Configure" tab (Gear icon).
Navigate to the "Notification" section.
In the Notification section under "UPS Alarms" select "Disable alarms at all times". This should disable audible alarms on your UPS device.