In this post I'll provide a detailed desklab monitor review of the Desklab ultralight portable 4K touchscreen monitor.
This review will be from the perspective of a content creator and active trader. However this review will be useful for anyone interested in a hands on desklab monitor review.
In this review I'll cover all the main features of the monitor. I'll highlight what features are most important when selecting a portable monitor plus I've provided loads of hands on images so you can make the most informed decision about purchasing this monitor.
Plus if you do decide to purchase the monitor using the link you'll receive 10% off all Desklab products!
Below is a quick summary of the product specifications plus a list of pro and cons as a brief summary after reviewing this product.
---
Specifications
Resolution: 4K
Frequency: 60 Hz
Display size: 15.6 inches
Screen type: IPS
Aspect ratio: 16:9
Overall Dimensions: 14 x 9 in. (35.6 x 22.6 cm)
Max Width: 0.43 inches or 11mm
Ports: USB-C, micro USB, mini HDMI
Touchscreen: Yes – via USB-C cable only (Mac not supported)
Compatibility: Windows and Mac OS (Touchscreen limited)
Brightness: 400 nits
Viewing Angle: 178 degrees
---
Ultra slim and very portable
Up to 4K resolution
Touchscreen (not MacOS)
Excellent viewing angle
Good color accuracy
Excellent build quality
Plug and play
1 year warranty
Free shipping for orders over $300
Smart phone and tablet connectivity
Connect keyboard, mouse and phone for an ultra portable workstation
Competitive price
Good Brightness – Suitable for outdoor use
Screen reflections
Speaker quality
Screen and monitor body finger print magnet
Before I start with the review I'd first like to state that the unit supplied in this review was supplied to me by desklab. I don't have to return this product but this is not a sponsored review as in I am not being paid for this review.
Table of Contents
Desklab monitor review unboxing – What's in the box
Included in the box was:
1 x Monitor unit
1 x USB-C to USB-C cable
1 x HDMI to mini HDMI cable
1 x USB-C to Power adaptor (US)
1 x User manual
Optional extras include:
Monitor unit and build quality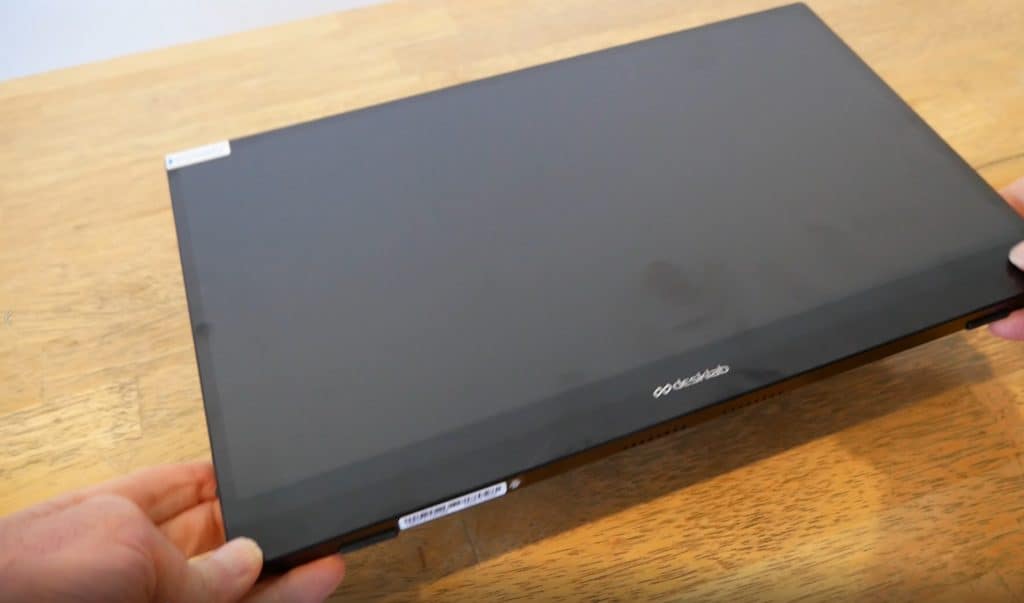 On first impressions the monitor is super thin! Much thinner than any other portable monitor I've seen on the market. The thinnest part of the monitor only measures 0.23 inches (5.8mm)! I measured the base of the monitor at 0.43 inches (11mm).
I weighed the monitor plus cover at 1.4 kgs or 3 lbs. Which is on the heavy side. The weight does give it a sturdy fell and definitely doesn't feel delicate or flimsy. Having said that you definitely wouldn't want to drop it from any sort of height.
The portable monitor has 15.6 inches of display area (diagonal dimension) with an aspect ratio of 16:9. I measured the unit itself at 35.6cm (14 inches) width x 22.6 cm (9 inches) height.
The monitor body (back and all edges) are made from a hard plastic material with a semi-gloss finish. The display surface is a appears to be clear plastic screen that's laminated to the monitor body. This surface is highly reflective and is very prone to finger prints.
The bezel edges on the top and sides are nice and thin. Measuring 0.23 inches (6mm). The bottom bezel is much thicker measuring 1 inch (26mm).
---
---
The monitor comes with a protective film on the monitor screen. This is easy to remove.
The display itself is very glossy and definitely shows finger prints. Being a touch screen monitor, showing finger prints is going to be unavoidable.
The monitor profile is thinnest for 3/4 on the monitors height then steps out to house the monitors processing components, OSD controls (Toogle), power button and external ports:
Ports
2 x USB-C
1 x Micro USB
1 x mini HDMI
1 x 3.5mm audio jack
The bottom edge of the monitor has two small rubber feet these help to prevent the monitor slipping on a desktop surface when propped up using the stand.
The bottom edge also has two sets of centrally located speaker holes.
Stand and cover
The monitor doesn't stand by itself. It either needs to be propped up or you need to use a dedicated stand.
Desklab does produce a stand that doubles as a protective cover and needs to be purchased separately – The Desklab Foldable Magnetic Cover.
If you're planning on using the monitor as a part of a mobile workstation your definitely going to need some sort of protective cover and a stand. The foldable magnetic cover is a simple solution for both purposes.
This foldable cover offers a really simple and elegant solution for a 2 in 1 cover and stand solution. You could purchase a stand and cover separately but it your looking for a simple solution to reduce weight and bulk. The tailored Desklab Foldable Magnetic Cover is a really good option. At the time of writing the magnetic cover was selling for US$50. Check the link above to check the latest pricing.
---
---
The cover itself is made from a plastic canvas type material with a semi gloss finish the same as the monitor unit. The outside of the cover is a smooth finish. The inside has a fine textured diagonal hatch finish.
The cover adheres to the back side of the monitor with two pieces of adhesive tape (included and attached to the cover). It' s pretty simple to install the cover. Simply remove the tape then align the leading edge of the cover with the small step in the back of the monitor but making sure to leave enough clearance for the cover hinges to fold over the top edge of the monitor.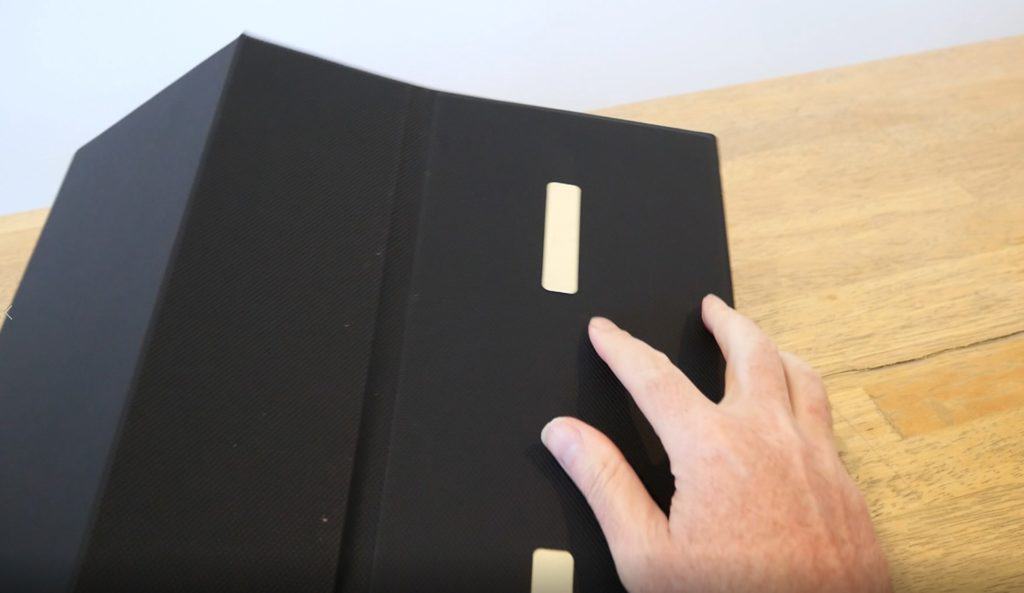 The cover offers I would say decent protection for the most important parts of the unit. The cover leaves the side edges and bottom edge exposed – which includes the ports and the power button. Also the bottom section at the back of the monitor. It does however offer excellent protection for the screen from scratches and small impacts.
With the cover installed the monitor unit maintains it's super slim look. The overall thickness is only about 2.5mm thicker than without the cover!
To convert the cover into a stand. Fold back and over the front section of the cover and hinge the main leaf to prop the monitor at the desired angle.
Connecting the monitor
The monitor is a simple plug and play device.
Most newer laptop devices both PC and Mac should be able to connect using the single USB-C to USB-C cable. This provides a data connection to the monitor plus supplies power.
If you're running an older laptop or you're laptop doesn't support running the 4k resolution at 60hz. Then you'll need to connect to an external power source. If this is the case connect the monitor to your laptop using the HDMI to mini HDMI cable. Then you'll need to power the monitor separately using the US power adaptor to USB-C charger.
You'll likely need to make some setting adjustments like I did. For PC users go to settings>displays. Here you adjust your settings. Mac users will likely have a similar interface. In here you'll likely want to 'extend display' across all your monitors. Also if your operating system menu bars are displaying to small you can adjust the scale in here to make them larger. The monitor should already be set to the maximum 4K resolution at 60Hz refresh rate.
Powered on the display area covers almost all of the monitor units area. The bezels at the top and side look slim and not really noticeable. This is perfect for having 2 or more monitors adjacent one another for display continuity. The bottom bezel is much larger but this isn't really and issue from a usability perspective.
Brightness
One of THE most important feature to consider when selecting a portable monitor is brightness. Measured in nits or cd/sqm (1 nit = 1 cd/sqm). Something between 300 – 500 nits is a good brightness range for a portable monitor. Brightness within this range gives a really crisp, colorful and beautiful display.
The desklab portable monitor has a brightness of 400 nits which is well within this range. Indoors the monitor picture is gorgeous.
I was really interested to see how the monitor would perform outdoors – The images below show the monitor functioning outside on a sunny day in a shaded area. I was actually pleasantly surprised. The results were impressive!
The monitor picture and colors remained crisp, clear and not washed out. The only thing that I did notice I had to be mindful of was positioning the monitor to avoid reflections. Despite this I didn't notice any significant performance issues using the monitor outdoors (out of direct sunlight).
It's also worth noting that the brightness also adjusts to your computer. So if your using the monitor with several different machines keep in mind that the brightness will need to be readjusted each time it's plugged into a new device.
Resolution
Being a 15.6 inch monitor I think the 4k resolution is nice to have but probably a little overkill for a monitor of this size given that it might lag with standard graphics cards or require an upgrade of your graphics card altogether to operate.
Having said that the 4k resolution on the 15.6 inch display is excellent.
There are several options for reducing resolution (i.e 1080p) within your computers operating system settings if required.
Colors
The picture quality looks sharp and clear. The colors looks accurate and consistent with my laptop display.
Viewing angle
I found the viewing angle of the desklab portable monitor to be excellent. Even at angles close to 180 degrees I could still make out colors and images.
The only real issue I had with my viewing experience was the reflections. Particularly at these larger viewing angles.
Usage
Having an external monitor with a laptop is extremely beneficial. All my workstation setups have a multiple monitor setup. Honestly the more monitors and screen real estate the better!
If you travel and / or use a mobile workstation then definitely consider a portable monitor. Especially a touch screen monitor.
You can use an extra monitor as a reference screen, meaning you don't have to tab between pages. This saves time, it's loads more productive and simply offers more screen real estate to use.
The 15.6 inch display is a good size for productivity tasks and displaying plenty of detail!
Having touch screen capabilities is also a nice feature. Mobile workstations can be a little more clumsy than traditional workstations so having a touchscreen function that allows you to scroll up and down and can also zoom in a out is more efficient and user friendly.
If you do like the touch screen zoom feature. Because the 4K resolution, you May need a powerful graphics card to drive dual monitors. Otherwise you may experience some lagging issues.
Keep in mind also that the touch screen functionality isn't supported by Mac OS devices.
I will also note that that monitor doesn't appear to work well with a stylus pens. For drawing and freehand note taking it's best for using your finger.
To adjust the monitors brightness, contrast and other monitor settings the monitor has built in on screen display controls…
OSD (On screen display) controls
To access the OSD control press the toggle button on the bottom left hand corner of the monitor. (To exit this menu press the power button).
Navigating this menu is easy. Press the toogle in to enter. Toogle up and down to navigate through the menu. Press the power button to go back.
In the OCD you can change monitor brightness, contrast, other screen modes and volume controls.
It's possible to adjust Speakers controls within the menu however this is a bit of a pain. Thankfully there is a shortcut to quickly adjust volume and brightness using the toggle control.
To quickly adjust volume press toggle up. Then release then toggle up or down to adjust.
To quickly adjust brightness press toggle down. Then release then toggle up or down to adjust.
---
---
Speakers
The monitor has two built is speakers. these are located on the bottom edge of the monitor. These are positioned in the center and downward facing.
These speakers are definitely a secondary feature and I think with any portable monitor this is a feature that you'd use if you don't have an alternative solution.
I definitely feel this the case with the desklab monitor speaker setup. The sound quality is just ok and the speaker locations suggest that if your looking for quality sound from a portable setup its best to opt for a separate blue tooth solution.
Rotating Monitor – Portrait and Landscape orientation
It's possible to rotate the monitor and use in portrait mode.
This can be done through your computers operating system settings. 
I experienced two issues with this orientation. The two in one cover and stand is unstable in this orientation and because the cables need to come out the top of the monitor the power button are OSD controls are against the desk surface.
So, whilst it's possible to orient the monitor in portrait. You'll probably need a specific mounting setup to make it practical. One possible solution is something like a monitor mount that lifts the monitor above the desk surface.
Mac Support
The monitor is supported by the MacOS operating system and machines. However this does have some limitations.
The biggest limitation is the touchscreen functionality. This is an OS issue and doesn't look to be going away anytime soon. Sorry Mac OS users.
Connectivity – Connecting smart phone, tablets and other devices with the monitor
Offers connectivity to Iphone, Android smart phone and tablet devices via USB-C port.
This is a great portable feature. It means that for selected phones you connect your phone and keyboard to the monitor for a fantastic portable setup.
Warranty
Desklab offers a 1 year product warranty.
Shipping
Desklab ships from both the US and Hong Kong. The product was delivered to me here in australia within 10 days, so I consider that to be pretty good.
Plus shipping is free on orders over $300
Desklab monitor review – Summary
I think the Desklab ultra light 4K touchscreen monitor is a beautifully designed portable monitor. The standout features of the monitor are the ultra slim design, large viewing angle, display brightness and device compatibility (smart phone, tablet, mouse and keyboard directly to monitor).
I love the look of the monitor. I think the desklab team have really taken the time to design a beautiful looking portable monitor. Its built form a ridged semi gloss black plastic and laminated plastic screen that has a nice glass look.
The size and weight of the monitor make it easy to pack along side most laptop machines in a laptop bag or backpack.
My favorite feature is the ability to connect a smart phone, keyboard and mouse to the monitor for an ultra light workstation setup!
The brightness of of the monitor is good at 400 nits. I tested it outdoors on a sunny day in a shaded area and the performance was excellent.
The monitor has a good selection of ports. Some powerful laptops also allow the monitor to be powered with a single USB-C port
Audio quality is ok but definitely a secondary feature – which I think is ok considering that it's a portable monitor first and foremost.
On screen display menu is easy to navigate.
If you are in the market for a portable monitor and want a slim, nicely designed, bright display with excellent picture quality then the Desklab ultralight portable 4k monitor is a great option!
---
---