A quality trading journal is essential to any trader. One of my favorite trading journals has to be the Edgewonk Journal. In this post I will provide an in-depth Edgewonk review.
Edgewonk is a detailed trading analytics platform. Edgewonk offers all of the features typical of a comprehensive trading data analytics. Including tagging, filtering and various charting options. Edgewonk offers broker data import from a good selection of brokers and platforms. Edgewonk also offers a unique feature among trading journals and that the ability to analyse and quantify trader psychology. One of the things that I really like about Edgewonk is its available for a one-time fee of $187. 
This post breaks down the aspects that make Edgewonk great trading journal option. In this post I will cover the main journal features in detail, identifying advantages and disadvantages. Finally, cover the Edgewonk plans and pricing. 
Table of Contents
Edgewonk Review
"The trading journal that turns traders into pros" 
Edgewonk's slogan effectively sums up the journals mission. The platform is powered by nicely designed data analytics and simulation tools. All presented on a simple user interface. 
Edgewonk Features
Feature 1: Simple Journaling
What makes Edgewonk such a quality trading journal is the ability to process huge amounts of data and present them in a comprehensive and simple manner.
Entering complete data in your journal is the most crucial step of keeping a journal.
Adding Trades
Thankfully, right from the get-go, Edgewonk makes it fairly easy to feed data into its journal. It has several options to import data from third parties as well as easy manual inputs. 
Here are 3 easy ways to add trades in Edgewonk: 
Broker Import
The easiest of the bunch is by integrating your brokerage account to the platform. Edgewonk supports a multitude of brokers and trading platforms. See this list here. 
Detailed instructions are provided for each partner broker
Generic Excel Import
In the event that the platform you use is not supported, Edgewonk provides an Excel template that works in a compatible format with their platform. 
A useful tool for global traders with international brokerage accounts
Manual Trade Entry 
For traders who prefer the discipline of manual entry, Edgewonk provides a painless way of inputting trades. 
There are two levels of data that Edgewonk asks from the user:
Regular Trade Data (Required)
This includes generic execution data subdivided into 6 panels:
General Trade Data
Trade Entry
Trade Exit
Price Behavior (optional)
Personal notes 
Individual Trade Statistics: computed by software 
Although there are a handful of fields, the form offers an excellent and painless guide in filling up the journal.
Dropdown menus are packed with suggestions available for use by users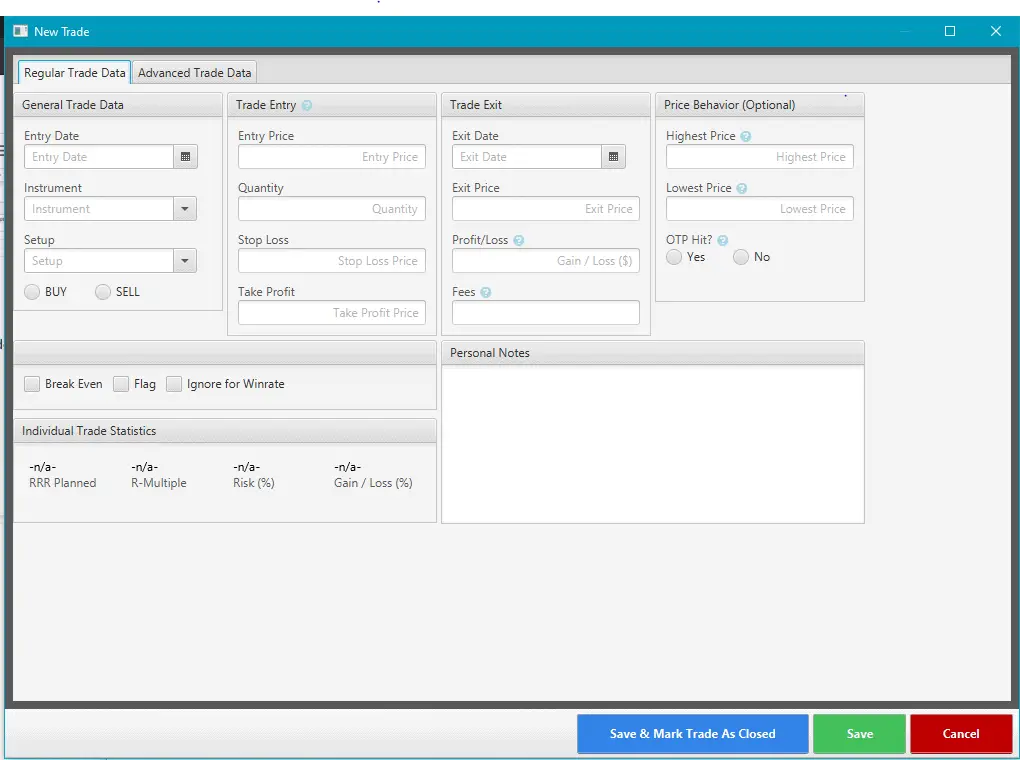 Advanced Trade Data (Optional) 
Advanced Trade Data tab is optional. However, it is highly recommended to tinker on this option. 
This is where traders can dissect a specific trade. There are 4 panels in this tab: 
Custom Stats
Almost all fields have a dropdown option, making it easy to fill data.
Select keywords to apply as tags, label your emotional and psychological state, note market conditions, and many more. Refer to subsection "Custom Stats" under Other Edgewonk Notable Features for more details  
Trade Comments 
Dropdown options make trade comments simple, quick and easy
Alt. Strategies
Enter theoretical gain/losses when a different stop loss/take profit price was applied.  
Screenshots 
Add a link to to a saved image or upload a saved image from your computer.
Journal Dashboard
Edgewonk keeps a simple easy to read record of trade data entered into the software on the dashboard – clean and tidy!
The Journal tab displays all data inputs from the user.
Universal Filters
An effective way to drill down into specific data sets is to utilize Edgewonk's excellent range of filters. 
Edgewonk hosts a comprehensive list of filter options typical to trading journals (date, instruments, setups).
 Refer to the yellow box in the image above.
A feature I really like about the edgewonk jounal that sets it apart from most other software journal options is the phscology coment and filter options. Traders can comment on entry and exit thoughts and trade management thinking. These can all be filtered to identify thought patterns and whether or not a trading plan is being followed.
Refer to the blue box in the image above. 
It is worth noting that Edgewonk's filter options can be utilized in all Edgewonk data analytic reports. Essentially, the filter toolbar is fixed wherever you are in the software. This is a really nice interface feature.
Chartbook
This is a really nice visual feature of the Edgewonk journal. It compiles chart screenshots in album view making it easy to scroll through individual charts, identify patterns and compare setups visually.
From the chartbook – to review a trade, click "Open Trade." This will show all the details of that particular trade.  
Feature 2: Trade Planning and Simulation
Trade Plans
One of the latest additions in Edgewonk is Trade Plans. This is an outstanding feature that most other trade journals don't offer. 
This feature allows trades to document a trade plan in the journal.
Once the plan materializes, the Trade Plan can be moved to the actual journal with a single click. Eliminating the need to enter the trade as a separate entry. 
Trade Simulator
This works in tandem with trade plans.
A proven way of increasing your probability of success is to ensure that your trade plan revolves around setups that are proven to be profitable.
Edgewonk creates simulations based on your own trade statistics – making it uniquely your own.
Toggle the filter tool to project potential gains/losses of specific trade setups, instruments, etc.  
The above illustration shows a simulation of all breakout trades (yellow box). The Trade Simulator tool displays both charted and statistical outputs (blue box). 
Feature 3: Comprehensive Data Analytics
Edgewonk strives to be a complete trader development platform.
Edgewonk offers a comprehensive selection of data analytics options.
Edgewonk trade analytics toolbox include a study of general performance metrics (profit factors, win rates, gains/losses, etc) plus more detailed analysis including holding time, exit optimization (Trade Management tool), psychological biases, even offering discipline gauges (Tiltmeter).  
Trade Analytics
Much of Edgewonk's power is hinged on its comprehensive Trade Analytics tool.
Working like an Excel Pivot table. The Trade Analytics tab is a fully interactive table where you can simply double click to add a particular ordering criteria. Refer to the yellow box in the image below. 
The Trade Analytics tool takes a detailed look by breaking down your performance into various aspects. The popular ones being trade setups and outcomes. However, Edgewonk encourages the use of individual custom statistics.
Upon selection of preferred criteria, Edgewonk will automatically display the core performance metrics. This includes but is not limited to: 
Total Gain ($) 
Win Rate (%) 
Profit Factor: ratio between losing and winning trade 
MAE/MFE: Maximum Adverse Excursion/Maximum Favorable Excursion measures the maximum gain when prices went in your favor and maximum loss when price moves against you. 
Spotting winning and losing trades are easy as the software highlights wins in green and the losses in red. 
Tip: Edgewonk allows multiple Ordering Criteria. Try different combinations for a granular study of your performance. Refer to the blue box in the image above. 
Chart Lab
This analytics tool has 5 graphs that provide a visual of performance. Let us take a quick look on each one: 
Equity Graph 
An interactive chart where you can view Performance %, Account Balance ($), Gain Loss ($) over a certain number/group of trades (orange box)
Select another overlay to expand your study: Tiltmeter, Value without fees, Pips/Points (yellow box)
A statistical overview is also provided beside the chart (blue box)
Underwater Chart 
This chart analysis the effects of losing streaks. The Underwater chart depicts a visual of account draw downs from its balance peaks. 
Holding Time 
A Scatter plot chart analyzing performance relative to holding time. 
Choose a timeframe – from Minutes, Hours to Daily (blue box) – and analyze how performance metrics – Gains/Losses ($) and R-Multiple – fare against that timeframe
This gives insights on whether you are holding on to losers for too long while letting go of your winners too early. 
Tip: The filter tool comes in handy with this chart. Isolate trades using certain criteria to see holding time statistics. 
Trade Management 
When used correctly, this tool will help discover your trading edge. 
Discover how your exits (whether you are honoring stop losses or taking profits) ultimately affects your performance. This feature suggests ways to optimize your trade management strategies.  
 Trade management feature gives you a number-based approach in setting your exit placements – eliminating the need for guesswork. 
This tool is divided into 3 curves that are studied relative to each other: 
Actual Performance (Orange)
Potential Performance (Green) – Represents what your performance would have been if stop losses and take profit placements were strictly followed.
Gain/Loss through Management (Yellow)– Represents a visual of your performance when exit plans were not followed due to active micromanaging. The optimal scenario is for Actual Performance (orange line) to be above or at least near Potential Performance (green line) as this implies that you are strictly following your exit plans. 
Alternative Strategies 
Presents a bar graph of performance of alternative strategies. This gives an excellent comparative picture of how your current active strategies compare against alternative strategies you have been building on. 
Trade Process
The Trade Process tab is where a trader can make detailed notes over a user defined session and any missed trading opportunities.  
The Trade Process is divided into two components: 
Trading Sessions 
A "session" entry can be regarded as a regular diary entry.
The purpose of Edgewonk's Trading Sessions is to record all thoughts/reflections for a particular trading session. 
It is advisable that you do this frequently as this will help identify patterns not only in your trade process but also your thought process. 
Performance stats are automatically displayed for the period covered in the session. This gives you a quick statistical overview of trading performance.  
Missed Trades
Reflect on your missed trade opportunities to identify thought patterns and areas for improvement. 
Edgewonk Tip: Use the Missed Trades feature when testing out or developing confidence in a new system 
Edgewonk compares Missed Trades statistics versus Real Performance statistics. Several metrics are made available for a comparative view: Gain ($), Win Rate, R Multiple, Avg Winner & Loser, among others. See yellow box in the image above. 
Other Notable Edgewonk Features
Psychological Analysis
These is a feature that I love about the edgewonk Journal. Edgewonk goes beyond standard performance metrics and allows traders to quantify psychological performance.
There are 3 data points that the software uses: Psychology (orange box), Preparation (yellow box), and Emotion (blue box). All of which can be found in the Advanced Trade Data tab when you are recording your trades.
Understanding and mapping psychological patterns is something that Edgewonk does beautifully.
A study of the psychological performance can be done by using the 3 data points mentioned above as filters. 
The bar overlay is called the Tiltmeter – a metric that is unique to Edgewonk. I will explain this metric is more detail below.
Tiltmeter
The Tiltmeter gauges discipline by measuring how well the trader follows rules and trading plan.
Traders choose to make positive or negative comments to associate with each trade. The tiltmeter provides a metric based on the balance of positive or negative comments. For example all positive comments produces a high positive tiltmeter metric. The opposite applies for mostly negaitive comments.  
The tiltmeter is displayed on the main journal interface. It can also be charted on a equity style curve to compare performance with the tiltmeter metric to see the effects or discipline by following a trading plan.
Custom Statistics
Custom statistics is a similar feature to journal tags found in other trading journal software. Edgewonk's point of difference is the ability to add multiple filtering layers in classifying trades. 
Edgewonk even provides a dropdown menu with added suggestions for each. 
With Custom Statistics, a trader can account for multiple variables that could play a role in that trade.
There are 9 custom statistics that can be fully personalized by the trader. Here are some of them: 
Timeframes
Trading Sessions: global exchanges (Asian, New York) or day session (morning, afternoon, close)
Market Data: VIX
News releases: Macro/market moving events (GDP, FED interest rate, earnings) 
Indicator Settings: RSI, MACD figures
Pattern: Price patterns and technical indicators (RSI, trendlines)
Psychological: Default settings: Not enough sleep, stressed 
For guidance, Edgewonk provides suggested tags for each field – all of which are customizable. 
You can also take advantage of the free fields by including your personal preferences.  
Edgewonk Advantages and Disadvantages
To get a balanced view of Edgewonk, let us take a quick look at the software's Pros and Cons. 
Regular software updates – New features are introduced frequently. Features are constantly maintained and updated.
Abundant training and learning resources – Blog and website help resources are updated constantly. Goes beyond software technicalities, Edgewonk writes articles that give traders an idea of how to make better use of features
Trader Development Program – One of the reasons behind Edgewonk's success in meeting trader needs is how closely the team works with traders. Edgewonk pioneered a program for traders who aspire to better their craft. The program comes in a package deal with the software subscription.
Edgewonk allows traders to quantify psychological performance – Tiltmeter metric is unique to the journal
One-time Fee for Paid Plan – Great if you have decided that edge wonk meets all your trading journal needs. *See disadvantages for more.
Full Access with Paid Plan – Unlike other journals where access to features depend on account tier, Edgewonk's subscription plan grants access to ALL features.
Free Demo Account Demo account is packed with all the features and already has sample data. Gives a clear picture of what to expect as an Edgewonk account holder.
Compatible with Forex, Futures, Stocks, Cryptocurrencies.
Import data from a good selection of brokers and platforms.
Heavy on trade statistics – Traders benefiting the most in using Edgewonk are those with a large data set of trades.
One-time fee for Paid Plan – Paying a one-time fee has a bigger upfront cost
Limited integration – Edgewonk is a downloadable SAAS program which runs as a computer software ~ it is compatible on Windows and MacAs of writing, Edgewonk does not have a mobile application nor a web-based online journal
Edgewonk Demo Account and Paid Plan
Demo Account
If you would like to see if Edgewonk is compatible to your trading needs, the software has a great demo account to try out. 
Edgewonk makes sign up quick and easy. To begin your demo account subscription, click here. All you need is to register your email address then you are good to go! 
Paid Plan
How much does edgewonk cost?
Unlike the majority of trading journals, Edgewonk only charges a one-time fee to get full access to their trading journal, packed with all the features mentioned above.
Edgewonk currently offers two options for the trading journal: 
Edgewonk Trading Journal 2.0 
Priced at $187 one-time fee 
Get full access to the latest Edgewonk platform 
Trading Journal + Development Program 
Priced at $197 one-time fee
Edgewonk's most popular product
Trading journal bundled with access to a 5-module trader development course 
Steps to Purchasing a Subscription
Get Edgewonk by going to the software's purchase page. Click here 
Select your preferred product by clicking the "Add to cart" button.
You will be redirected to a review page. This is where you can add your coupons, if any.
After reviewing, click "Proceed to Checkout" 
Fill out the necessary fields, read the terms and conditions and privacy policy. Click "Make Payment"