Blogs are an excellent source of information for specific topics – often times based on an authors personal experience. Blogs provide a quick and easy method to source answers to specific questions. The best blogs can be fantastic learning resources. That's why in this post I'd like to list what I think are the 5 best forex trading blogs for 2023.
Best Forex Trading Blogs
The following a list of the 5 best forex trading blogs I have compiled from my own time trading the forex markets. It is no particular order. Enjoy!
1. Learn to Trade the Market
Learn to Trade the Market is a trading blog and education community headed by Nial Fuller. Established back in 2008, the blog is a platform where aspiring traders can learn to trade Forex, CFDs, Futures, commodities, indices/stocks. The majority of posts and focus of the blog is around forex trading.
All blog posts are written by Nial and are structured into different categories: 
Forex Trading Articles
Forex Trading Commentary and Trade Signals/Setups
Forex Trading Strategies
Forex Trading Videos
Nial Fuller's Blog
General blog posts
Not an actual archive; random uncategorized posts  
Additionally, for further ease, the posts in the blog are categorized in accordance with activity/date created:
Latest Post 
Latest Trade Setups 
Featured Post 
Popular Post 
Blog Theme
Learn to Trade the Market takes on an informational and educational theme. 
Nial has a professional style of writing especially when doing explanatory/informational posts. 
The blog has a recurring theme of very detailed articles; perfect for traders who would like to take a deep dive on the topic discussed.
About the Author
Nial Fuller is a highly experienced price action trader, author, and trading coach. His experience in trading financial markets span 18 years garnering a recognition of many as "The Authority" in price action trading. 
Topic Range
The range of topics is rather vast. Many of the topics are tilted towards how to become a better trader – from technicals, trade setups to trading tenets – Nial covers a lot of ground most especially in price action trading. The blog is brilliant free resource. Posts offers beginner traders and more experienced traders some brilliant insights, learnings and take home messages.
Readership
The Learn to Trade the Markets blog grew its readership to over 250,000 traders since its inception in 2008. This vast readership makes Nial Fuller one of the most recognized forex trading coaches. 
Post Frequency
The blog as a whole is not frequently updated except for the Forex Trading Commentary and Trade Signals/Setups posts. This category is updated weekly with fresh ideas and chart analysis seen in current market environments. 
2. Forex 4 Noobs
Forex 4 Noobs is an educational blog that aims to be a reliable resource for forex trading education. The content is created by a 3-man team of professional currency traders – Nick Bencino, George Domaille, and Liz Verroken – who has a combined experience of over 20 years in forex trading. 
Blog posts are structured and fit into one of the following categories:
Analysis
Tips
Live Trades
Webinars
Overall, Forex 4 Noobs offers comprehensive insights on the how-to's, tips, and analyses of forex trading. A notable feature is the Live Trades where Nick/George/Liz explains the thought process and the why's of entering the trade.
There is a lot of beginner content offered which is very much aligned with the blog's forex education resources available on the site.  
Blog Theme
Forex 4 Noobs is touted by the authors as a no nonsense and no hype type of content. The articles and posts bear "practical advice with realistic expectations" and thus offer informative/educational, actionable advice and content. 
Notably, the blog has the recurring theme of advocating for price action trading. 
About the Author
The 3-man team is composed of Nick Bencino, George Domaille, and Liz Verroken. 
Nick Bencino
Over 15 years of trading forex market, Nick is based in the UK, and is the founder of forex4noobs. Beyond forex, Nick also has experience trading the futures, and the cryptocurrency markets. 
George Domaille 
George received his training from Nick and has been trading forex for the past 6 years. George utilizes Nick's price action strategy with an added spin of his own style.
Liz Verroken 
Began trading in 2013, Liz is also an advocate of price action trading and utilizes the same strategy using larger time frames. 
Topic Range
The range of topics is wide but is mainly focused on one instrument: forex/currencies. The topic ranges from comprehensive beginner-friendly guides on many forex concepts, setups, tools, and techniques to article-type tips, opinions, and how-to's of forex trading. 
A glimpse on the opinion and "how to" posts: 
How to Trade Around a Busy Schedule
How to Trade for a Prop Firm
Quitting Your Job for Forex
How Brokers Work 
How to Trade Around a Busy Schedule 
5 Reasons You Should Start Trading Forex 
Post Frequency
Posts under Analysis are quite frequent; around once a week sometimes 2x a week. These posts are akin to market commentaries where Nick takes a walk through on trading opportunities on certain currency pairs.  Posts are accompanied with live trade videos. 
Posts under Tips and Webinars are infrequent relative to posts under Analysis.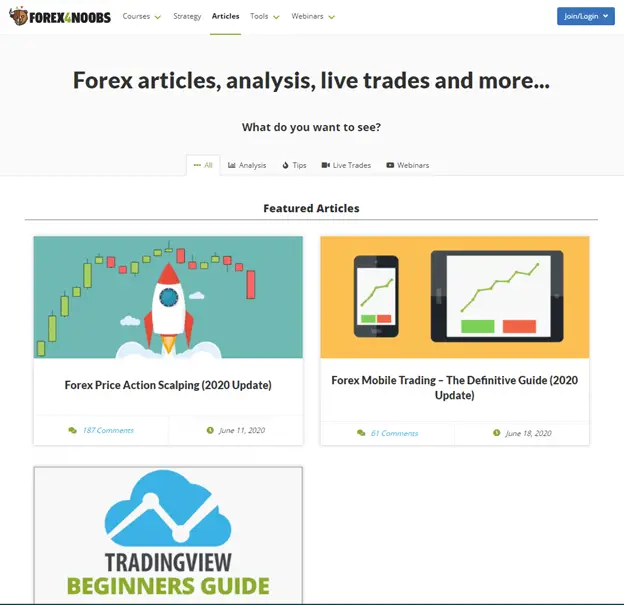 3. Tradeciety
Tradeciety is run by Rolf Schlotmann and Moritz Czubatisnki whose combined expertise in forex trading spans over 20 years. Tradeciety blog is an educational platform that aims to teach readers how to professionally day and swing trade markets. Oftentimes, experts/market wizards share insights via podcast which are adapted to fit the blog setup. 
To date, the blog is populated with over 400 trading articles. 
Compared to its peers, Tradeciety offers a more comprehensive selection of categories that segregates the blog posts. Here is a sneak peek at the various category archives: 
Beginner
Chart of the Day 
Market Updates 
Price Action 
Risk Management
Technical Analysis 
Tips 
Tools 
All in all, Tradeciety currently has 20 categories. Each blog post has corresponding tags which categorizes the post in applicable categorical archives. Each post can bear multiple tags, hence can be categorized into many related archives. 
Blog Theme
Tradeciety takes on an educational and informative theme on their posts. Each post bears value and knowledge which are ultimately constructed to help readers master technical analysis in forex markets.
Each post is very detailed – complemented with multiple charts to illustrate points. The writing style used is rarely argumentative; rather it is analytical and descriptive. Perfect for the learning environment. 
About the Author
 Rolf Schlotmann and Moritz Czubatisnki have a combined experience of over 20 years in trading currencies. Rolf and Moritz are authors of the book Trading: Technical Analysis Masterclass: Master the financial market. 
Rolf Schlotmann
Rolf, aged 33, is a price action trader with preference of over longer time frames. Rolf has been trading over 12 years.  
Moritz Czubatisnki
Moritz, aged 33, used to be a professional poker player now turned day trader. Moritz trades stocks, forex, and futures. With forex, Moritz prefers shorter time frames like the 5-minute charts. 
Topic Range
Tradeciety has an extensive library of article categories. The range of topics is vast as it attempts to cover all bases under technical analysis and trading in general. Take a glimpse at the article directory in the screenshot below.
Instruments discussed in the blog cover forex, futures, and stocks, with majority of the focus on forex.
The focus of topics are on price action, technical analysis and psychology. 
Readership
Over 1,000 people have enrolled and completed the Tradeciety trading education. 
Posts Frequency
Generally, Tradeciety generates frequent content. There are certain article categories that are more frequently updated such as Market Updates and Chart of the Day. 
Through the years, over 400 detailed articles have been posted to the site! You can check the latest posts just by visiting the blog's home page. 
4. Trading with Rayner
Trading with Rayner was founded and built from the ground up by Singapore-based trader Rayner Teo. The blog is loaded with detailed articles that decode bits and pieces of trading, price action and general technical analysis.
Trading with Rayner is a casually written blog without sacrificing professionalism. This is ideal for beginning traders as big concepts are dissected in a way that it is easy to grasp.
For ease, Rayner categorized blog posts in accordance with the following categories:
Price Action
Chart Patterns
Candlestick Patterns 
Trading Indicators 
Trading Psychology 
Trading Tips 
Trading Strategies 
Risk Management 
Blog Theme
Many of the articles have a recurring theme of unraveling unspoken truths or realities that surround trading. Moreover, each article is straightforward. Rayner has the talent of breaking down complex topics into simpler bite size pieces. He takes on a casual tone in writing as well. 
These themes are in line with the values that Rayner repeatedly upholds which is to cut the hype and be straightforward. 
About the Author
Rayner Teo is the most followed trader in Singapore. He specializes in price action trading and has authored several publications (which is downloadable for free). Rayner graduated with a PhD in finance, he began his trading career in a prop firm for two years. As of today, Rayner is an independent trader. 
Rayner is also recognized as a blogger-influencer. His YouTube following has garnered over 170,000 subscribers.  
Topic Range
The topic range in the blog is particularly centered on the technical analysis aspect of trading, more particularly trend following and price action. 
Other times, non-technical trading topics are also posted, such as tips on growing a small trading account and unspoken truths about trading. Nonetheless, all topics are crafted keeping in mind the value it can bring to any trader. 
Readership
According to the website's data, Trading with Rayner grew its readership to over 100,000 followers. 
Post Frequency
Unlike other blogs reviewed, Trading with Rayner blog does not have daily market or chart updates. 
Post frequency comes at 2-3x a month. Despite being infrequent relative to its peers, Rayner does not disappoint as all posts bear very detailed content.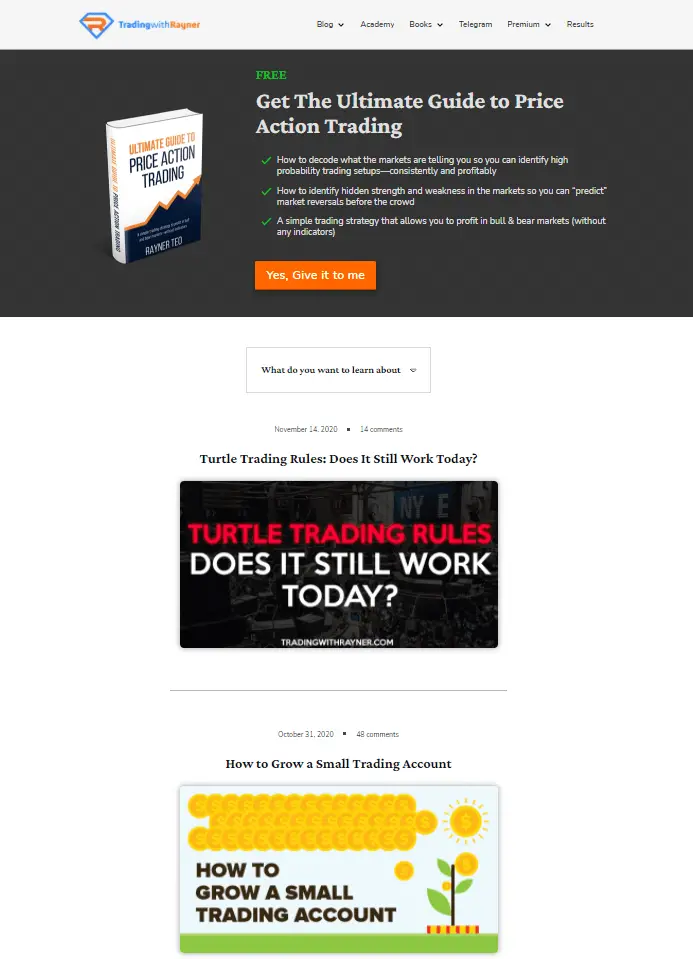 5. Trading Heroes
Trading Heroes is a forex-focused trading blog founded by Hugh Kimura back in 2007. The blog is designed to help forex traders discover the path to positive and tangible results. 
Trading Heroes, content includes courses, resources, and blog posts. The content aims too:
 Find strategies that fit unique personality, lifestyle, and risk tolerance 
 Understand the process of back testing strategies. 
Understand the truth behind trading psychology 
The blog is categorized into several archives with each bearing a corresponding tag for ease: 
Forex Trading for Beginners
Forex Trading Strategies
Forex Back testing 
Forex Forward testing
Economic Concepts Explained 
Cryptocurrency Trading 
Trading Platform Tutorials
Forex Trading Psychology 
Trading Tools and Resources
Forex Brokers 
Oftentimes, blog posts are written by guest writers like Dan Blystone, Chief Market Strategist from Scandinavian Capital Markets and a good friend of Hugh. 
To add flavor, some posts are also accompanied with videos and exercises. 
Blog Theme
Trading Heroes blog takes on an informative, casual, and personal theme. The articles, unlike other blogs, are not too heavy as Hugh does an excellent job in dissecting big forex and trading concepts into understandable bits.
Despite having detailed articles, the blog post, oftentimes, is written in bullet format making for easy reading. 
About the Author
Hugh Kimura is an independent trader and a trading performance coach. Prior to becoming an independent trader, his trading career included working on a trading desk of a hedge fund. 
Topic Range
The topic range is centralized in one market – Forex. However, cryptocurrency articles are sometimes tossed into the mix. 
Because Trading Heroes subscribes to the beliefs that building and testing strategies and mastering trading psychology are keys to trading success, the topic range has grown through the years. 
From multiple articles on trading psychology to backtesting forex strategies and even economic concepts, Trading Heroes is a great place of learning for traders of any experience level. 
Readership
Trading Heroes, established in 2007, is one of the longest running forex education websites on the internet. 
Posts Frequency
Blog posts are fairly frequent relative to its peers. Posts frequency ranges from 1-3x a month and is a mixture of articles from different categories.