The goal of this post is to provide an easy to follow beginners guide to setting up and using Sierra Chart. This guide includes all the basic information required to get up and running fast.
Sierra Chart is my Trading Platform of choice. In this post find out why I rate Sierra Chart so highly as I describe step by step how to get started with the platform.
Table of Contents
What is Sierra Chart
Sierra Chart is a powerful professional trading platform. It's easily integrated with many external brokerage trading services and it supports both live and simulated trading.
The platform is a great alternative for those familiar with the Ninjatrader platform. Sierra Chart offers many of the same features; an easy to use interface, multiscreen functionality, customizable charts and tool properties and on chart order execution and modification. It also includes an excellent, easy to use market replay function that in many ways is superior to that offered by NinjaTrader.
The platform also comes integrated with most indicators and tools making it one of the most complete all in one trading platforms available.
On top of this the platform is lite – requiring little in the way of computing power to run smoothly and is stable running multiple monitor setups with minor upgrades in addition computing power.
If you are interested in finding out more about using Sierra Chart the following guide provides a complete overview of how to use Sierra Chart and many of the basic functions to get the most out of the platform
How to download Sierra Chart
Sierra chart is easy and free to download and open a demo account. To download a the latest Sierra chart software follow the instructions below:
Click  the link to open the sierra chart download page
Click the 'Download' button
Select folder location to download .exe file. Once file has downloaded run .exe file as normal and Sierra chart will install on your system. EASY!
The Sierra Chart icon should appear on your desktop or in our list of applications. Use Sierra Chart (64-bit) for optimal performance.
What are the PC requirements for Sierra Chart
One of the great things about Sierra charts and why so many traders love it, is its extremely low CPU demands. For the most part as long as your system isn't older than 7 to 8 years old it should be fine running Sierra Charts.
If you plan to run a multiple monitor setup you may want to ensure you have the following:
Minimum 8GB Ram
2.8 GHz Processor
Quality graphics card capable of supporting multiple monitors (ATI or Nvidia)
How to run Sierra Chart on a Mac
Sierra Chart is not currently designed to run on the OS operating system. However it can be run on your Mac hardware using a virtual machine that runs windows along side OS. The best option for do this is using Parallels. To do this:
Download and Install Parallels software.
Install Windows operating system on Parallels
Install and run Sierra Chart on Parallels
How to open a Sierra chart demo account
Once the Sierra charts software is downloaded you will need to open a Sierra chart account to activate a use the platform.
There are two options for opening a Sierra chart demo account:
Directly though Sierrachart.com
Though a brokerage account
The most cost effective method for using Sierra Chart demo account is through a brokerage account.
The following are instructions for opening a demo account using either of these methods:
Opening a Sierra Chart 15 day free trial through sierrachart.com
Sierra chart offers a once off 15 day free software trial. After this period expires you need to 'activate and pay for a sierra chart service package'.
This charge is actually very reasonable compared to other charting software services. For more details on pricing see the '
How much does Sierra Charts Cost ' section below.
To open a Sierra chart account:
Click the link to open Sierra Chart create an account step 1
Enter in your details as requested and select 'create account'
Your account should now be created.
See below for how to log in to Sierra Chart.
Opening a demo account through a brokerage account
It's possible to signup for an account through a brokerage service to access Sierra charts for free or at a reduced rate (depending on what package you choose). This will require opening a live account and depositing an initial funding amount.
I like using AMP futures. They offer free or reduced price usage, low initial funding amount of USD $500, no monthly inactivity fee and some of the best trading commission rates in the market.
To access a brokerage demo account:
Open a brokerage account, see section below: 'How to open a Sierra Chart brokerage account'
Login to Sierra charts, see section below: 'How to login to Sierra Chart' and 'How to connect to live data feed'
Click the 'trade' tab at the top bar. Mark 'trade simulation mode on'. Using your new brokerage account you can now trade in demo mode.
How to login to Sierra Chart
With your new Sierra Chart activation details issued to you via email either from Sierra chart direct or via your broker you can login to the platform.
Double Click the Sierra Chart desktop Icon to launch platform. Use Sierra Chart(64-bit) for optimal performance.
Enter your Login details into the 'Account Name' and 'Password' fields.
Select 'Login' and Sierra Chart will start. Once started, Sierra chart needs to be connected to a data feed to receive market data to trade. See 'How to connect to Sierra Charts data feed' section below.
How to connect to a data feed
To trade live or download market data to demo trade you will need to connect to a data feed.
There are several ways to get access to market data:
Sierra Chart 15 day free trial through sierra chart – Sierra chart issues free market data with their 15 day trial
Open a brokerage account – BEST OPTION
Free brokerage demo accounts – If only wanting to trade in demo and happy to pay the monthly Sierra Chart platform fee it is possible to sign up for a new demo account every 14 days to receive free market data. This is a bit of messing around though. Since you need to pay platform fees anyway in my opinion it is better to just open a brokerage account.
Data Costs
The easiest method to receive data is through your brokerage account. Data is cheap depending how many markets you wish to trade. The following in a list of Exchange market data rates quoted by AMP Futures.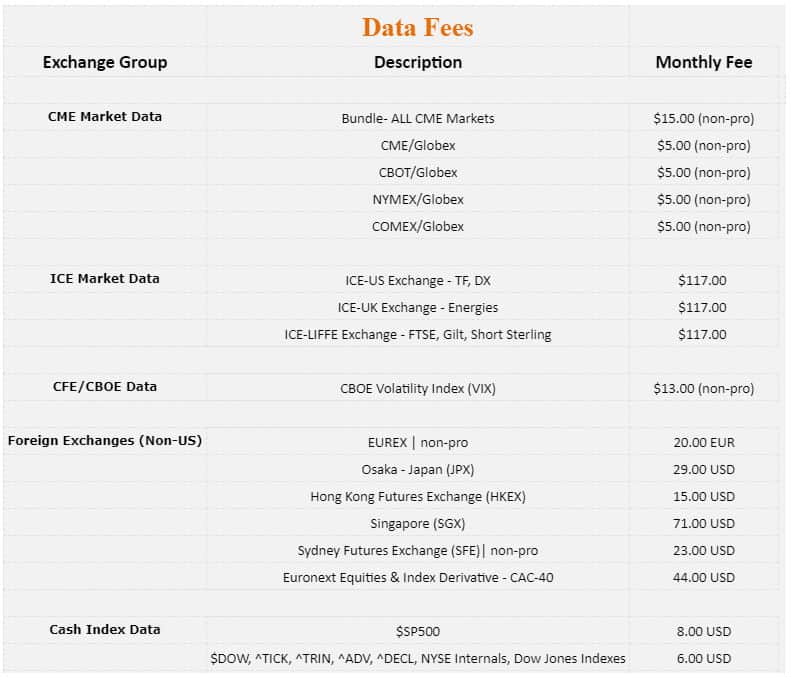 If you are looking for a list of what markets trade on what exchange the following link is a useful reference- Instruments, Exchanges and Commissions.
There are several data feed types available. These typically include CQG, TT, Rithmic etc. For the purposes of this post CQG is a good option. Others can be explored at a later date depending on your trading needs.
Data Feed connection in Sierra Chart
To connect to your data feed via Sierra Chart:
Go to file in the top bar. Select Data / Trade Service Settings. The following window will open.
In the 'Server' field select 'Live' or 'Demo'. If using a free demo account provided by a broker. Select 'Demo' here. If trading live or wanting to trade demo using a funded brokerage account select 'Live'. To trade demo ensure to mark the 'trade simulation mode on' under the trade tab in the top bar of the main window.
Enter in your data feed credentials in the 'username' and 'password' fields.
Select 'OK' when done and Sierra Chart should connect and you are ready to trade.
How to use Sierra Chart chartbooks
Sierra Chart chartbooks is the best method for allowing users to quickly and easily setup preferred chart settings and trading desktop configurations.
It allows users to save indicator and tool settings that relate to individual and multiple charts. It also allow users to preset chart and window configurations for multi-monitor setups to open on startup.
Chartbooks create a single importable file that contains all saved charting information.
How to create a Chartbook?
Sierra Chart makes creating a Chartbook very easy!
Go to File > New Chartbook. Thats it! Now new charts can be added using the method described below.
To save the newly created chartbook. Go to File > Save As. Name the chartbook as you like.
Where are Sierra Chart Chartbooks stored?
Chartbooks can be shared and imported to other machines running Sierra Chart.
To locate your newly created Chartbook. Locate your SierraChart folder. This is typically created under C: Drive. Open the SierraChart folder. Select the Data folder and find the .scid file relating to your chartbook.
How to detach charts from a Chartbook
If you wish to create a multi-monitor setup using Sierra Chart, the individual charts need to be detached from the main chartbook window.
To detach a chart from the main chartbook window, select the chart to detach. In the main chartbook top bar menu select Chart > Detach / Attach Chart Window. The detached chart can be dragged to a new monitor or configured separately from the main chartbook window s required.
How to open a new chart
There are two chart options available in Sierra chart:
Historical Chart – Time period charting options daily, weekly, monthly, quarterly and yearly only.
Intraday Chart – All other intraday charting types: Time period, Tick, Volume, Renko, Range…
To open either of these chart types select File in the top bar > New/Open Historical Chart or New/ Open Intraday Chart.
To Customize the chart settings select Chart in the top bar > Chart Settings. Alternatively use the CS button located in the customizable chart tool bar or use keyboard shortcut F5.
In the chart settings window select market/contract to trade in Symbol, Chart data type, bar period type… Most chart settings can be found in this window.
For chart graphic settings. Go to Chart > Graphic Settings – Chart. Here charting background colors, bar colors, font colors and window colors can be edited.
How to add indicators in Sierra Chart
Indicators in Sierra Chart are called 'Studies'. There are 4 quick ways access the studies window.
In the main window top bar menu go to Analysis > Studies, or
Right click on the chart window and select Studies, or
In the customizable chart tool bar click SW, or
On your keyboard shortcut F6
To add a study to a chart:
From the 'Available Studies' Window scroll to select the required study.
Click 'Add'
To amend study settings, select 'Settings' found to the right of the window. The main settings can be amended in the 'Settings and Inputs' tab. Colors, line width and line type in the 'Subgraphs' tab.
How to use 'Trade Window'
The 'Trade Window' feature in Sierra Chart allows users to add, amend and cancel orders directly on the chart. There are lots of very useful features included in the Chart Trade window so its worth spending a bit of time getting familiar with what it has to offer. Below is an outline of the basic functions to get started.
The features of the 'Main' and 'Targets' tab will be discussed below. Set, C and A offer more detailed customization. For simplicity these features will not be discussed here.
To access chart trade open any chart. In the chart book top main bar. Select Trade > Open Trade Window For Chart.
The 'Trade Window' will open over the chart. Depending on your preferred chart windows layout, you may prefer to have the 'Chart Trade' window separate or attached to a chart.
To attach the 'Trade Window' to a chart. Go to the Chart book top main window, select Trade> Attach Trade Window To Chart. The Chart Trade window will attach to left of the chart.
In the 'Trade Window' panel are options for placing trade orders:
'Main' tab:
The most basic orders are 'market' orders and 'buying' or 'selling' on the 'Ask' and 'Bid'.
'Flatten' / exit all open positions
'Reverse' positions
'CancelAll' open positions and pending orders
Order Quantity buttons: how many contracts are to be traded.
'Use Attached Orders'; enables automated target and stop placements nominated in the 'Set' tab.
'BE' – Moves stop to Break Even
'Target' tab:
In the 'target' tab is where 'attached orders' can be preset. Attached orders are pending orders that are automatically placed when an initial buy or sell order is executed.
'Attached orders' can be added or removed by selecting Add and Remove.
Attached order parameters can be amended with the selections listed below:
'Type' of order to be placed. There is a large selection of stop and target order types. Selections include variations of stop and limit orders these include trailing stop orders.
Depending on the order 'type' selected, varying parameter fields for these orders will appear. Typical parameters include: 'Offset' – The number of units from the initial order the order is placed . 'Trail Offset' – The number of units an order will trail current price. 'Trigger Offset' – The number of units price needs to move to trigger a trailing order. 'Step Amount' – The number of units price needs to move to trigger an additional order trail.
Price units can be set at the top of the parameter box. Selections include: Price, ticks or percentages.
'Quantity' sets the number of contacts to be traded per order.
Move To Breakeven for Stop: Various move to break even parameters can be set. 'Type'– Allows the user to choose how the BE function will work. Their parameters include 'BE Level Offset' – Units from BE the order will be moved. 'Trigger Offset' – The number of units price needs to move before the BE function is activated. Step 1 and Step 2 allow for a 2 step BE strategy to be set.
TIF( Time In Force): Select the expiration date and time of open orders
How to Enter Order on the Chart
There are main four types of orders that can placed using the on chart trade feature:
Market Order – Executes an order immediately at the best 'available' price. Buy Markets orders execute on the Ask. Sell Market orders executes on the Bid.
Limit order – is an order to buy or sell at a specific price or better. A Limit 'buy' order can be executed a the limit price of lower and limit 'sell' order can be executed at the limit price or higher.
Stop Order – Also known as a stop loss order. It becomes a market order once the market reaches a specified price. Despite the name, stop market orders are also commonly used to enter the market.
Stop Limit Order – Opens a limit order once price reaches a specified price. The Limit order executes at the specified price or better.
To open an on screen order:
Right click on the screen where you want to place the order. For example if you want to place a buy limit order right click below the current price.
Select the order type you want from the pop up window. The order will appear on the chart as an order 'Flag'. if using attached orders these will also appear.
To amend the price that the order will execute. Drag the flag to the correct price. To cancel the order left click on the 'X'. The order type and number of contracts will show on the left of the flag.
How to use market replay
The Market replay feature of Sierra Chart is a fantastic feature of the platform. It allows simulation trading of any market at anytime. It's excellent beginner traders who can't always be at the market open.
One of the best features of the market replay is its ease of use. There is no need to manually download market data and the replay functions and easy and initiative to use.
Market replay provides a full data replay of any days trading. Market data can be replayed at real time speed or sped up in multipliers of 2x, 5x, 10x, 30x, 60x,120x, 240x…
How to play market replay data
In the Chartbook top main menu bar. Go to Chart > Replay Chart > Replay Chart (Control Panel). Alternatively Select Rpl in the Chartbook main menu icon tool bar.
In the Replay Chart Control Panel window set market replay parameters. For a standard market replay under 'Replay Mode' select Standard Replay. This is sufficient for most purposes.
Select what charts to display the market replay data under 'Charts to Replay'. All Charts in Chartbook is the default setting. Other options include Single Chart or Charts with Same Link Number.
Nominate a start date and time to begin the replay. Check 'Use Start Date-Time'. Select date and time.
Set Replay Speed from drop down tab.
Click the Play and Stop buttons to control the market replay playback
If you wish to jump ahead or rewind data replays. In the 'Jump' Box Select Jump unit and set unit increment. Double forward and back
arrows Jump data playback.
How much does Sierra Chart Cost
Sierra Chart does not offer a platform purchase option like some other platforms. It must be leased on a month, 3 month or 12 month basis. The great thing about Sierra Chart is that its very cheap to lease and even free with some brokerage firms.
There two options that I prefer for acquiring Sierra Chart:
Sign up for a Sierra Chart account via their website
Open a Brokerage account that offers free and discounted Sierra Chart usage.
Charting Package Options
Sierra Chart offers 2 charting packages:
Package 3 – Price: 24 USD / Month
This is the standard charting package and includes all the software functionality except a handful of advanced features listed in the Sierra Chart Package 5.
Package 5 – Price: 33 USD / Month
This included all the standard package feature plus advanced features listed below:
TPO Chart Study
Number Bars
Number Bars Calculated Values
Market Depth Historical Graph
Volume Profile Interactive Drawing Tool
Increased number of historical data queries with the Sierra Chart Historical Data Service
Free and Discounted Sierra Chart packages
A good option for getting free or discounted SC platform usage is to open a brokerage account.
AMP Futures offers free usage of Package 3 and Package 5 at 25 USD / Month.
How to open a brokerage account
List of Brokers
Sierra Charts supports a number of brokerage trade services. Click the link for a list of sierra chart brokerage options.
Opening a Brokerage Account
If you just getting started with Sierra Chart and early in your trading career, AMP futures is a good brokerage account option. They offer a low minimum initial deposit, low margin requirements and some of the the best commission rates. The following is a step by step guide of how to open an AMP brokerage account.
Go to AMP Futures and click Open Account at the top of the page.
In the bottom left hand corner of the window select 'Click here if you don't have an account' or 'Open Account Now'
Next to 'Account Type' select the appropriate option.
Read the 'Electronic Signature Agreement' and select 'Begin Application.
Complete each of the tabs: Personal Info, Asset Info, Trading Profile. Remember to keep your new username and password in a safe place these will be required into your online account.
Read and complete the Representations, Disclosures and Finalize. In these sections you will be asked to agree to a series of agreements, trading disclosure statements and provide proof of ID and Proof of Home Address.
Once all the steps are completed you will receive an email notifying your application is under review.
Within a day assuming the information provided is correct, your application should be approved. Included in this email is instructions for funding your account. This can be done via wire transfer, ACH transfer or Check.
If you wish to transfer funds directly from an existing brokerage trading account. Complete this form and return to AMP.
You will receive an email notification once your funds have been received. Included in this email will be a link for a live trading platform setup request.
You will also receive a separate email including 'Live' Trading – Setup Instructions. This will include your data feed username and password details. Remember to keep these in a safe place. For instruction for how to connect to your new live data feed see below.
How to connect to live data feed
To Connect to your new 'Live' data feed follow the instructions listed above under 'data feed connection in Sierra Chart'.
Instead, select 'Live' at the server tab and enter your new Data Connection credentials issued by your broker at 'Username' and 'Password'.
Using Live account data feed to switch between demo and Live trading
Your new live account data feed can be used to trade both in 'Live' and 'Demo' mode. To switch between the two, in the chartbook top menu go to Trade > Trade Simulation Mode On. Check if trading in demo and uncheck to trade live.
Your now ready to trade live!