Trade Ideas is consistently rated the best stock scanner on the market today. But there is much more available with a Trade Ideas subscription than just a stock scanner! In this post I will provide a complete Trade Ideas review including all the features the platform offers!
---
---
---
Trade Ideas offers access to the FULL suite of Trade Ideas applications on a periodic basis (typically quarterly). A Trade Ideas Test Drive offers 1-2 weeks of Premium subscription access for a small fee (Typically $11.11). To get notified about the next Trade Ideas TEST DRIVE event click the link.
---
Table of Contents
What is Trade Ideas?
Established in 2003, Trade Ideas is a feature-rich platform powered by proprietary cutting-edge technology. It is popularly known for being one of the best scanners in the market. Beyond scanning, the software offers a suite of powerful tools including a whole trade cycle of AI automation, trade simulation, powerful backtesting, and portfolio management. 
Other than investment tools, Trade Ideas offer a variety of educational materials including webinars and trading rooms. 
Trade Ideas' top tier technology is used by popular brokers and platforms like Interactive Brokers, NYSE, Nasdaq, and Bear Bull Traders. 
Pros and Cons
Trade Ideas Scanner is powerful and regarded as one of the best today.
Rich selection of scans available for every type of trader.
High versatility makes it suitable even for day traders.
Offers pre-built and customized scanners.
State of the art technology Artificial Intelligence (AI) Holly is top tier technology offering actionable market intelligence (i.e., trade setup suggestions).
Flexibility of Web-based and Desktop-based platform.
Offers limited demo version and web-based version of TI Pro.
Generally high learning curve.
Platform may not suit the needs of entry level traders as it is feature-heavy and has very advanced technology.
No full function platform free trial.
Platform is only available for stocks.
Trade Ideas Subscription and Pricing Options
Generally, Trade Ideas offers two subscription options: Standard and Premium as well as two payment options monthly and annually. Both subscription options are recurring with contract lockups. 
---
---
The Trade Ideas Standard Plan is priced at $1,068/annual or $118/monthly. 
The Trade Ideas Premium Plan is priced at $2,268/annual or $228/monthly. 
| | Premium | Standard |
| --- | --- | --- |
| AI: chart-based trade assistance | YES | NO |
| AI: virtual trading analyst (Holly AI) | YES | NO |
| Screener: Real time streaming trade ideas | YES | YES |
| Real-time:  Simulated trading | YES | YES |
| Price alerts | 500 Alerts | 500 Alerts |
| Live trading room | YES | YES |
| Simultaneous charts  | 20 | 10 |
Trade Ideas Review – Platforms Features
Trade Ideas Scanner
This is the core feature of the Trade Ideas software. The scanner is designed to scan, filter, and present stocks that fit a criterion selected or created by the user. 
Pre-built Scanners
The scanner has a rich collection of pre-built criteria suitable for most trading styles (day trading, momentum, swing). Out of the hundreds, among the favorites are: Social Media, Pre-Market, Gappers, Earnings Plays, Breaking out on Volume, Halted stocks… 
The default display of its workspace shows a panel organized into windows. The default set, aside from those mentioned, are the following: 5-min candles down, 5-min candles up, Surging up/down.   
Trade Ideas Channel Bar is a series of 'tiles' that are default workspaces like Penny Movers, Crypto, Alpha Predators, My Liked Symbols, among others. These tiles are workspace templates that comprises a set of windows displaying different sets of scanners that fits the template theme. 
Customizable Scanners
You can also customize your own scanners using your own parameters to create a criterion that fits your own trade setups. 
Charts
The software also offers its own proprietary charts. The charts are linked to symbols that are displayed on the scanners. You can quickly pull up to 10-20 simultaneous charts through a single click.
The Trade Ideas chart definitely aren't as sophisticated in comparison to dedicated charting platforms like TradingView. The charts are simple with only a handful of tools and indicators. 
These charts are mostly designed as a quick confirmation of a scan or an alert through visual presentations instantly without having to move away from the platform. 
Alerts
The alerts feature works on its own or in tandem with the screener. This feature has its own window and will only display a list of stocks that successfully triggered an alert event set by the user. 
Both the Trade Ideas Standard and Premium subscriptions offer 500 price alerts. It has a diverse selection – from performance alerts to price and indicator behavior to pattern breakouts/down even sector outperformer and market divergences. View the entire list of Trade Ideas alert types here.
The Alerts feature is configured using an Alert Configuration window where users can specify custom alert parameters.
Back tester
The backtesting feature is one of the simulation tools within Trade Ideas. The back tester is used to test out theories through trade simulation using actual historical price data. 
In comparison to common back testers, Trade Ideas offers a more advanced function with its so-called "event-based" back testing. The software scans for a period in a chart that fits a specified event then simulates a trade in that part of the chart. 
---
---
Artificial Intelligence (Holly AI)
Holly, Trade Ideas' virtual analyst, is the platform's powerful artificial intelligence. Holly AI has three related products – Holly A.I. (Holly Grail), Holly 2.0, and Holly Neo. 
In the most basic form, Holly A.I. takes a statistical approach in suggesting actionable trade ideas. The goal of Holly A.I. is to identify and suggest proven trade ideas/setups with success rates of above 60%. Essentially, it eliminates emotions in identifying trade ideas.
Holly Grail consumes and analyzes the previous day's market action to make trade recommendations for the next day. 
The Holly Grail database is loaded with a multitude of trading algorithms, taking the form of AI-powered strategies. 
Trade Ideas has their own unique names for their own strategies. 
 The following are just a few examples of strategies under Holly Grail: 
Bullish Pullback 
Bullish Trend Change
Breakout
Buyers Stepping: utilizes Fibonacci numbers for bullish pullbacks.
See the entire list of Trade ideas AI strategies here. 
Chat Room / Live Trading Room
The Trading Room is a free feature offered to non-members free access in the chat room. The Trade Ideas Live trading room runs from 9:00AM – 3:30PM EST every weekday. 
The chat room is a community where traders and moderators (from the Trade Ideas staff) come to interact and share ideas. 
To register for a Trade Ideas trading room account click here.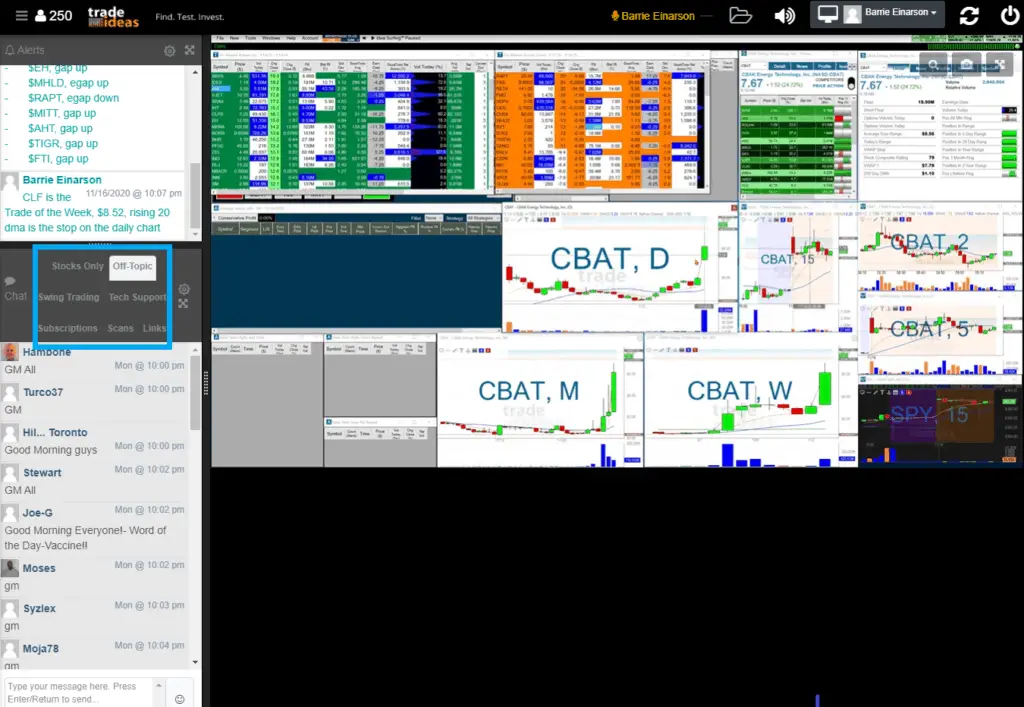 News feed
A dedicated window for market moving news is also available to include in your workspace. This gives super easy access to breaking news. 
Compatible Brokers
The Trade Ideas platform can be integrated with a number of brokerages.
Partner brokers integrated with the Trade Ideas platforms include: 
Partner brokers offering Trade Ideas' automation power include:
Interactive Brokers
Lightspeed trading 
To find out more about connecting a broker to trade Ideas click here
Education and Training
Trade Ideas also has a dedicated channel for Trade Ideas trading education and training. 
It has a extensive collection of educational resources which include: 
Free University courses including Back to Basics with a CMT and stock expert 
Free Daily Webinars every Monday- Thursday 
Free Trading e-books written by Trade Ideas traders includes: 
Real-time Data and Full Quote
Trade Ideas is known for its real-time streaming data that runs its screens as well as its real-time simulated trading. Both data packages are available in the Standard and Premium subscriptions.
Trade Ideas also provides a full stock quote that displays stock data including stock price, stock position in the past hour, week, and last 52 weeks. The full quote has its own dedicated window on the workspace.
Brokerage Plus
Trade Ideas Brokerage + is only available for Interactive Brokers clients, this innovative feature automates placing of trades through the IB platform. 
Brokerage Plus automatically executes trades that fall under a trader's specified scan and strategy. 
Trade Ideas Customer Service and Support
Trade Ideas has a handful of support materials and resources available on the website.
These include video tutorials of platform functionalities and features, and daily support sessions that live streams from Monday-Friday with Trade Ideas technology topics. 
A weekly demo and Q&A is offered for anyone interested even for non-members. 
For easier accessibility, there is also a question & answers button located on the bottom right of the website. This support tool works like a google search bar where you can search for answered questions. 
Trade Ideas has a dedicated phone service available from Monday-Friday from 6:30AM to 1:30PM PDT. For queries not within the timeframe, support tickets are also available anytime. 
Who is Trade Ideas Ideal for? – Trade Ideas Review
Trade Ideas is a very advanced and sophisticated platform. Its core offerings – AI and Stock Screeners – are top tier trading tools that will benefit experienced and active traders the most. 
Novice traders may not benefit as much from the platform given its expensive subscription offerings.
But if you have developed consistency in your trading and want access to the best tools on the market then a Trade Ideas subscription is a must for serious stock traders.
---
Trade Ideas offers access to the FULL suite of Trade Ideas applications on a periodic basis (typically quarterly). A Trade Ideas Test Drive offers 1-2 weeks of Premium subscription access for a small fee (Typically $11.11). To get notified about the next Trade Ideas TEST DRIVE event click the link.
---