Affiliate Disclaimer: "TradaMaker is supported by its readers. Please assume all links are affiliate links. If you purchase something from one of our links we make a small commission from Amazon or other partners. It helps us pay for the running of this website. Thank you!"
Trading journals are an essential component for building long term trading success. Trade journals come in many forms and styles. I've dedicated numerous posts to reviewing the best trading journal options. In this post, I'd like to provide a detailed Tradervue review.   
Tradervue is an online trading journal – The free accounts offers users a variety of journal and analytical tools. Paid, Silver and Gold accounts offer a more extensive selection of analysis options. Tradervue features include auto brokerage data import, easy journaling, chart studies and comprehensive analytical tools. 
In this post, I will provide a complete Tradevue review including a detailed overview of the journal features, plans available, as well as provide some of my thoughts around the key advantages and disadvantages of Tradervue. 
To open a FREE tradervue account or upgrade to a Silver or Gold plan click the link.
Tradervue Review
Tradervue Features 
Feature 1: Journaling made easy
Auto Import, Generic Import and Manual Input
Tradervue provides 3 easy ways to add your trading data to the journal:
 Auto-import: Import trade data directly from Tradervue supported brokers and platforms. Find the full list here
After selecting a broker. Detailed instructions about importing broker-specific trade data will appear.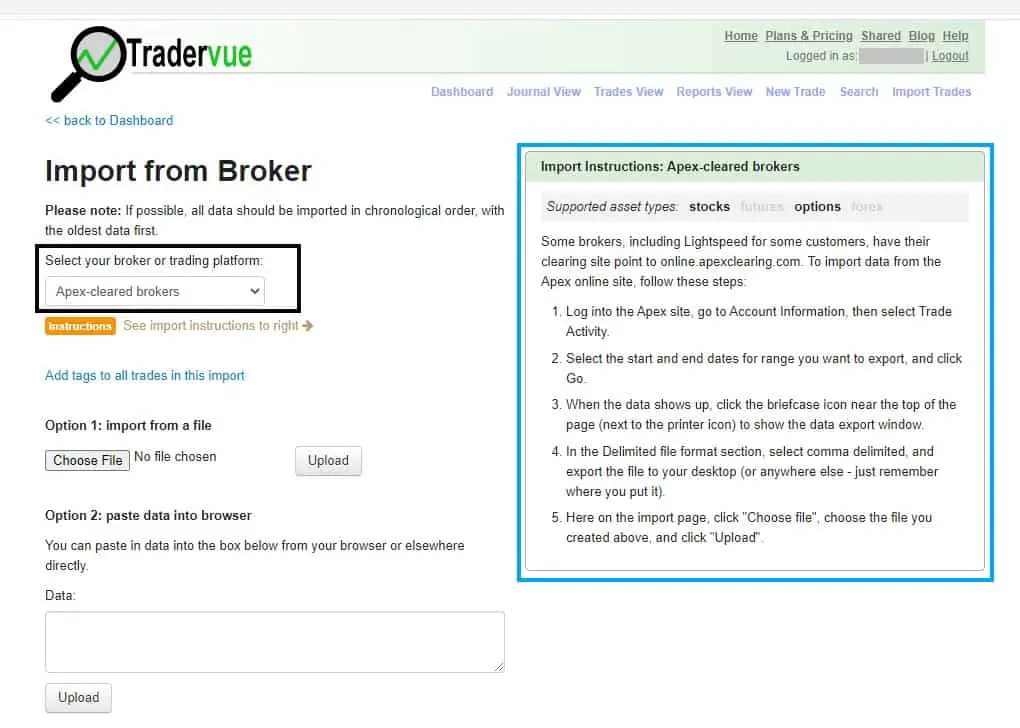 Import instructions and options will differ for each broker. In the above example, Apex has two ways to import trades. For other brokers, Tradervue provides 3 options. 
Generic import format: A rare feature for online trade journals – Tradervue provides an alternative in the event that a brokerage/platform is not directly supported. 
The platform goes into great detail on how to create a generic data format that is compatible and readable by the software. It even provides an Excel file with a sample trade log to get you started. To learn more about generic import format, click here. 
Manual input: If importing is not a viable option, users may opt to manually input trades. Despite being referred to as "manual," Tradervue takes out the complexities from filling your trades by providing a simple to use input form.
An excellent feature of manual input is journaling prospective trades. Users may opt to write thoughts about a trade yet to be entered or trades in a watchlist. Later, when importing trades, Tradervue matches this trade with its corresponding execution data. Linking the two together.   
Automatic Chart Generation 
One of the unique features of Tradervue is the automatic price charts. This eliminates the need to take and attach chart screenshots.
Even more important, Tradervue automatically flags entries and exits of each trade once imported to the journal. 
This is a great feature that provides an easy to use visual reference.
In the example above, the green and red diamonds denote the entry and exit points of that particular trade. 
Organizing Trade Entries  
One of the pitfalls of many trade journals is the inability to declutter trade entries into discover-able categories. A disorganized journal impedes the trader's ability to analyze data efficiently and mostly renders it useless.  
Tradervue effectively navigates around this pitfall by providing two powerful features: 
 Tagging: Assign keywords to describe trades. This helps sort trades in accordance to keyword tags set personally by the user.  
Below is an example of the use of tags, notice how keywords describe the trade setup specific to the trade:
Filtering: Sort and declutter trades by using filters. Filters make locating and grouping specific trade types easy. Filters available in tradervue include symbol, side, duration, date range, and tags. 
Tradevue's global filter tool is most important when large volumes of trades are being processed. 
Feature 2: Comprehensive Analysis: Overview and Granular Perspectives
Tradervue data analysis interface provides detailed charting and data presentation tools.
Dashboard
The tradervue dashboard provides a summary of key performance statistics for the days trading. Key information includes:
Trade statistics: symbol, volume, # of trades, P&L, notes, tags
Gross P&L: total gross and net gains and losses for the day  
Total commissions and fees: total amount of commissions
Net P&L: total gains/losses for the day net of commissions and fees 
Total number of trades: total executions 
Total volume: total volume (in shares/contracts) 
Dashboard also includes previous week's performance and shared community posts that covers the same instruments followed by the user. 
Overview Analysis 
For traders who prefer minimal complexities and prefer a bird's eye on performance, Tradervue offers a general report covering key performance statistics. 
Tradervue offers three ways to study key metrics: Recent, Year/Month/Day, and Calendar with an added option of choosing between showing aggregate (total P&L) or average (per trade) report mode. 
Recent: Examine most recent trades executed within 30-60-90-day timeframe
Tradervue overview provides bar charting for the following metrics:
Daily P&L: Displays the calculated daily P&L 
Cumulative P&L: Displays calculated P&L on a cumulative basis 
Daily Volume: Displays total volume (in shares/in contracts) 
Win %: Displays the % of winning trades 
Users have the option to chart performance of selected trades by using the filter tool (blue box, left image)
Year/Month/Day: This tab provides data bar charting for year/monthly/daily performance of trades executed within the selected timeframe. These charts display Trade Distribution (frequency) and Performance (P&L in $) divided into the 3 time frames: year, month, day.
Calendar:  Shows an overview of winning/losing/breakeven days in calendar format with a calculated P&L for each day. 
Detailed Analysis 
Tradervue offers users a huge range of detailed reporting and charting options. Most detailed reporting requires either Silver or Gold plans. Some detailed reporting is available with the free plan. 
The following is list of reports available with tradervue. I've noted the plan that each is available:
Detailed Reports
Available plans: Free/Silver/Gold
The only detailed report that free account users have access. This report has great statistical detail that is automatically calculated, tabulated, and charted. 
The report is divided into two sections – tabular and bar chart – The tabulated data summarizes performance metrics. The bar charts graphically display data related to Days/Times, Price/Volume, Instrument, Market Behavior, Win/Loss/Expectation or Liquidity. 
Detailed reports can be toggled to display either aggregate P&L or per-trade average. 
The global filter tool is available in this report. Users may also opt to zero in on performance statistics of certain trades. 
Comparison Reports
Available plans: Silver/Gold
Comparison reports presents performance statistics of two data groups, comparing each against other. 
Sample comparisons include: earnings review of month on month performance, average wins/losses for long vs short trades, among others. 
Tag Reports
Available plans: Silver/Gold
Tag reports present performance statistics of tagged trades presented in bar chart format. Tag reports offer an effective method of identifying trade setups or events that generate the best returns.
Advanced Reports
Available plans: Silver/Gold
Tradervue advanced reporting offers users the ability to graphically identify correlations between two data sets. Any two combinations of specific data sets can be plotted on the X and Y axis. Tradervue offers hundreds of possible data set combinations.
Any correlation or relationship between the two data sets can be quickly identified. In the example illustrated below Hold time vs PnL. A line of best fit drawn through the data points would have a gradient of approximately zero. Therefore there is no clear correlation between the length of time a trade is held and profits.
Risk Analysis
Available plans: Gold
Risk analysis reports provide automated reporting and charting of R-multiple performance. Tradervue risk analysis charts risk reward or R-multiple against a range of metrics. Per trade, daily, tags etc.
Feature 3: Trading Community 
Tradervue also offers a social platform where users share notes and bounce ideas off each other. Sharing can be done internally or externally such as Twitter and Facebook. 
Tradervue's trading community is an excellent way not only to ignite conversation but also to encourage learning from peers.  
Users have the freedom to choose which trades to keep private or public. Information that can be included: Charts, tags, review notes, and trade details.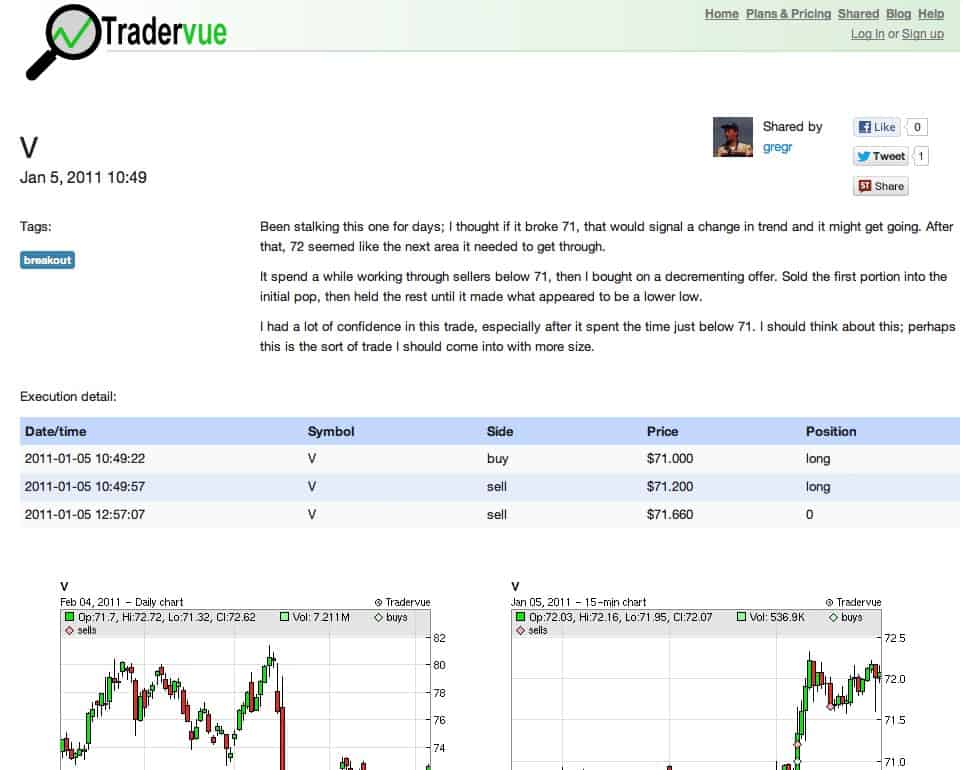 The above example shows a users shared trades for a single day. It includes trading notes. the trades made including a full breakdown of order. It also includes a supporting chart.
Feature 4: Mentoring and Coaching 
For traders with mentors, this is a feature that will be particularly helpful for both the mentee and also mentor. 
Gold and Silver users can grant mentor privileges to as many mentors as they like. This includes: 
Access to trades list, journal, and reports view 
Access to trade details – including execution-specific data
Add comments to trades that is visible to the user and other mentors (if any)
Tradervue Advantages and Disadvantages
How to open an account 
Opening a Tradervue account is simple and fast. There are 3 plan types: 
To open a FREE tradervue account or upgrade to a Silver or Gold plan click the link.
Instructions 
Begin by going to Tradervue's home page . Click the  blue "Sign up now!" button. 
Select which plan is right for you, then click its corresponding "Sign up!" button. 
Tradervue Free Plan: sign up
Signing up for the Free account will ask for the following details: 
Username, Email, and Password. After filling the fields, read then tick the service terms and privacy policy before clicking "Create account." 
No email confirmation is needed. Your free account will automatically be made active upon completion.  
Silver and Gold: sign up 
Sign up form for Silver and Gold requires registering a Credit Card on top of the required details mentioned under Free plans. 
Note: Tradervue automatically charges once the 7-day trial lapses. To avoid charges, proceed to account settings" then change the membership to free account before the trial expires. 
Plans and Pricing 
Tradervue Free Plan ($0.00) 
Key Inclusions 
Trade import from external brokers 
Free users get to enjoy the ease of auto importing from their preferred brokers.
This is a really nice inclusion to the free service. Other comparable online journals require a premium membership to enable the import feature. 
Access to Dashboard and key reports
Enjoy free access to Tradervue's well-detailed dashboard and comprehensive reports: Overview and Detailed reports. 
These reports provide free users both a bird's eye and detailed perspective of performance statistics – tabulated and charted. 
Automatic price charts with multiple timeframes
Tradervue offers another excellent feature to the free user with its automatic integration of price charts that corresponds with the specific trade execution data. 
Tradervue automatically flags the entries and exits of these trades. 
Tagging and Filtering 
Another impressive inclusion is the ability to organize and drill down trades with the use of tags and the global filter. 
Trading community 
Tradervue opens the trading community to all users regardless of membership status. Share thoughts, ideas, and notes freely while gaining access to others as well. 
Tradervue Silver Subscription 
This plan includes all free plan features + support to all instruments, and access to the majority of reporting options. 
Enjoy all the following features for $29/month:
Unlimited trade entries and instrument support  
Limitations set on free plans, particularly trade count and instrument restriction, are lifted on the silver and gold membership. 
Under Silver membership, Tradervue provides access to all instruments – from stocks, ETFs to options, futures, and forex. 
Access to comprehensive reports 
Reports available for silver members include all under free plans plus: 
Advanced (dot chart): with a generous limit of more than 100 reports 
Comparison reports 
Tag reports 
Tick-based reports 
Mentoring 
Silver users can also grant mentor privileges to coaches. This includes general access to trades list and reports view. 
Multi-Currency Support
Silver users can change default settings for the base currency (USD) to any currency preferred by the user. Any changes in the base currency will reflect in the calculated P&L and other statistics. 
Chart Studies
Silver members can go beyond typical price charts by applying technical studies, such as moving averages, ATR, among others to their chart. 
Running P&L Charts 
The P&L chart is an excellent running tracker of a trade's P&L performance relative to its accumulated P&L for that trading day – a useful added feature for Silver users. 
Enhanced image storage 
Up to 1GB of image cloud storage 
Tradervue Gold Subscription 
The top tier membership, Gold subscription, has access to all Free and Silver inclusions plus unlimited access to all Tradervue reports.
For $49/month, Gold subscribers have access to:
Access to all reports and analysis – overview and granular perspectives
Advanced reports: up to 300 advanced reports 
Risk tracking report: only gold users have access to report type R where Tradervue offers risk reporting and return calculations
Exit analysis 
Liquidity reports 
Commissions and fees tracker 
Upgraded image cloud storage
Up to 5 GB of image storage space
To open a FREE tradervue account or upgrade to a Silver or Gold plan click the link.