Tradingview is a brilliant online trading platform. Yet it's not without limitations. If you like using tradingview but require features not included with the tradingview platform or you're simply looking for a cheaper alternative. In this post, I will be giving a list of what I think are the best TradingView alternatives. 
---
Signup for a Pro, Pro+ or Premium TradingView subscription using the link. *New users get $15 towards a new plan.
---
Multicharts
This award-winning trading platform is created by the makers of Tradingview. If you like the tradingview interface and usability. But require a few more advanced features like tick charts. Then Multicharts is an excellent tradingview alternative.
Since its inception in 2005, MultiCharts is used by over 10,000 traders across 175 countries. 
Device Compatibility
MultiCharts software requires download and installation to your computer. The latest version 64-bit MultiCharts 14 is compatible in Windows 7, 8, and 10. If your a Mac user consider using a virtual machine software like Parallels.
Assets Supported
MultiCharts supports stocks, futures and forex providing real time data feed for these securities. 
Features
In a nutshell, MultiCharts is a complete trading software for charting, technical analysis, back testing, and multi-broker trading. 
Its platform is programmed using EasyLanguange, a standard programming language within the trading industry. MultiCharts users enjoy the advantage of having access to a huge collection of trading ideas, indicators, and strategies that's made available by the EasyLanguage library. 
Features include:
Sophisticated Charting Capabilities
State of the art, high-definition charting 
Access to hundreds of indicators 
Build your own indicators using EasyLanguage coding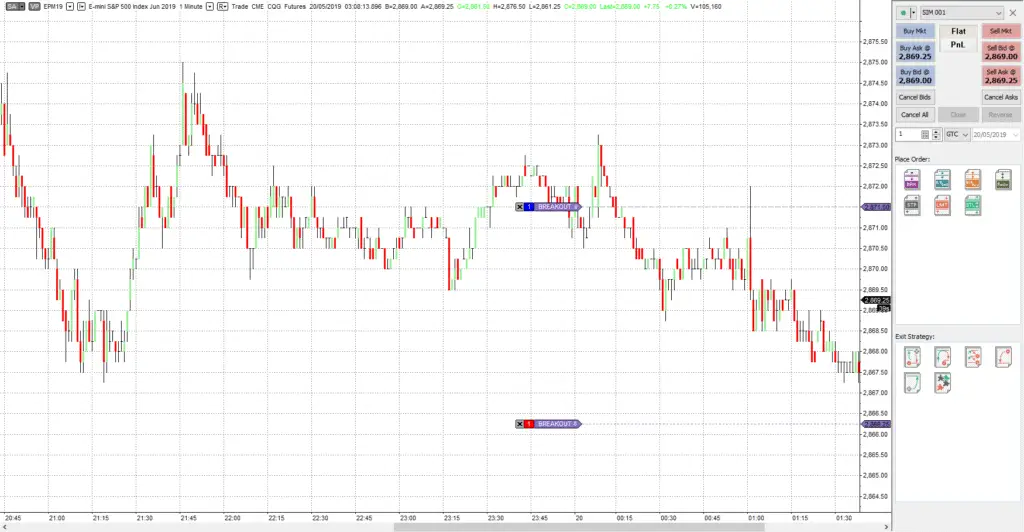 Efficient Execution
Detailed time and sale movements 
View detailed price fills 
Advanced Trading
Get access to detailed trading history
Trading performance reports 
High precision strategy back testing  
Advanced market analysis
Real-Time and Rich Data Feed
MultiCharts' Market Scanner is one of a kind piece of technology

It is powered by a multi-core support and 64-bit architecture that enable users to track multiple securities simultaneously 
This is in contrast to the majority of data providers who have certain restrictions on the number of real-time data subscriptions. 

MultiCharts grants access to multiple broker (top futures, stocks, and forex brokers) and data feeds 
Multicharts Advantages and Disadvantages vs TradingView
CHART CAPACITY Simultaneous access to unlimited data series and charts of multiple symbols. Pull up to 20 sub-charts in one chart A feature that TradingView has limitations to in number The top tier account in TradingView (Premium) has a limitation of 8 charts in one layout.
COMPATIBILITY REQUIREMENTSRequires PC installationUnlike TradingView where the platform can operate on via web browser
PAID PLANS MultiCharts does not offer any free plansAll accounts require a one-time payment upon expiry of free trial
How to Sign-up and Access MultiCharts
MultCharts offers free trials for all its subscriptions to first-time users. This is an excellent way to see the fit of the trading platform to your needs and preferences. 
Subscriptions range from 3 months, 6 months, 1 year, and lifetime. Although each subscription plan varies in price, access to features and functionalities of the platform is essentially the same. The difference lies on the subscription period:
3 months: $297 or $99/month 
6 months: $497 or $83/month
1 year: $797 or $ 66/month 
Free Trial 
Step 1: Go to the Purchase page 
Step 2: Click GET FREE TRIAL button of the respective subscription plan you like
Step 3: Fill out the Billing Information page 
Step 4: Click BUY NOW button at the bottom section of the page 
Note: Free trial period is usually set at 30 days 
Paid Subscription 
Step 1: Go to the Purchase page 
Step 2: Hover then click the subscription plan you like 
Step 3: Fill out the Billing Information page 
Step 4: Click BUY NOW button at the bottom section of the page 
Metatrader 5
A popular choice alongside TradingView, MetaTrader 5 is a multifunctional trading platform that is powerful enough to meet the needs of the modern trader. MetaTrader 5 is touted as an all-in-one platform that includes a comprehensive library of technical analysis tools, access multiple assets and automated trading systems. 
Metatrader 5 is one of my favorite TradingView alternatives.
Device Compatibility
MetaTrader 5 is a free application that can be downloaded and installed on your pc, laptop, tablets, and smartphones. For PC users, MT5 is available in Windows, Mac OS, and Linux.
Not many trading platforms have the same scale of compatibility as MT5. 
Assets Supported
MetaTrader 5 is a multi-asset platform that offers trading in stocks, forex, and futures. 
Features
Sophisticated Execution
Offers various options in placing orders. The one click trading option allows order placements with a single click.  
There are four order execution modes to meet various objectives: Instant, Request, Market, and Exchange 
Supports all types of trade orders: Market, Pending, Stop, and Trailing stop orders
Comprehensive data and information about orders and positions well-organized in the MT5 Toolbox Trade window. Shows detailed history in only one window.
State of the Art Trading Experience
Built-in Reports 
Take your trading to the next level with built-in reports custom made to evaluate performance: profit factor, expected payoff, drawdown, average P&L, among other parameters
Robots and Indicators
Access to algorithmic trading (trading robots). Trading robots can execute trades based on algorithmic rules; eliminating the emotional element of trading
Purchase access to a comprehensive library of indicators and robots straight from the in-house online MetaTrader Market
For free access, thousands of robots and indicators are available for download from the MQL5 Code Base.
Charting 
Intuitive charting infused with advanced capabilities and customizable preferences
Up to 21 timeframes for any financial instrument
 Build your own templates and profiles 
Supports up to three types of charts: Japanese Candlesticks, broken line, bars
Advanced Analysis 
Technical Analysis
MT5 provides up a large library of up to 38 built-in technical indicators
Indicators are divided into: Trend Indicators, Oscillators, Volume Indicators, Bill William's tools
Indicators are customizable. Users can control parameters and settings to suit preference
Fundamental Analysis
MT5 offers financial news and an economic calendar.
From the platform, you can get access to financial news and newsletters in an instant!
Access publications of macroeconomic indicators as well as consensus forecasts of figures prior to announcement
Real Time Data Feed
MetaTrader 5 is one platform that grants you access to many markets. 
Access real-time data feed of currencies, stocks, and future 
Smooth access of data feeds comfortably on any device. Enjoy rich desktop level functionality on your smartphone.
Metatrader 5 Advantages and Disadvantages vs TradingView
FUNDAMENTAL ANALYSIS – MT5 offers an economic calendar and news feed access.
ORDER PLACEMENT: Direct access to market for order executions
SUPPORT CENTER – MT5's website is well organized. Features are explained in detail and in an easy to understand format.
AVAILABLE FREE – Free access with supported brokers. Trial available for download or browser access via metatrader5.com
TECHNICAL ANALYSIS – TradingView has a more comprehensive library of indicators and trading tools compared to MT5.
ACCESSIBILITY TO ASSETS – TradingView offers a greater selection of instruments and markets compared to MT5.
How to Sign-up and Access MetaTrader 5
There are several ways to access MetaTrader 5. You can choose to download to your PC, smartphone or tablets or launch the web platform. The platform is available for free as a trial or full access with supported brokers.
PC Download
Mac Download 
Step 1: Go to PlayOnMac open source software recommended by MT5
Step 2: Download PlayOnMac
Step 3: Launch the software upon completion of installation
Step 4: To install MT5, download the installer mt5setup.exe  
Step 5: Double click, the file will automatically be opened by PlayonMac
Step 5: Install the software  
Windows Download
Step 1: Go to MetaTrader5 homepage
Step 2: Click Download on the header
Step 3: Click Download MetaTrader5 for PC button
Step 4: This will automatically start the download process
Step 5: Install the software  
Smartphone download
iPhone and iPad Application 
Follow steps 1-2 above. 
Step 3: Click Download MetaTrader5 iOS 
Step 4: Install the application from the app store 
Android Application
Follow steps 1-2 above. 
Step 3: Click Download MetaTrader5 Android
Step 4: Install the application from the Google Play Store
Web platform
Web Trading 
Follow steps 1-2 above. 
Step 3: Click Launch MetaTrader5 Web Platform 
Coinigy
Another interesting alternative is Coinigy. Although it operates similarly to TradingView as a charting platform, Coinigy's competitive edge is built around the fact that the platform is designed for crypto trading. 
If you trade cryptocurrency then Coinigy is an excellent TradingView alternatives.
In a nutshell, Coinigy is not a single exchange. Rather, it is an all-in-one, easy-to-use trading platform that is designed to eliminate the complexities of trading and managing cryptocurrency portfolios. Coinigy does this impressively as it allows users to manage multiple exchange accounts into one interface. 
Device Compatibility
Coinigy is available in desktop and mobile versions. Notably, Coinigy is web-based and cloud-enabled.
As a web-based platform, Coinigy does not require installation.  
As a cloud-based platform, any actions recorded on the device you are using will automatically sync to Coinigy desktop or mobile.
For Android users, click here to get the Coinigy Mobile app on Google Play store. 
For iOS users, click here to get the Coinigy Mobile app on the Apple Store  
Assets Supported
As a cryptocurrency-centric platform, Coinigy offers a comprehensive library of coins, which includes the more popular to the most obscure coins. 
Features
Comprehensive Data Feed 
Coinigy grants direct access to more than 20 crypto exchanges with additional data connectivity to an additional 40 exchanges with just one interface. 

Coin exchanges include popular choices Binance, Bitfinex, Coinbase, Gemini, among others.

Live data feed: Coinigy is supported by real-time API. This grants live data feed access to users.  
Portfolio Management 
Unlike traditional financial assets like bonds, equities, and forex, cryptocurrency as of today is still clouded with mixed regulations on a per country basis. This poses a problem to crypto traders as managing a portfolio of coin assets from different exchanges requires multiple accounts. 
This is a common problem that Coinigy aims to solve. The Coinigy features that address this problem are the following:
24/7 Automatic Exchange Balance Tracking 
Coinigy automatically tracks account balances on all exchanges the user is active in. 
24/7 Automatic Wallet Balance Tracking 
Similarly, Coinigy tracks wallet balances across exchanges
99.9% Uptime
 Uptime with Google is ultra-fast enabling rapid syncing of portfolio and account settings on all your devices registered on the cloud. 
Advanced Charting 
Simple, smart, and intuitively designed charts 
Coinigy grants access to more than 75 technical indicators 
Extensive charting with high frequency trading tools 
 Trade directly from charts. No need to go to your exchange account to execute a trade.
Alerts
Never miss an opportunity with Coinigy's alerts. Alerts can be set on price movements and indicators.
Secured Servers 
Coinigy security infrastructure is built using enterprise-grade security with various levels of server architecture. User data is encrypted with advanced technology. Bitcoin stored at your designated wallet or in your exchange; Coinigy doesn't personally handle these coins. 
Fast Execution 
Coinigy allows direct trading straight from the platform. A notable feature is its advanced API structure which allows for rapid order execution without delay. 
Coinigy Advantages and Disadvantages vs TradingView
CHART INTEGRATION – Coinigy allows integration from various exchanges.
CORE FOCUS ON CRYPTO – Coinigy's focus on the crypto market gives them the ability to offer a comprehensive library of tradable coins. TradingView, on the other hand, only offers the popular ones.
APP INTEGRATION – Applications/plug-ins can also be integrated to the platform for additional tools – Add Google Sheets or news feed plug-in
ASSETS SUPPORTED – Coinigy focuses entirely on streamlining the world of crypto trading*.TradingView, on the other hand, is a multi-asset platform.
FUNDAMENTAL ANALYSIS – Coinigy lacks any Fundamental analysis tools.
PRICING – Both TradingView and Coinigy have multi-tiered pricing. Coinigy is priced a bit more expensive versus TradingView.
How to Sign-up and Access Coinigy
Coinigy has a multi-tiered subscription: Starter, Pro Trader, and API Developer Pro. Here is the pricing structure:
Starter is free
Pro Trader $21.95/month
API Developer Pro $99.99/month 
Starter Account
The Starter account is limited in terms of functions and features. Nevertheless, some trades may find that these features will suffice. 
The Starter account comes with a 30 days free full feature trial. 
To sign up for a Starter account, follow the steps below:
Step 1: Go to Coinigy's home page 
Step 2: Hover at The Platform on the header > click Pricing  
Step 3: Click OPEN A FREE ACCOUNT below Starter account
Step 4: If you do not have an account with Coinigy yet, complete the signup process
Step 4.2: If you have an account with Coinigy, log-in your account
Step 5: Once your account is active, Coinigy will convert your account into Starter automatically and the 30-day free full feature trial will be unlocked. 
Pro Trader and API Developer Pro
Essentially, both accounts follow the same sign up process with the exception of Step 3. Find the sign-up process below:
Follow Steps 1 and 2 above.
Step 3: Click Sign up now below Pro Trader or Sign up now below API Developer Pro 
Follow step 4 above.
Step 5: After a successful login, click UPGRADE NOW in green font at the top portion of the window 
Option1: Click Settings on the top left > click UPGRADE NOW
Option2: Click Settings > Click My Account > Click Manage Subscription 
Step 6: Select your desired plan > Choose payment method – pay through PayPal/Credit Card or Cryptocurrency
Step 7: If you selected PayPal/Credit card, Complete necessary forms to confirm purchase 
If you selected Cryptocurrency, you can either select paying through Coinbase or other cryptocurrencies listed below (Bitcoin, Bitcoin Cash, Dai, Ethereum, Litecoin, USD Coin) 
StockCharts
StockCharts is a free charting purely web-based platform with comprehensive technical analysis tools. Beyond charting and technical analysis, StockCharts is also well known for its extensive library of educational resources through ChartSchool and market commentaries by veteran analysts John Murphy and Martin Pring. 
Device Compatibility
As mentioned, StockCharts is a web-based charting platform that is also accessible via phone browser.   
StockCharts' core financial instrument offering is stocks and ETFs. Although the platform also offers major commodities like Gold, Silver, WTIC, USD, data is only limited to end of day data and does not include intraday. 
Assets Supported
Features
Advanced Technical Analysis Tools
StockCharts is a platform that is heavily focused on technical analysis as a medium of analyzing stocks. 
Charts are simply built yet intuitive and easy to manipulate. Trading tools are comprehensive. Here are the analysis tools available to users: 
Charting Tools 
SharpCharts Workbench 
Flagship charting tool of StockCharts 
Choose from a variety of chart types: Candlesticks, Bars (OHLC, HLC bars), Lines (Solid, Dashed), Dots, and many more
SharpCharts Workbench offers detailed user customization of Chart Attributes (timeframe, data range, chart type, chart size, volume), Overlays, and Indicators 
SharpCharts saves your customizations for future use
ChartNotes Tool
Annotate charts using trendlines, notes, and technical lines.
Annotated charts can be saved to ChartList for future reference (500 charts).
Market Analysis Tools
StockCharts also offers market analysis resources such as Reports under Market Summary page and Sector Summary page.
StockCharts offers at least two types of market analysis, which is either a quick overview or a detailed, in-depth analysis.  
Stock Scanning Tools
Scan Engine
StockCharts' screening tool accessible by Extra and Pro members
Search for stocks that meet a 'StockCharts' predetermined criteria or a user custom-made criterion
Alerts can also be setup in conjunction with the scan feature 
Comprehensive Library of Resources 
Market Commentary 
In addition to charting services, StockCharts treats users with expert market analysis from popular analysts. Market analysis comes in two forms: 
Articles: Free written market commentary under the Articles section and paid content from John Murphy, Martin Pring, and Arthur Hill
StockCharts TV: Video commentary and live web shows 
Educational Resources 
StockCharts also has a large collection of educational resources through its ChartSchool, Instructional Videos, and Support Center. 
ChartSchool (Free) 
A place to learn the basic components of technical analysis – from indicators to overlays – dissected in detail with definitions, interpretations, formulas, examples. 
Instructional Videos 
Short videos (5-10 minutes) about StockCharts tools and features 
Support Center 
In-depth help articles about StockCharts features 
Reach out to customer support team for any questions 
Stockcharts Advantages and Disadvantages vs TradingView
ADVANCED STOCK SCREENER – StockCharts' Scan Engine has an edge over in TradingView. TradingView's screener is focused on the fundamental data. StockCharts provides a robust list of technical elements to screen.
EXPERT MARKET COMMENTARIES AND IN-DEPTH EDUCATIONAL RESOURCES – TradingView offers a market commentary feature but is limited to its trading community. StockCharts offer professional insights from contributors that are experts in the industry. StockCharts also has dedicated sources of technical analysis training through ChartSchool.
NUMBER OF INDICATORS – StockCharts' allows up to 25 indicators per chart. TradingView, on the other hand, is limited depending on your plan.
INTERFACE BATTLE – Personally, TradingView has a simpler and cleaner interface than StockCharts. New traders may find StockCharts overwhelming, particularly the SharpCharts Workbench. Some users may find the layout too crowded.
STOCK SCREENER – Unlike TradingView, StockCharts' Scan Engine is not accessible to free users.
PRICING – TradingView wins in this category as it offers more competitive rates than StockCharts.
ORDER PLACEMENT – StockCharts is purely a charting platform hence does not provide brokerage integration unlike TradingView.
How to Sign-up and Access StockCharts
StockCharts, 4-tiered plan subscription offers flexible renewal options as well as competitive pricing. The 4 plans are: Free, Basic ($14.95/month), Extra ($24.95/month), PRO ($39.95/month)
StockCharts offer a 1-month free trial of their Extra service level for new users. 
Free Trial 
To access the 1-month free trial, follow the steps below:
Step 1: Go to StockCharts home page 
Step 2: From the home page, a Free 1-month Trial will appear at the center of the page. Click this button. 
Step 3: Complete the 2-step process*. Your free trial will begin upon activation. 
*Note that a credit card is required to complete this process 
Basic, Extra, PRO 
Once you have an activated StockCharts account, you can upgrade to any of the membership plans at any time even during the duration of the free trial. 
---
Signup for a Pro, Pro+ or Premium TradingView subscription using the link. *New users get $15 towards a new plan.
---