Chat rooms offer the opportunity to engage in a live market environment and learn from traders who trade similar markets and strategies. They're also an excellent way to get real time feedback back, interpret current market conditions and capture trading opportunities. In this post I will list what I think are the 5 best day trading chat rooms.
What to Look for in a Trading chat Room
There are a huge range of trading chat rooms online. Selecting the best day trading chat rooms is very important. There are loads of really poor options. that at best are just going to waste your time. To help separate the best from the mediocre. Here's a list of what to look for in a trading chat room:
Strong culture and community 
A positive environment that encourages and respects opinions. 
Chat room moderators or mentors with a proven track record
Active moderation is key in keeping conversations clean and relevant  
Affordability – Many of the best chat rooms require hefty fees. Select a trading chat room that provides value. Remember there is no silver bullet for your trading education. Your success will ultimately come down to your own commitment.
Live Trade calls – not commentary after the fact
Many chat rooms offer live streams of trades.
Community experience – beware of chat rooms full of inexperienced traders
Pros of Trading Rooms
Community 
Be a member of an active community that trade the same markets and similar strategies
Real time trading feedback
Good exposure to an environment that promotes passion and positivity 
Peer-to-Peer Sharing
Expose yourself to a group of like-minded and experts traders 
Share experiences and learn from your peers 
Up to Date Information 
Access to live market chatter, trades, and information
Cons of Trading Chat Rooms
Misinformation – Information is opinion based often without clear understanding of the authority of the commentators.
Fees – Quality chat rooms require membership fees.
5 Best Day Trading Chat Rooms
1. Trade Ideas
Born out of the concept that all trades start with an idea, the founders established Trade Ideas back in 2003 with the goal of helping you catch market moving stocks in real time. After 17 years, its main service is providing real time data and software tools, like its popular market scanner and AI, that aim to find the best setups instantaneously.
Apart from its proprietary platform, Trade Ideas also has its own free membership community called the Trading Room. This is unlike other chat rooms which require a paid subscription of their full service. 
The Trading Room, hosted by Barrie Einarson,  is a platform to express views and opinions with regards to securities and Trade Ideas services. Barrie is a well-experienced day/swing trader who utilizes Trade Ideas technology to power his work. Trading Room is like Barrie's playground where he streams from Monday-Friday during market hours. 
Markets Covered
Trade Ideas covers all markets. Mostly US stocks. The trading room is geared towards day traders and swing traders.  
Types of Chat Room
There are 7 main chat rooms that are categorized according to a certain topic (see blue box below):
Stocks Only
Off-Topic
Swing Trading 
Tech Support 
Subscriptions
Scans
Links
For a full review of the Trade Ideas chat room check out my post on the trading room here.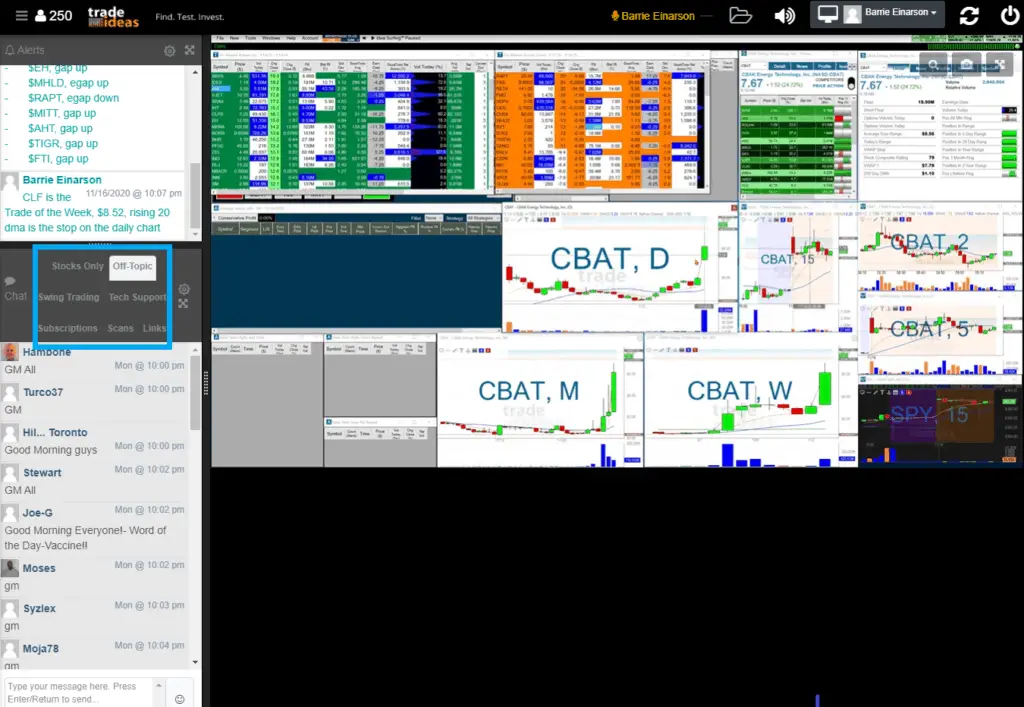 Trade Ideas Subscription Options
As mentioned above,  Trade Ideas is a free subscription that does not require a subscription to any of the software packages. 
Interested non-members may opt to subscribe on Trading Room for free. However, if you have taken interest in the Trade Ideas platform and tools, here are the two subscription packages available:
Standard 

$1,068 annual or $118 monthly 
Includes: live trading room, real-time streaming, up to 500 price alerts, chart-based visual trade assistant, simultaneous charts  

Premium 

2,268 annual $228 monthly
Includes: everything included in Standard plus A.I. and chart-based trading analyst and assistant, entry and exit signals, risk assessment, build and back test trade ideas, auto trade w/brokerage plus
For more information on the Trade Ideas subscription packages, click the link for signup details and information. 
SIGNUP using the link above and enter the code TRADAPROMO to 15% off the first order (first month or first year).
How to Sign up for a Trade Ideas Membership
Getting access to the live Trading Room is relatively easy. Follow the simple steps below:
Go to Trade Ideas home page
Click Trading Room at the header of the page 
Click Enter Room > Click Don't have an account? Sign up here! 
Fill out the form > Accomplish captcha > Click Sign Up 
Check your email inbox then click the link provided to confirm 
2. Investors Underground
One of the best out there, especially for beginning traders.
Investors Underground have a website, youtube channel, trading courses and day trading chat room. Each are an excellent educational resource that provide beginner material as well as day trading informational resources like a daily watch list of top stocks, accompanied by game plans and rationale. 
Managed by Nathan, Cam and the team. Investors Underground provides valuable market guidance in the form of mentorship and/or chat commentary. Any trader regardless of experience level will benefit from the material and commentary. Check out their free day trading short course on youtube!
One of the best resources is the day trading chat room which provides access to quality trading information contributed by over a thousand traders. Many with years of day trading experience.  
Investors Underground day trading chat room offers a strong chat room community, quality learning resources, guidance and education. 
Markets Covered
The 10-member moderating team along with the key members contribute their varying levels of expert advice. The team is composed of well-experienced traders to rising stars; hence, giving unique perspectives on the topic of day trading stocks.   
Types of Chat Rooms
There are three types of chat rooms within the Investors Underground channel. Because content is heavily tilted towards day trading, chat rooms are categorized by the 3 main trading strategies: 
Momentum – main chat room 
Swing trading 
Penny stocks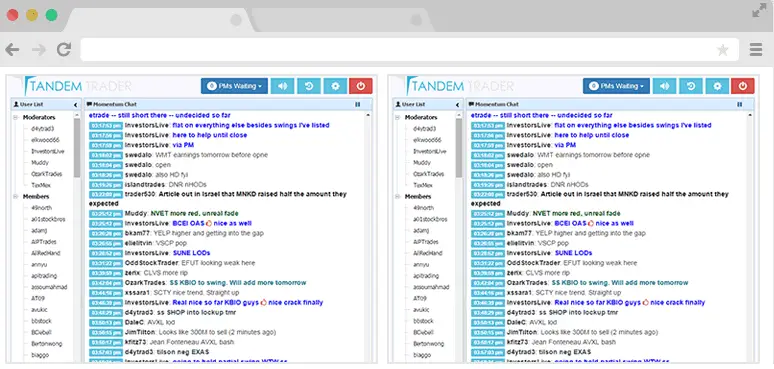 Population
Over a thousand active members with a 10-man team of moderators. 
Investors underground Subscription Options
Membership options are packaged with three different service offerings. 
The subscription options are two-tiered: Membership and Membership + Education. 
Investors underground Membership
Packages include community access, educational resources, and the chat room. 
Membership + Education
Packages include trading courses (textbooks, video lessons), mentorship, and many educational contents.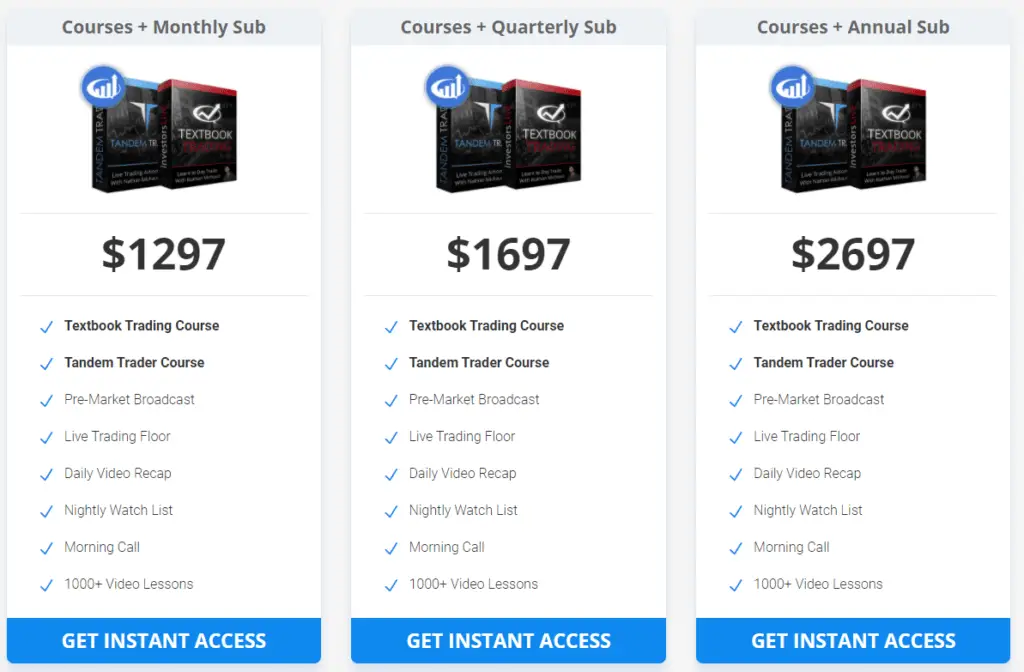 How to Sign up for an Investors underground Membership
From the screenshots above, you can easily jumpstart your membership by clicking the GET INSTANT ACCESS button below each subscription option – this will direct you to a checkout page with your chosen subscription in cart. 
Fill out the form 
Read the Terms and Conditions
If you agree, click Place Order 
3. Warrior Trading
Warrior Trading is best known as a trading education powerhouse. Established in 2012, Warrior Trading bagged multi-year Benzinga nominations as Best Educator from 2016 to 2017 as well as the 2018 Benzinga Fintech Awards. Warrior Trading is committed to teach the very fundamental aspects of trading all the way to development of trading plans based on already successful systems. 
The warrior trading website offers various resources that are geared towards day trading education. Resources include quality trading courses and content, trading tools, mentors sessions, trading simulation, and chat room. 
Warrior trading offers a selection of day trading chat rooms. These include small cap and large cap stock trading. The chat rooms run during US market trading hours. Each chat room is moderated by actual day traders/mentors Ross and Mike. Each have extensive day trading expertise.
Other than its quality live market discussions, the Day Trading Chat Rooms feature a Screenshare ability where members can view actual trading streams of the mentors and market screener.
Markets Covered
Warrior Trading covers day trading US stocks with different short-term trading strategies.
Types of Chat Rooms
Similar to Investors Underground, Warrior Trading chat rooms are segregated in accordance to different trading strategies. These rooms include:
Warrior Trading Population
One of the largest communities with over 5,000 premium members and 500,000 active followers. 
Warrior Trading Subscription Options
Unfortunately, as of writing, subscribing to the Chat Room as a standalone service (without the inclusion of the other services) is currently full. Interested applicants may either sign up for the Waitlist or its Education Packages which include Chat Room access. 
Option # 1: Waitlist
If you only like Chat Room access, you may opt to sign up for the waitlist for chat room only membership. You will be notified once a slot opens up. Of course, there is no time guarantee for this option. 
Option # 2: Education Packages
There are two types of education packages: Warrior Pro and Warrior Starter. These two vary in depth of coverage as well as price. 
Warrior Starter – is a trading program for novice traders. It is a 15-chapter course taught by the Warrior Trading founder himself: Ross Cameron. It gives an overview of basic day trading actionable topics like technicals and risk management. The program includes chat room access. The Starter bundle is priced at $997
Warrior Pro – is a comprehensive program that grants access to popular trading tools, a vast library of educational content, as well the Warrior Pro Masterclass courses and mentor session access. The Masterclass courses tackle the core day trading strategies which include Swing, Small Cap, and Options trading. The program has already taught over a thousand students. The Pro bundle is priced at a hefty $5,997 for one year access or $4,297 for a 90-day access. 
How to Sign up for a Warrior Trading Membership
Sign up for membership by simply clicking the buttons associated with the two subscription options above. For a detailed instruction, follow the steps below:
Waitlist
Go to the homepage of Warrior Trader 
Click Products from the header 
Under Trading Tools, click Day Trading Chat Room 
Click the Sign Up Waitlist > Click Reserve Seat 
A chat will appear with a bot > click "I understand, and I'd like to get on a waitlist for a chat room only membership" 
This will start a conversation with the bot. Completing this will sign you up for the waitlist
Warrior Starter and Pro
Go to the homepage of Warrior Trader 
Click Products from the header 
Under Courses, click Warrior Starter/Pro whichever you prefer 
Click the Sign-Up orange button. You will be directed to the subscription page 
Click Continue > then fill the form > Click Continue below

The form includes personal information as well as account information like email address and password – this will serve as your login credentials 

Finally, complete the payment information form 
4. Bear Bull Trader
Bear Bull Trader labeled itself as a community of serious traders. Established in 2016 by Andrew Aziz, the content of its services are top shelf. Its team is a powerhouse of experienced mentors and psychologists. The services of dedicated trading psychologists and performance coaches is something that puts Bear Bull Trader at the forefront of the day trading community. 
Bear Bull Trader has carved out 4 pillars in determining trading success. It uses these pillars as the foundation of the services it offers: 
Technology – Bear Bull Trader provides guidance in selecting the best equipment and products while also providing training to ensure proper management of these tools
Strategy – The Bear Bull Trader team guides you in developing your own strategy through the utilization of its Educational courses
Psychology – Dedicated team of psychologists with varying expertise to find your mental edge 
Trade Book 
One of its services to build the Bull Bear community is the Chat Room – a diverse community of traders trading from different parts of the world.
Apart from the usual real time chats, the Chat Room offers a handful of unique features such as the Benzinga News & Live Squawk, Trade Ideas scanner, and a Live Trading Screen and commentary. 
The live chat room runs from 9-4PM ET.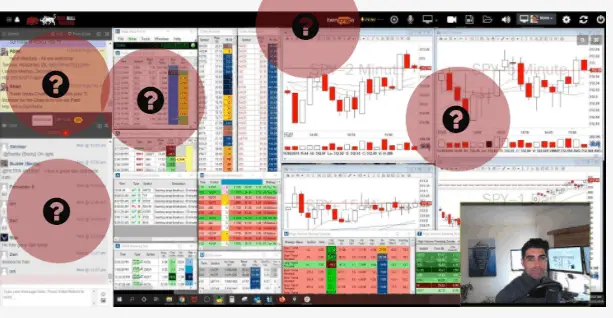 Markets Covered
Bear Bull Traders Chat Room covers US stocks. Data feeds of news from Benzinga and Squawk Box covers stock, company, and overall market news. 
Types of Chat Room
Unlike the chat rooms reviewed above, the Bear and Bull Traders have more limited options of segregating chat discussions. However, interestingly there is a Spanish language preference. 
Here are the types of chat rooms:
Main Chat 
Traders 
Swing & Options 
Español
Bear Bull Trader Population
Bear Bull Traders has over 500 members registered in their main website. 
Bear Bull Trader Subscription Options
The Bear Bull Traders has a 3-tier membership level:
Monthly 

$99/monthly, no time bound
Cancel anytime
For starters

Lifetime Monthly – 12 installments 

$199 for 12 monthly payments, no more payment after 1 year 
Access all services
For Serious Traders

Lifetime Membership 

$1,999 one-time payment, never expires 
Access all services 
For Professionals
Subscribing to any of these membership levels will grant access to the live chat room. 
How to Sign up for a Bear Bull Trader Membership
You can jump start your membership by following the steps below: 
Go to the Bear Bull Traders home page
Click the red Members Home button on the upper right corner of the page. See yellow box below. This will open a side menu. 
Click Register. See blue box below 

Select from the membership options below > click SignUp button located below each of the membership levels discussed above (see black box below)
5. Apteros Trading
Apteros Trading, a venture by Merritt Black, is a platform of learning, community, and training. Founder Merritt is an advocate, mentor, as well as a student of the financial markets for 15 years. Recently, he acted as Head of Futures for well-recognized prop firm SMB Capital. Truly, an amazing trader that is well-adept and qualified to be the leading mentor of Apteros Trading. 
The goal of Apteros Trading is to act as a platform that will equip traders with the knowledge, community as well as the capital to trade Futures. Apteros Trading is a stepping stone for aspiring Futures traders to develop the skills and knowledge to a level where he/she can become a professional trader.  
There are three main services offered – training, community, and pro desk. The pro desk or the prop desk is a tryout program that provides a demo account to applicants and basically "try out" and earn a seat in the Apteros Desk prop desk. 
The community aspect is a place where members can access Apteros Trading's Daily Market Insights. This is a great place of learning where Merritt personally writes about key insights on certain futures contracts like crude oil and S&P500 as well as some valuable insights into the overall market conditions that morning. Apart from this, members also get access to a members-only weekly community mentoring. 
Markets Covered
Apteros Trading covers the Futures market. Specifically the ES (S&P500) and CL (Crude Oil). 
Types of Chat Room
The chat room, led by Merrit, grants exclusive access to his market insights. It gives a walkthrough on Merritt's trades in great detail and even provides his thought process. 
The Daily Market Insights chat room has a blog-like structure. There are no chat room types compared to previously reviewed. Instead, Merritt constructs it like a blog where he gives a walkthrough of ES and CL contracts as part of a daily post. Members have exclusive access to these as well as add their comments and questions.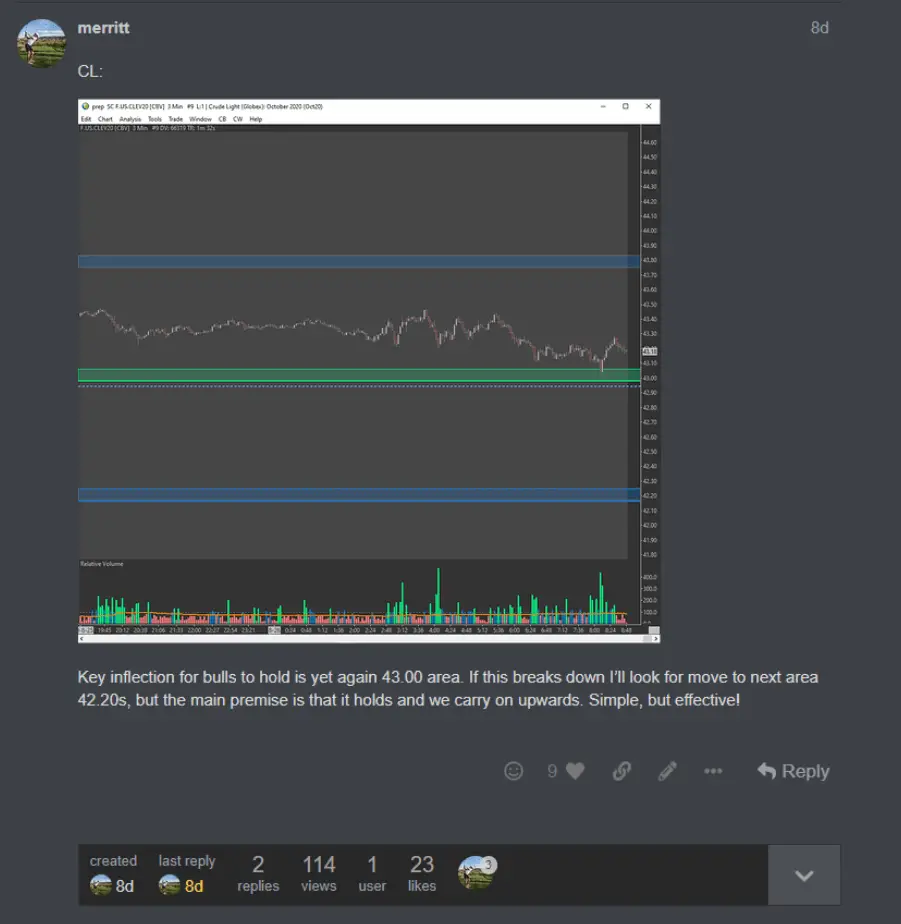 Apteros Trading Subscription Options
Subscribing to Daily Market Insights does not require the subscription to other Apteros Trading services. 
You can get exclusive access to Merritt's insights at $75/month. If by any chance, you didn't find value in the mentoring within the first month, you will be granted a full refund. 
How to Sign up for a Apteros Trading Membership
To start a membership, follow the simple steps below:
Go to Apteros Trading  home page
Under Connect found on the center of the page, click Join Us (see black box below)
There are 3 options shown. Select Daily Market Insights by clicking the Get The Insight button below 
Fill out contact information > payment information > click process my payment