Affiliate Disclaimer: "TradaMaker is supported by its readers. Please assume all links are affiliate links. If you purchase something from one of our links we make a small commission from Amazon or other partners. It helps us pay for the running of this website. Thank you!"
Using a docking station is my preferred method for building a multi monitor laptop setup. Using a docking station is a simple, clean and functional method for connecting multiple monitors. In this post I will describe step by step how to connect 3 monitors to a laptop using a docking station.
At a glance – My top pick for a 3 monitor docking station
DELL D6000 universal dock

Runs up to three 4K displays or a single 5K display

4 x USB-A 3.0 (1 x USB-A Powershare)

Headphone and speaker jack

Requirements: Windows 7 or later. Ubuntu OS 14.04.2 or later. Chrome OS Build 58 or later
What is a docking Station?
A docking station is a device that allows multiple computer peripherals and accessories to be connected to a laptop at a single connection point.
A docking station gives a laptop access to multiple devices. Monitors, audio devices, printers, keyboard and mouse connected to the docking station can be accessed by the laptop.
The laptop can be easily connected and disconnected from the docking station via a single connection cable or docking port.
Docking stations allow a laptop to function like a desktop computer and still maintain the mobility of a laptop.
Docking stations are perfect for a multi monitor setup using your laptop.
How many monitors can I connect to my laptop?
The number of monitors that you can connect to your laptop will depend on your laptop's graphics card and hardware.
Before building a multi monitor setup. First, its important to find out what graphics card you have and the number of monitors it supports.
Most PC laptop brands should supply this information.
For more information on how to find out how many monitors your laptop supports. Check out my post 'How to connect 3 monitors to a PC'.
How to connect 3 monitors to a laptop using a docking station?
The main issue with connecting multiple monitors to a laptop setup is the number of available VGA, DVI, HDMI or DisplayPorts.
Its possible to use an HDMI/VGA/DVI to USB 3.0 adapter. But this setup is messy and also limited by the number of USB ports available on your laptop.
A far better solution is to use a docking station.
There's a huge range of docking stations available. The docking station you go for will depend on you're needs.
For a 3 monitor setup a dock with 3 monitor ports is ideal. Any less and an additional adapter is required to convert to USB 3.0.
My preferred dock is the DELL D6000 Universal Dock. It's able to connect three 4K displays simultaneously via two DisplayPorts and one HDMI port. It has four USB 3.0 ports for all your peripherals such as printer, keyboard and mouse. As well as one USB-C port, speaker output and Ethernet port.
To find out more about this dock. Check out my review post – 'DELL D6000 universal dock review.'
How to connect your laptop to multiple monitors via docking station:
Check computer video card to make sure it supports multiple monitors.
Connect monitors to your docking station using either HDMI, DisplayPort, VGA or DVI ports.
Connect laptop to docking station.
Setup monitors in Windows. See 'How to setup 3 monitors on Windows 10' below.
How to connect monitors to a docking station and the various ports and connections
There are four monitor display connection ports. Depending on the age and model of your monitor it will include one or several of the following:
VGA
DVI
HDMI
DisplayPort
Check that the available ports on your monitor match the ports on your docking station.
If they don't the following adapter cables can be used:
How to setup 3 monitors on Windows 10?
Once you have connected your additional monitors, docking station and laptop, check your monitors have been detected by your PC.
How to detect multiple monitors?
Your PC should automatically detect the addition of any new monitor. If your additional monitor doesn't display go to 'Display settings'.
Right click anywhere on the desktop and select 'Display settings'.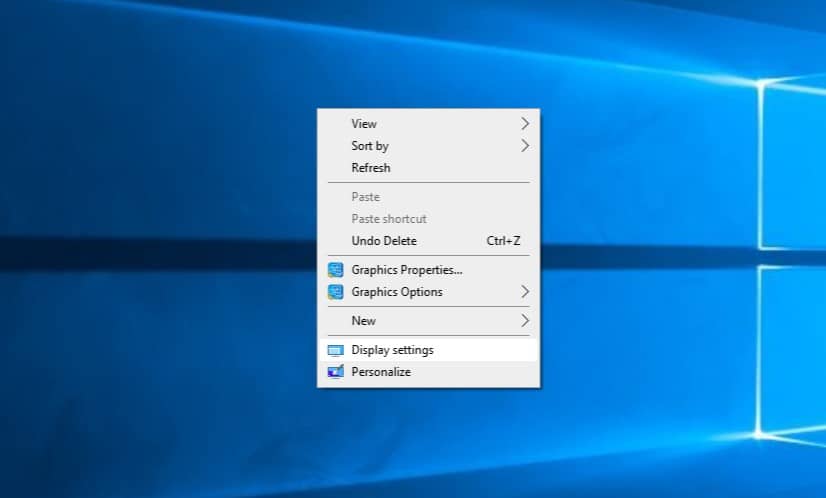 In 'Display settings' under 'Rearrange your displays' is the option to 'Detect' a new monitor. If your new additional monitor still doesn't display you may need to check your video card to confirm that it supports multiple monitors.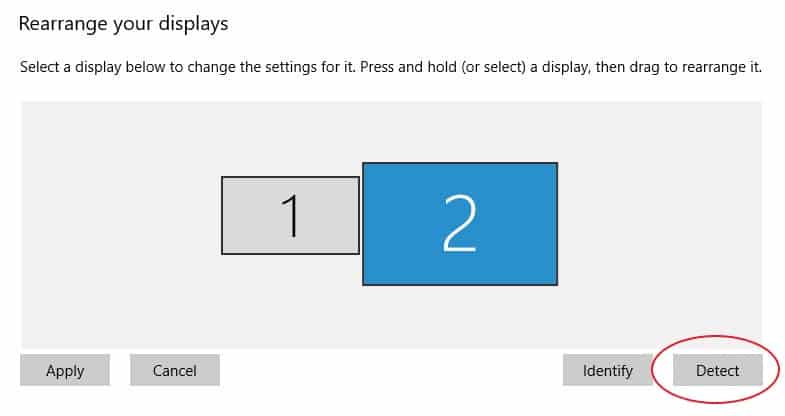 How to split screens between laptop and addition monitors?
To display different things on different monitors, right click anywhere on the desktop and select 'Display settings'.
Scroll down to 'Multiple displays'. Under the Multiple displays tab are option for how the monitors will display. To display different things on different monitors select. 'Extend these displays' from the drop down list.
Under the multiple displays tab there is also the option to 'show only on 1' or to 'duplicate these displays' across monitors.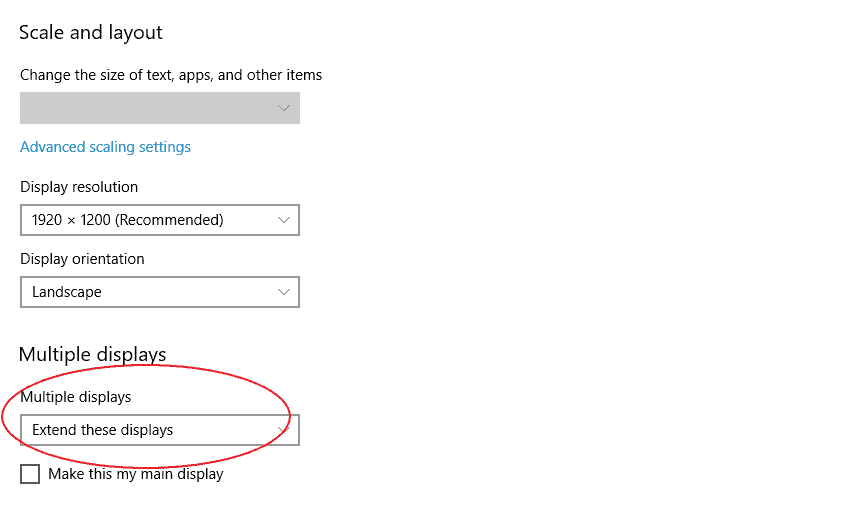 How do I change the order of my monitors?
To change the order of your monitors right click anywhere on your desktop and go to 'Display settings'. Under 'Rearrange your displays' simply left click on the display you want to rearrange and place it in the preferred position.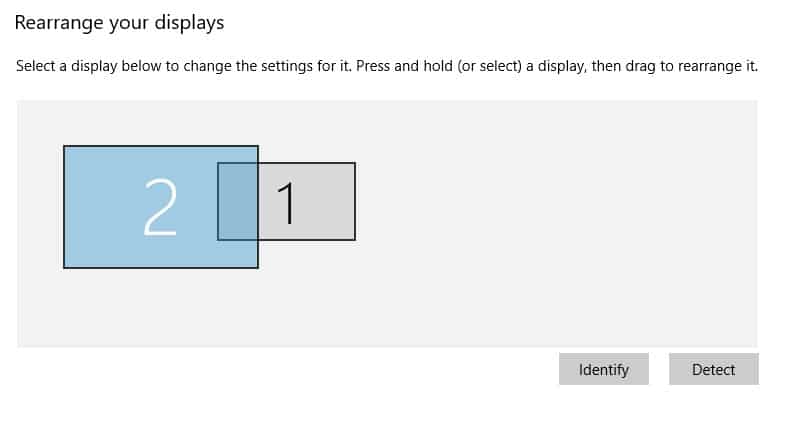 How do I choose my primary monitor in Windows 10?
Your primary monitor or main display is the monitor that windows defaults.
To nominate the main display go to 'Display settings'.
Under the Rearrange your displays heading select the monitor that you want to make your main display. It will highlight blue.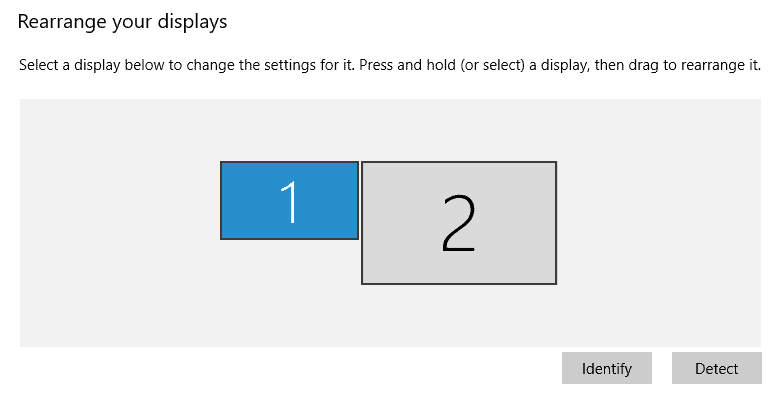 Scroll down to Multiple displays heading and beneath the multiple displays drop down menu check the box 'Make this my main monitor.
The selected monitor will now be your new primary or main display.

How to rotate screen 90 degrees in windows 10?
If you prefer to arrange your monitors in portrait orientation windows 10 allows users to rotate the display 90 degrees.
To switch to portrait configuration for any of your monitors. Go to display settings.
Right click anywhere on the desktop. Select 'Display settings'. Under Rearrange your displays. Select the monitor you want to rotate. It will highlight blue.
Scroll down to the 'Scale and layout' heading. Under Display orientation in the drop down menu select portrait to rotate display to the vertical.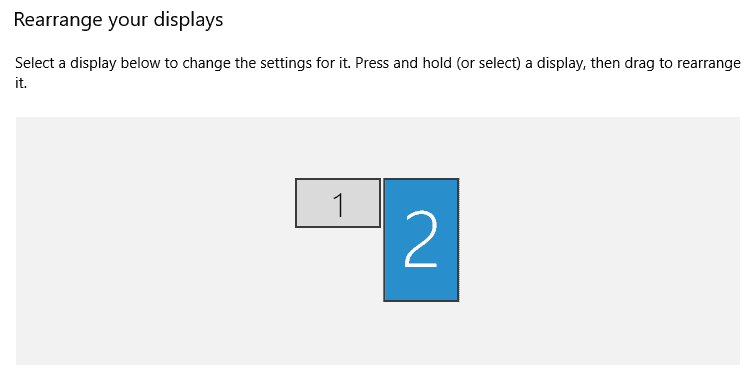 How to best arrange multiple monitors
If your building a multi monitor computer setup its important to consider how you plan to use your screens and what screen arrangement will work best for your needs.
How you decide to arrange your monitors will depend on your aesthetic preferences, ergonomic needs, how much you want to spend building your setup and how much desk space you have. It will also ultimately influence how productive you are at your desk.
There's plenty to consider so the following are my thoughts on how to best setup your multi monitor setup.
Keep in mind what ever multi monitor configuration you decide on you'll end up compromising in one way or another.
How do you set up multiple monitors ergonomically?
One of the most important considerations is designing an ergonomic work space. Multiple displays lend themselves to bending and moving your neck to view different displays.
Monitor Arrangement
A simple yet important consideration is to think about which monitor you're likely to use most. Orientate this monitor directly in front as you sit at your desk. Avoid placing the bezel or join of two monitors directly in front. This will reduce the need to turn left or right as much as possible.
Monitor Height
Using a monitor stand will allow you to easily adjust your monitors to eye level. Have the center of your monitors positioned at eye level to reduce the need to look up or down as much as possible.
How to maximize desk space with a 3 monitor setup?
Placing multiple monitors directly onto a working desk is cumbersome, looks messy and a poor use of desk space.
Using a monitor stand is the best option for the most efficient use of desk space that looks great.
I prefer using a monitor stand with a desk mount opposed to a free standing desk stand. Desk mounts clamp to the back of your desk and take up far less desk top surface area than a free standing desk stand.
How to increase productivity by using multiple screens?
The major benefit of building a multiple monitor computer work space is the proven increase in productivity. Multiple screens obviously reduce the need to continuously flick between windows and applications.
The benefits of increased productivity are best realized by placing screens as close as possible. Setups that reduce the need to turn or move to far are optimal for increasing productivity.
Why I like Monitor Stands
The first thing I'd like to suggest if you plan to build a multi monitor setup is investing in a monitor stand.
Monitor stands are a great way to free up valuable desk space. Also allow you to easily adjust and configure your monitors to your ergonomic and productivity needs. Plus they look really great.
Obviously the downside of a monitor stand is the additional cost. But I feel this is well worth it and its possible to find some good quality monitor stands at a great price these days.
What's my preferred 3 monitor configuration
Mostly I like to keep things simple, clean and efficient.
Ergonomically and aesthetically I prefer 3 horizontal (landscape) monitors butted side by side adjusted to eye level using a desk mounted triple monitor stand.
The middle monitor directly faces the user and the left and right screen angle in at about 30 degrees horizontally.
The desk is left clear and all monitors are within easy reach.
This arrangement works for me but of course there are numerous ways to arrange your monitors depending on your needs. Simply keep in mind the principles discussed in this section and build your own monitor setup for your own needs!
For a list of all my favorite equipment to build your own multi monitor work station check out my Resources page.