In this post I'd like to answer a common question among tradingview users: Does TradingView offer tick charts?
TradingView is one of the most initiative and user friendly trading platforms for trading stocks, forex and futures. The platform is really simple to navigate and charts are presented beautifully.
Unfortunately, TradingView doesn't offer tick charts. Only time based bars and range bars are supported. There are suggestions that TradingView has the intention of supporting tick data in the future. At the time of writing no firm date has been confirmed.
If you prefer using tick charts in your trading. In the following post I'd like to provide more detail about when TradingView might introduce tick chart data. I'll also provide an alternative platform similar to TradingView that supports tick charts.
---
If you signup for an annual Pro, Pro+ or Premium TradingView membership using the link. New users are eligible to get up to $30 towards new yearly plan and $10 towards monthly plans.
---
Table of Contents
What are tick charts?
A tick represents a single trade. A single trade can represent any number of contracts transacted.
Tick charts draw a new bar after a specified number of trades are transacted. For example a 1000 tick chart draws a new bar after 1000 trades.
This varies from conventional time based charts that draw a new bar after a specified period of time. For example after every 1 minute.
Why use tick charts?
Tick charts are a popular option among traders. Using tick charts over other bar charts depends mostly on an individual trading strategy and the sort of information that's important to represent graphically.
For example because tick bars represent the number of transactions. The rate that bars print provides insights into the volume of transactions and the amount of market activity.
Tick charts also provide greater pattern/structure resolution in periods of increased transaction volume. During periods of low activity bars are compressed.
This type of information is really valuable to traders whose strategy is volume or transaction biased. Versus traders whose strategy relies more on time based information.
TradingView tick charts?
Unfortunately at the time of writing TradingView doesn't offer tick charts.
There have been suggestions that tradingview have been planning to add tick data since late 2019, but as of the time of writing, no update to the platform or any announcement has been made.
If you're a fan of tradingview and a user of tick based charts or volume based charts. This is a huge disappointment.
Many TradingView users and fans would love to see the developers and creators introduce TradingView tick charts data to the platform.
TradingView Alternative platform that offers tick charts
If you enjoy TradingView but need tick chart data then consider trying MultiCharts.
MultiCharts
Multicharts is made by the creators of TradingView. Multicharts is a quality and affordable alternative to TradingView. The software is available free with a demo or funded brokerage account or for outright purchase with a fee.
The Multicharts interface has a similar look and feel to TradingView.
The default settings are basic. But with some customization its easy to build a great looking charting setup similar to TradingView.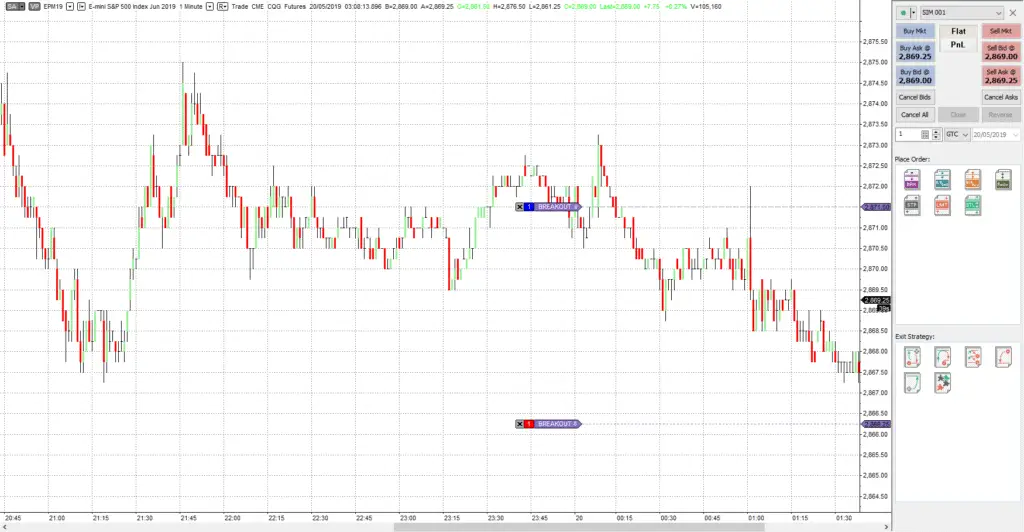 If you're interested in trialing MultiCharts. An easy option is to open a demo account that supports the platform.
If you are a futures trader then AMP futures is a good option for beginner and intermediate traders. The use of Multicharts is free with a funded AMP Futures brokerage account.
For more information on trialing and getting started with MultiCharts. Check out my post – 'How to use MultiCharts'.
In this post I'll detail how to download and install the platform. How to connect to a live data feed. Using charts and work-spaces. How to execute orders plus more.
MultiCharts license options and pricing
If you have a preferred broker, the platform is also available for lease or a life time license purchase.
Multicharts supported brokers
Multicharts supports several quality brokers for stocks, forex and futures trading. To see a full list of supported brokers click the link.
---
If you signup for an annual Pro, Pro+ or Premium TradingView membership using the link. New users are eligible to get up to $30 towards new yearly plan and $10 towards monthly plans.
---