Affiliate Disclaimer: "TradaMaker is supported by its readers. Please assume all links are affiliate links. If you purchase something from one of our links we make a small commission from Amazon or other partners. It helps us pay for the running of this website. Thank you!"
TradingView templates are a really user friendly feature of the TradingView platform. TradingView Templates allow users to customize their preferred tools or chart setup for easy retrieval.
Creating templates for drawing tools or indicators allows users to really customize their charting experience not to mention increase efficiency, and productivity plus provide a better user experience.
In this post I will explain how to use TradingView templates plus answer some common questions around the topic.
Can you save a template in TradingView?
Yes, TradingView allows users to save templates for almost all tools and indicators. 
TradingView offers pre-built templates plus users can create their own template to customized settings on drawing tools or group favorite indicators on a chart.
What are TradingView templates?
TradingView templates are a handy feature that saves user formatting of your drawings and indicators.
This offers users loads of convenience. Users can apply pre-configured settings of their favorite tools and indicators than save each one with their own template. The tool and/or indicator template can then be applied to a chart. Eliminating the need to edit tool settings or add indicators to a chart manually. 
TradingView offers two types of templates. Tool templates and Indicator templates. I will explain the distinction between each of these in the following sections:
What is TradingView's Tool Template?
The drawing tool template saves user-specified properties/formats (i.e., color, text, alignment) of a particular drawing (i.e., horizontal line, Fibonacci, trend lines) in a template.
This pre-built template can then be applied easily on any new drawings – without having to reconfigure the settings repeatedly. 
In the following sections I will explain how to create and how to use TradingView templates.
What is TradingView's Indicator Template?
The TradingView indicator templates saves user-specified settings of a particular indicator or group of indicators into a single saved template.  
TradingView indicator templates offer a really convenient way to build then retrieve a customized chart format.
Users can build their own Indicator templates or use any of the pre-built templates.
The following are examples of free, default indicator templates created by TradingView:
Swing Trading: Zigzag, Pivots, Pivots HL 
Displaced EMA: Volume, Exponential Moving Average 
Oscillators: Volume, Stochastic RSI, RSI, Commodity Channel Index 
How do I create a template in TradingView?
This section aims to be your guide in creating a template for both tools and indicators.
The following section will discuss step-by-step on where to find and how to apply drawing and indicators, how to personalize these two features, saving personalized preferences to a template, then applying these templates to a chart. 
TradingView template for Tools
In this section I will explain how to create templates for drawing tools: 
Step 1: Launch a chart 
Step 2: Locate the drawing panel on the left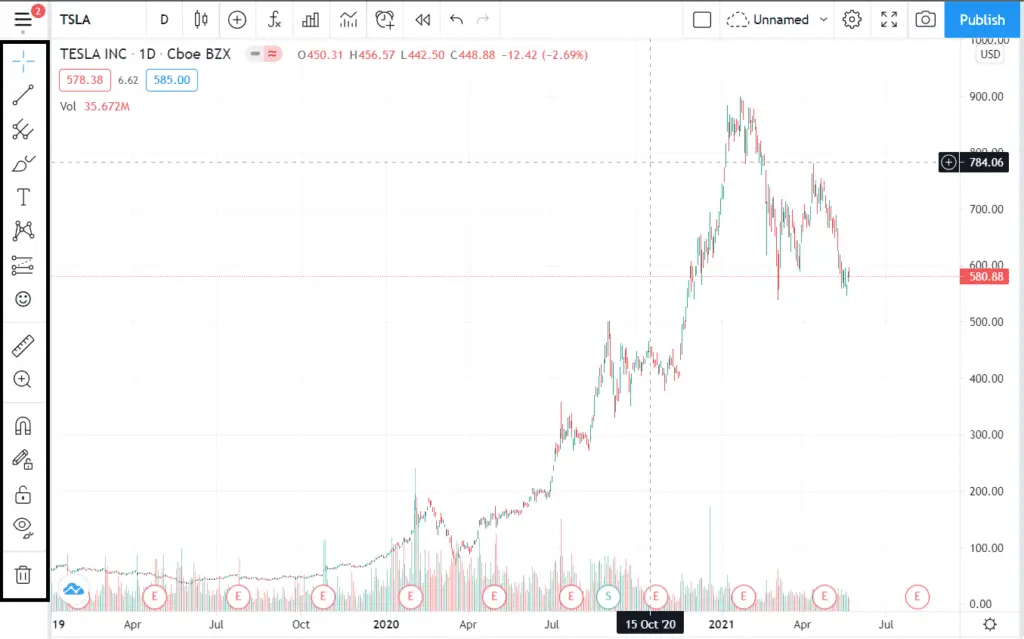 Step 3: Select the drawing tool you would like to use 
Step 4: Apply drawing on the chart. (For this example I have used a trend line tool. The same principle applies for a tools). 
A floating panel should appear 
Click on Settings (gear icon). This will open the settings configuration for the selected drawing. 

Note: If the floating panel does not appear, double click the drawing to reveal the settings configuration window. 
Step 6: Personalize the drawing by configuring settings
The black arrow on the screenshot below indicates the drawing/object which the setting configuration will be applied.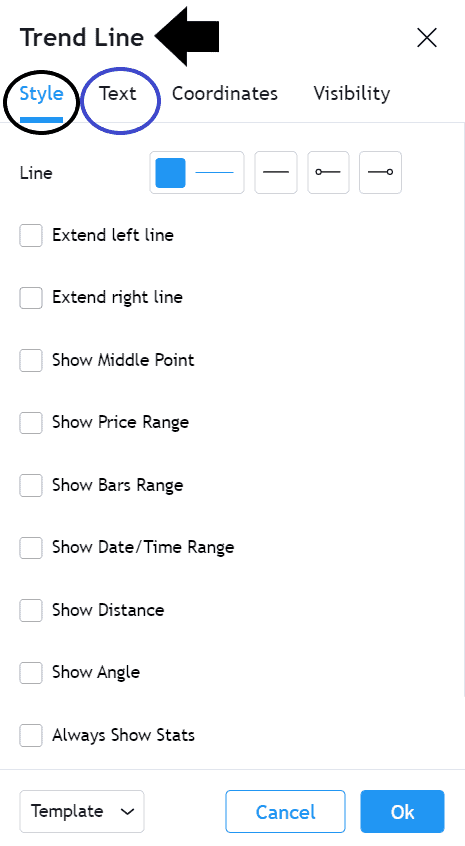 Below are typical examples of what properties can be modify: 
Style: see black circle above
Color 
Width 
Extend 
Showing stats (date/price range) 
Text: add text labels on your drawing see blue circle above
Font 
Font style (bold/italics)
Font size 
Font color
Text alignment relevant to placement on drawing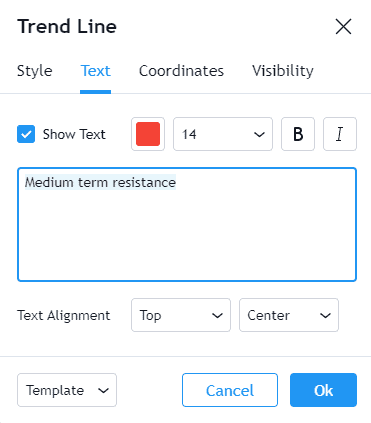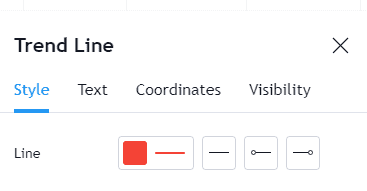 Step 7: Click the template button at the bottom of the window. See black arrow below
Click "Save As" see black box below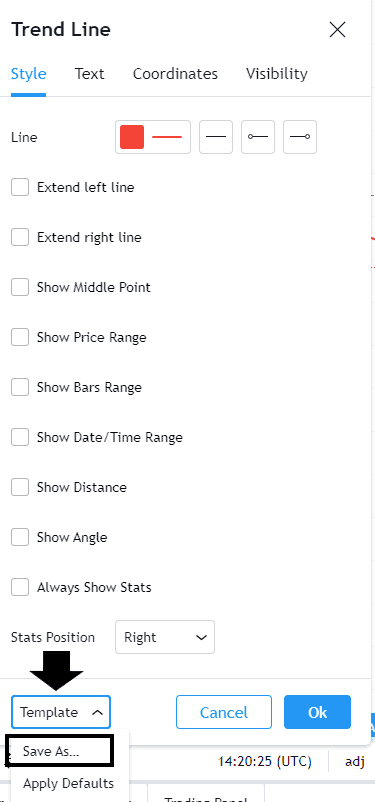 Step 8: Give your template a name > Select "Save" 
For this example a new 'trendline' tool template has been created. If you now click on the templates button under settings you should see your new template listed.
Note: This template only applies to the tool it was created for. It will not appear for any other tool.
TradingView Indicator Templates 
In this section I will explain step by step how to create indicator templates: 
Step 1: Launch a chart 
Step 2: Locate indicators icon on the main toolbar > Click on "Indicators & Strategies"
See black circle below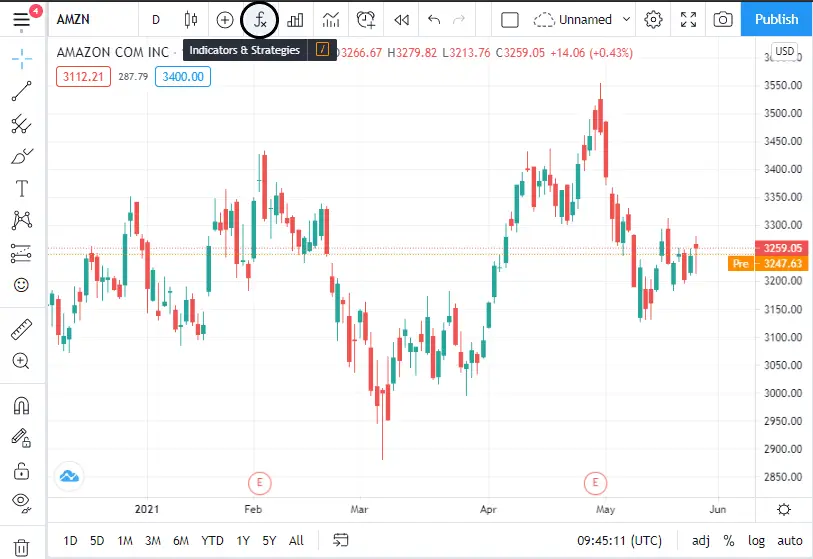 Step 3: Select all the indicators that you would like to add to your template 
Step 4 (optional): Adjust settings of indicators to your preferred settings 
Step 4.1: Hover on the indicator name > click on Settings (gear icon); or double click on the indicator itself 

Step 4.2: Click on Style to adjust indicator color, width, and/or line type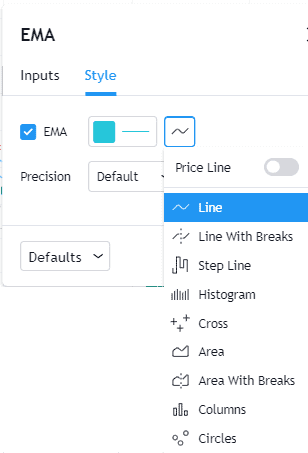 Step 4.3: Click on Inputs to adjust indicator length, input source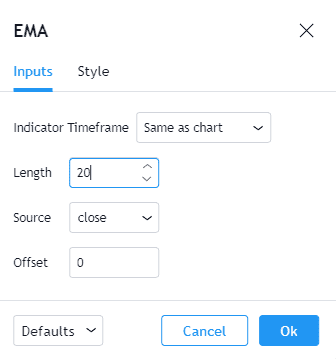 Step 4.4 (optional): Save as default 
Note: Setting to default will modify TradingView's default settings to the newly configured settings
*Repeat steps for other indicators you would like to personalize settings*
Step 5: Once all indicators are added and/or optionally modified, click Indicator Templates on the main toolbar > Select Save Indicator Template See black box below

Step 6: Name your template > Click Save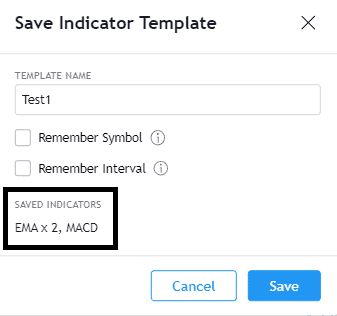 Note: You can check the list of indicators under 'Saved Indicators' to ensure all your indicators are included in the template see black box above
How do I use TradingView templates?
In the previous section, we discussed how to create a template. In this section, we will discuss how to use the created templates made for both tools and indicators. 
Applying Saved Template to a Drawing 
Step 1: Use the drawing tool to create your drawing > Double click on your drawing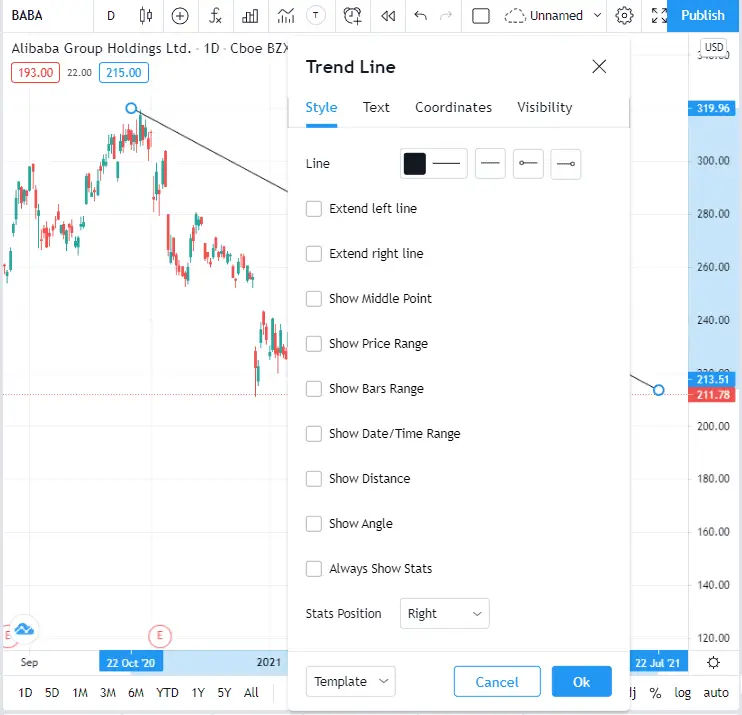 This will open the settings configuration for the selected drawing.
Step 2:  Hover to the template button below > select your named template > Click OK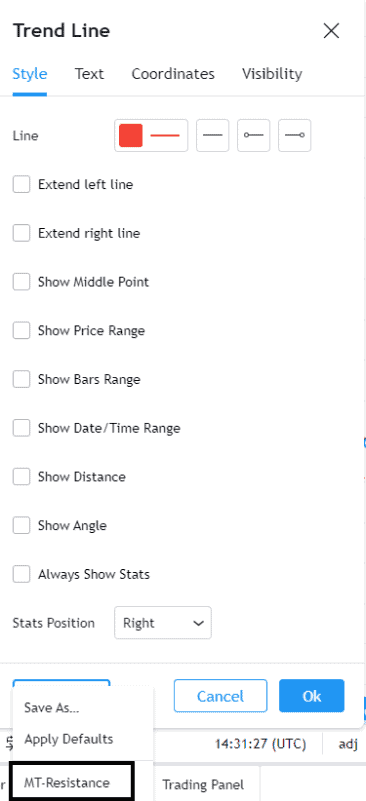 Your template for the particular drawing should then be applied to the chart.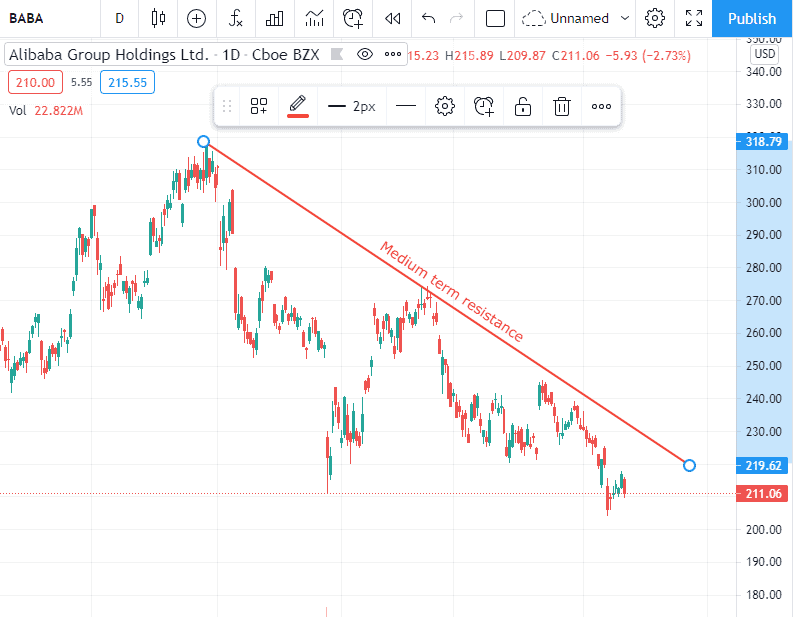 ---
Tip: The really nice thing about TradingView templates for tools is the last template that was used will be saved as default. As long as you save the chart. The next time you return to use that save tool the previous settings will be applied.
---
Applying a Saved Template to an Indicator 
Step 1: Launch chart 
Step 2: Navigate and click Indicator Templates on the main top toolbar
Step 3: Single click your created template See black box below
The indicator template will then be applied to your chart.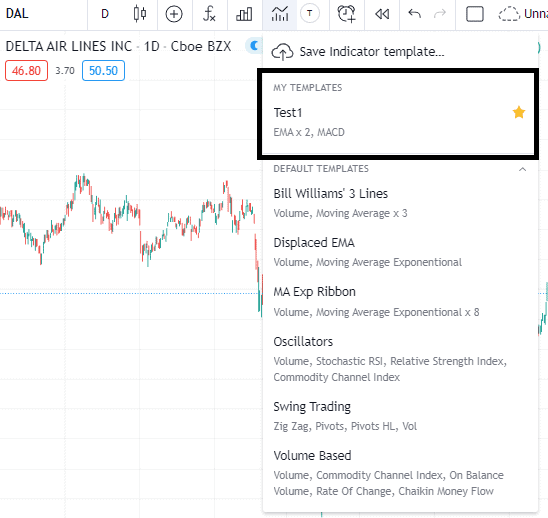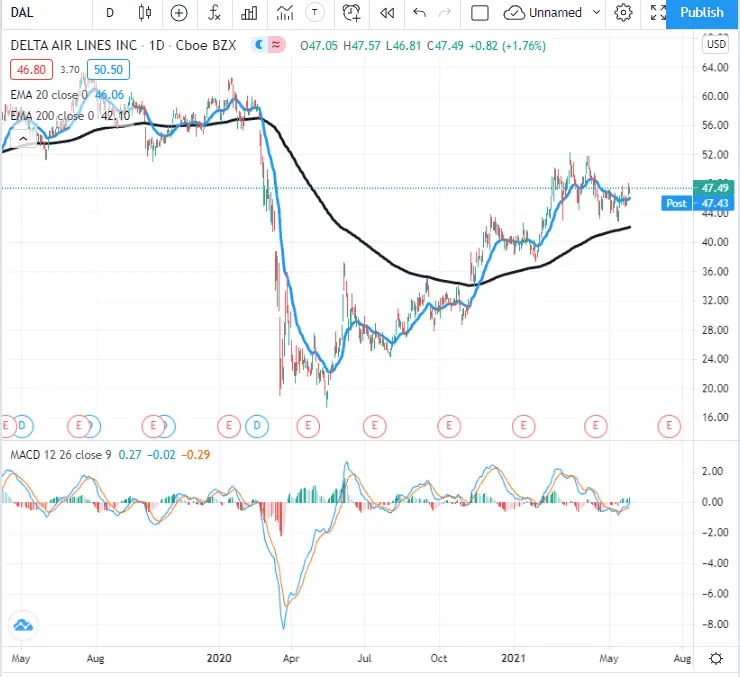 How do I share a TradingView template?
As of writing, TradingView does not have a share function for its templates. 
Alternatively, you can share charts. This includes chart layouts as well as indicator settings. As long as the chart sharing feature is enabled. 
If you would like to know more about how to share charts, I have written a detailed post about how to share a tradingview chart setup and layout.