In this post I've put together a complete guide for anyone interested in using the Mt4 Renko charts indicator.
In this guide I'll introduce Mt4's Renko charts, the various options, how to download Renko chart mt4 indicator, how to install the Mt4 Renko charts indicator, how to configure your charts plus I'll outline how you can use Renko Charts for MT4 in your trading.
What is the Mt4 Renko Charts Indicator?
Renko charts originated in Japan and are a chart type solely on the magnitude of price movement.
Instead of creating bars to represent price movement over a specified time period (e.g., one bar represents one day in a daily time frame), Renko bricks are created once price hits a specified value threshold as indicated by the "brick size.
What are Renko charts designed for and what are they useful for?
Renkos are designed to filter out the noise of minor price moves and only highlight major price trends. Renko charts are typified by long smooth trending moves. The upside of this is major price moves are easier to identify. The downside is that some price movement will be filtered out and lost.
Renko charts strategic value lies in its ability to highlight the most meaningful and relevant price levels of an asset. This id useful for identifying support and resistance levels, identifying trends, help catch larger moves and remove market noise.
Components of a Renko Chart
There are only a handful of components that make up a Renko chart: 
Bricks and Brick Size
Bricks are the main component of a Renko chart. Bricks are colored bars that form only when price moves a specified distance.
Like traditional candlestick charts, bricks are color-coded to represent either up (bullish) or down (bearish) movement. 
Brick size is a nominated threshold of price movement that is required for a new brick to form. Typically, the brick size is specified by the user.
How are Renko Bricks formed and calculated?
Renko bricks are formed when the asset's price moves a specified distance. This distance is dependent on direction of the previous brick. There are two important concepts to understand about brick formation:
For a brick to form in the direction of the previous brick. Price needs to more an amount equal to 1 brick.
For a brick to form in the opposite direction of the previous brick. Price needs to move an amount equal to 2 bricks.
This bias towards the existing trend direction is what gives Renko charts their distinctive long trending moves.
Brick size is often determined in two ways:
Brick size value is determined by the user/trader – hence brick size is FIXED
Brick size value is based on the value of the ATR indicator – hence brick size is DYNAMIC
All the mt4 Renko chart indicators discussed in this post only offer FIXED brick sizes. If you are interested in finding out more about brick sizes being automatically calculated from the instruments ATR. Check out my post where I discuss the Renko fixed brick versus ATR method.
Does MT4 have Renko charts?
Yes. However, this is not included by default with the platform. 
To get Renko on MT4, users can download and install it as an Expert Advisor (EA) or as an indicator from MetaTrader's marketplace, otherwise known as the MQL5 market. Currently, These are available either to purchase or for free. However, there are limited free options of Renko charts uploaded in the market. 
How do you get Renko on MT4?
There are a number of Renko chart indicators/EA's available for download in MetaTrader's market. 
Many of the advanced Renko indicators and EAs are paid options where prices range from $30 to $199. Free options are available although at a limited number. As expected, the free options are simpler and have fewer functionalities. Quality is also something to be considered. 
Renko Indicator mt4 free download options:
The table below summarizes a handful of the free Renko chart mt4 download options available:
Name of Renko indicator
Overview
Pros
Cons
Renko Indicator Main Chart
by Kaijun Wang

Converts traditional candlesticks to Renko bricks.
Little to no learning curve 

Easy to use – works best for starters
ATR option is unavailable for determining brick size

No historical bars
Renko bars builder
by Navdeep Singh

Adds a Renko chart as a new panel below the main chart. 
Allows side-by-side comparison of traditional charts and their Renko equivalent

Available in all timeframes
ATR option unavailable for determining brick size 

Adds Renko chart on a separate panel
Admiral Market's Renko 

Adds a Renko chart either as an overlay or as a stand-alone window
Includes historical bars and live tick by tick data

Indicator is created and maintained by a trusted source 

Renko is bundled with other premium tools in MetaTrader Supreme Edition plugin
ATR option unavailable for brick size calculation

Requires the installation of the MetaTrader Supreme Edition plugin
Renko indicator mt4 free download options
How to set up the Renko Charts indicator in MT4?
How to add the Renko Charts indicator to MT4
There are several ways to download the indicator/EA. This section will discuss the three main options for downloading and installing mt4 Renko charts. 
Option 1 illustrates how to download Admiral Market's version of mt4 Renko charts.
Options 2 and 3 will show the other ways to download and install Renko indicators from metatraders market.
Option 1 – Using Admiral Market's MetaTrader Supreme Edition
There are two things needed to successfully install Renko charts through Admiral Markets. Both are easy to download and install. 
MT4 Admiral Markets Version
Admiral Markets offers a variety of tools and platforms for its clients. One of which is access to its own version of the MT4 and MT5 platform. 
Download Admiral's MT4 version here then follow the installation guidelines. 
Admiral Market's MetaTrader Supreme Edition
Next you need to download the Admiral Market's free plugin: MetaTrader Supreme Edition. The plugin includes a variety of technical analysis and trade management tools.
In addition, you will also need either a live or demo account (free).
Download Renko chart mt4
Step 1: Visit the download page on Admiral Markets website
Step 2: Click Free Download for MT4 button 
Installing
Step 3: Open the zip file and follow the steps to complete installation procedures
You'll come upon this window: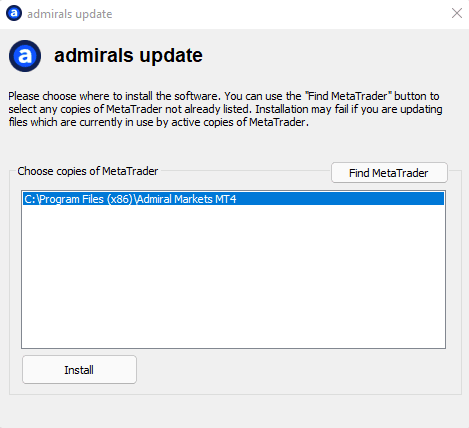 There are final steps in the installation wizard. Follow along until you see this window: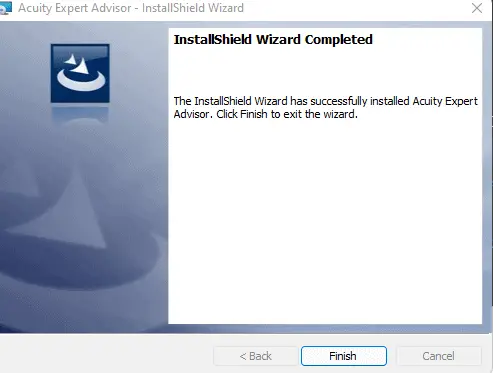 Step 3.2: Click Finish
After installing the Supreme Edition plugin, the Admiral Renko indicator, along with other tools, will be automatically available in the indicator list of your MT4.
Applying the Renko indicator mt4 to your chart
Follow the final steps to apply the Renko indicator to a chart: 
Step 4: Launch MT4 platform 
Step 5: On the Navigator window, you will see all the installed indicators and EAs from the newly installed plugin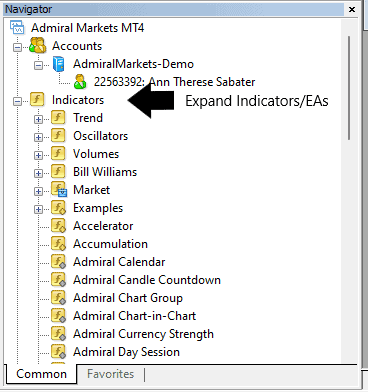 All those with "Admiral" at the beginning are from the MetaTrader Supreme Edition.
Scroll down to see Admiral Renko. 
Step 6: To apply to a chart, drag and drop Admiral Renko to the chart of your choice. 
This will open the Properties/Settings window of Admiral Renko. We will learn about customizing settings of the indicator in the next section. 
This is how the chart will look like at default settings: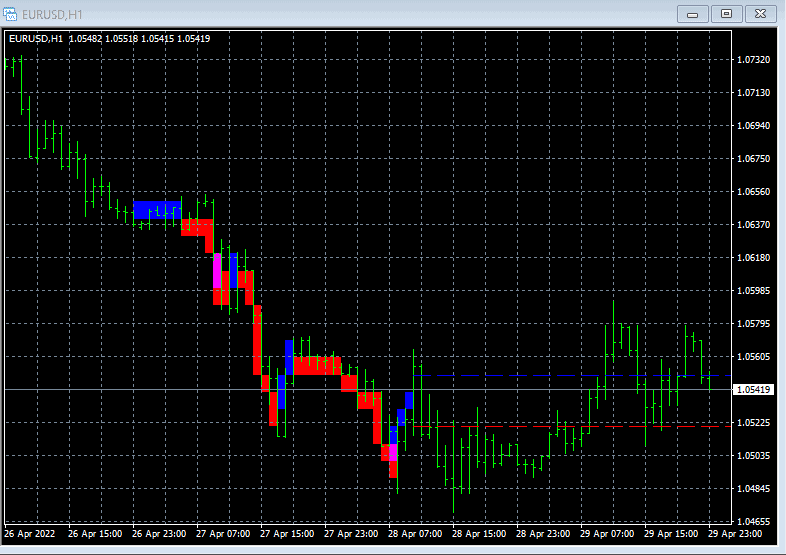 Note: The above screenshot will look different from a traditional Renko chart. The Renko bricks are displayed as an overlay on the main chart type. 
The Admiral Market's Renko indicator has an added option to place the Renko brick on a separate window that will look like a standard Renko chart.  
See the 'Setting up Admiral Renko as a new chart' section below.
This option uses MT4's offline chart functionality.  However, despite being an offline chart, the indicator offers a live per tick update.
Most of the parameters, like brick size, in the Properties window will also apply to the offline chart.  
We will discuss setting up the offline chart in the next section about settings configuration.
Option 2 – Downloading from the MQL5 Market
Another option is to download Renko chart mt4 through the MQL5 Market – which is the main market that houses many MetaTrader custom indicators and EAs. 
Step 1: Visit the Market's main webpage. Click here 
Step 2: Use the search bar to find all Renko indicators/EAs available in MetaTrader4
Step 3: Click the Renko indicator/EA of your choice > Click Download button on the left side of the screen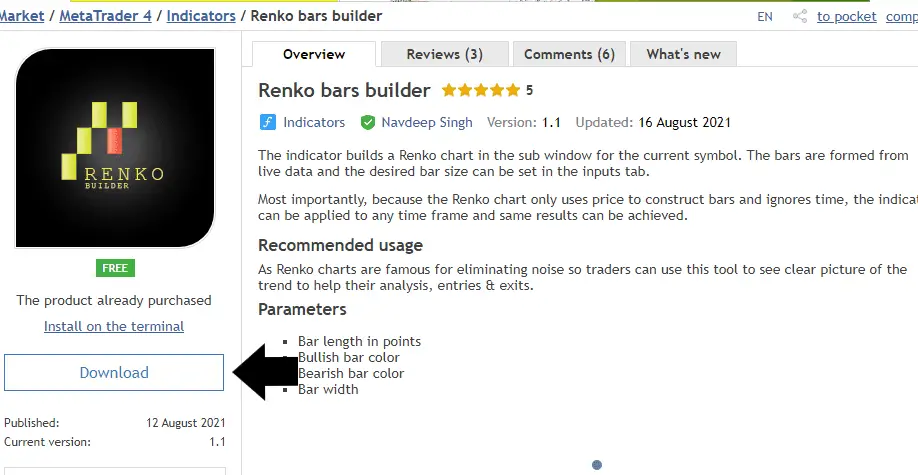 If you have MetaTrader 4 installed, click Yes 
If you don't have MetaTrader 4 installed, click No then download the platform. 
Step 4: If you click Yes, the platform will finish the installation for you. 
Step 5: On the Navigator window, expand Indicators by clicking the + button See black box below 
   Step 5.1: Expand Market See blue box below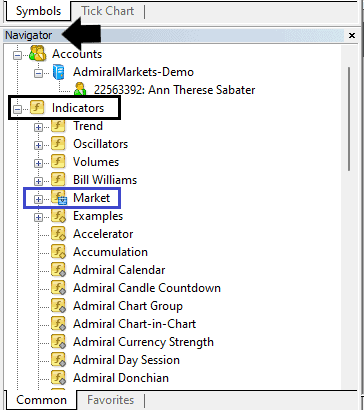 All your downloaded indicators from the MQL5 market will be shown here. 
Step 6: To apply to a chart, drag and drop the indicator to the chart of your choice.
Option 3: Installing a downloaded indicator from your desktop
If you downloaded the indicator/EA from a different source other than the MQL5 Market or one has been shared with you, there is a different method to follow for installation to MT4. 
See steps below: 
Step 1: Launch MT4 > Click File on the main toolbar 
Step 2: Click Open Data Folder or simply press the keyboard combination 
This will automatically open the Terminal data folder from your desktop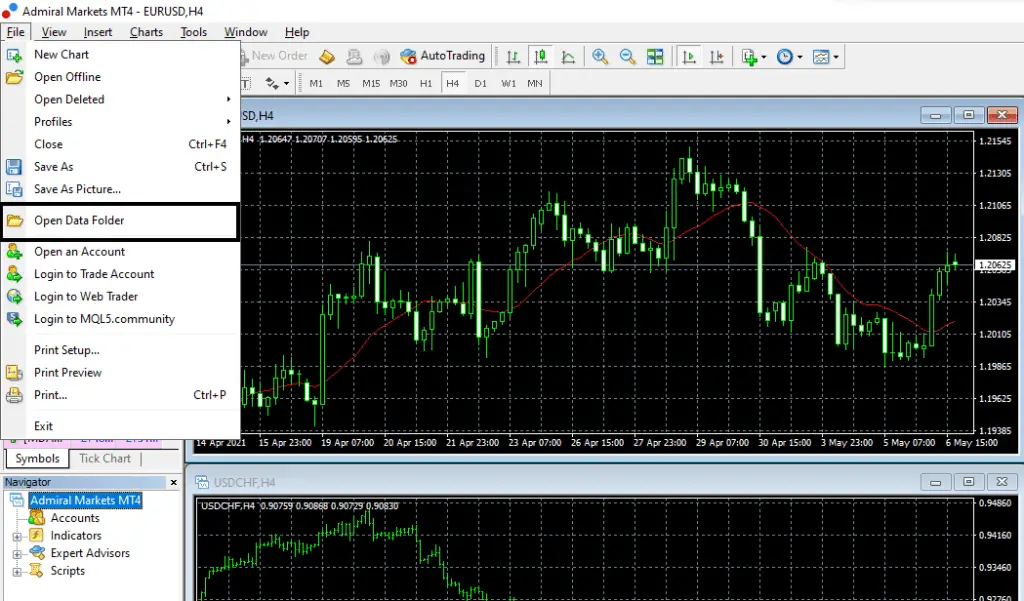 Quick note: Depending on the version, the MT4 platform may look different. This post will use the Admiral Markets MT4 version. 
Step 3: Double click MQL4 folder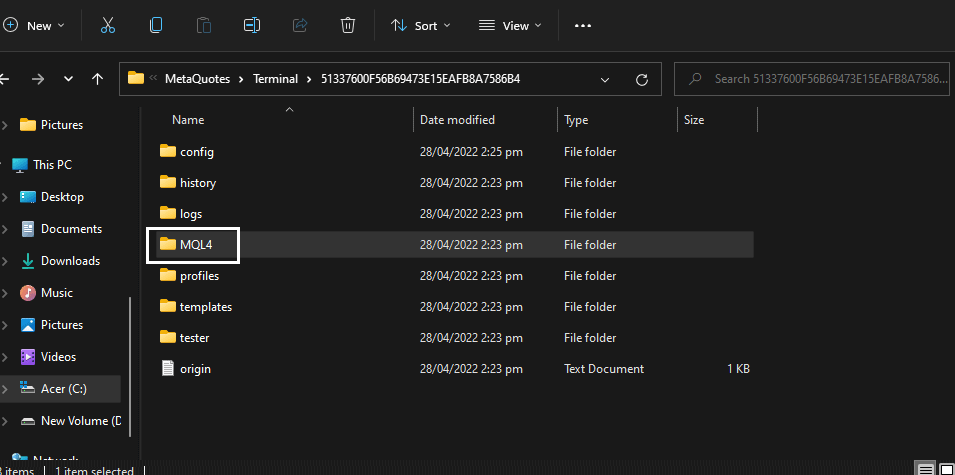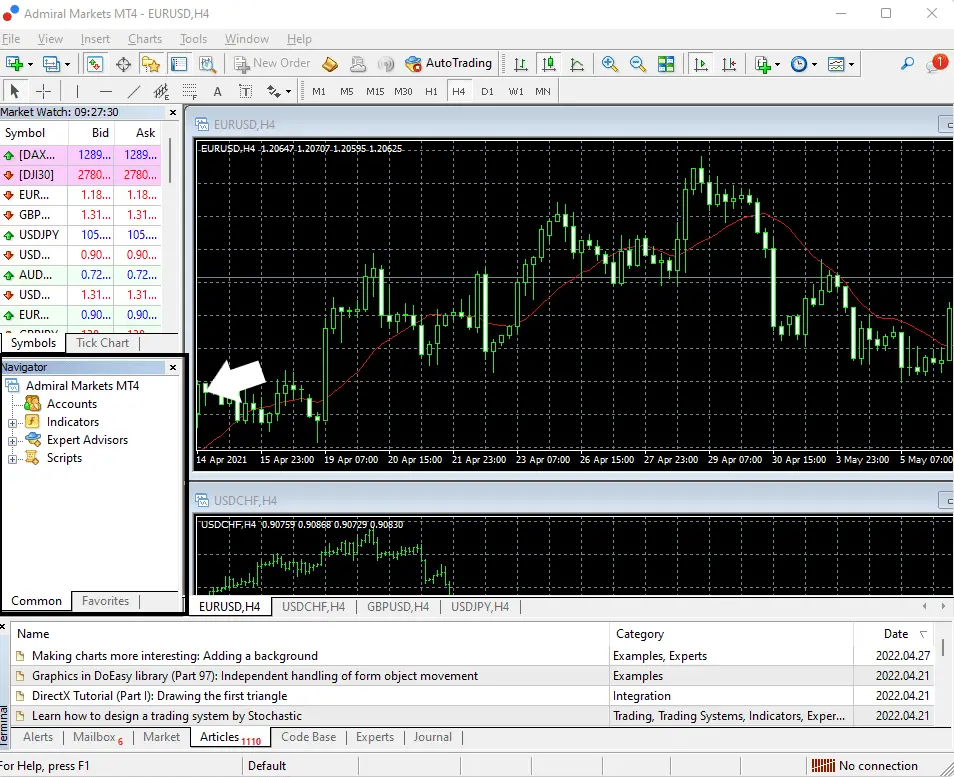 Step 3.1: Then open:
 Experts folder for EA installation
Indicators folder for indicator installation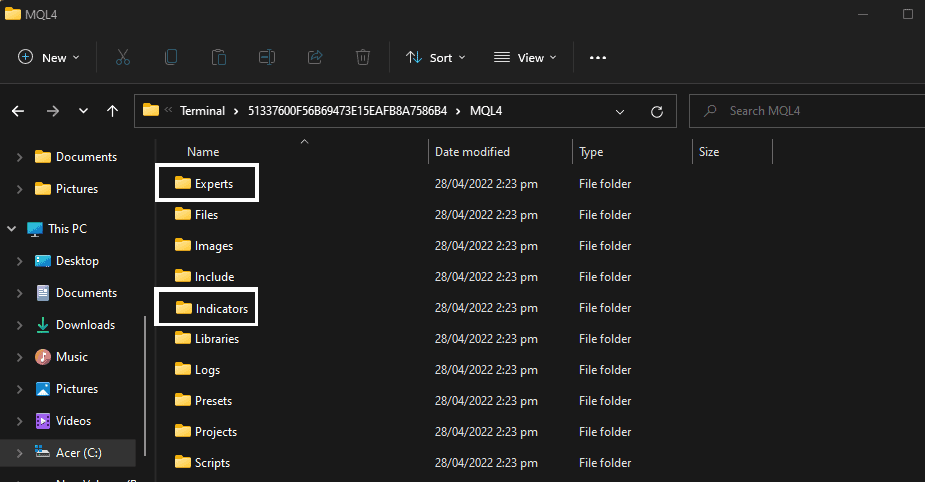 For illustration, we will be installing an indicator.
Step 4: Locate the indicator/EA you have downloaded to your desktop
Note: keep the Experts/Indicators folder open during this step
   Step 4.1: Copy the indicator/EA 
   Step 4.2: Return to the Experts/Indicator folder > Paste the copied indicator/EA 
   Step 4.3: Close all File Manager windows 
Step 5: Return to MT4 platform 
Step 5.1: Locate the Navigator window see screenshot below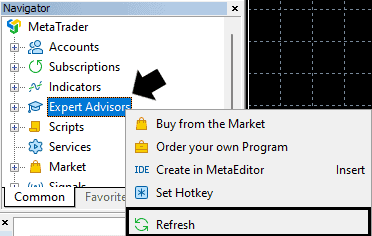 Step 5.2: Right click on  Expert Advisors or Indicators >Select Refresh
Step 6: Expand Experts or Indicators by clicking on the plus (+) button beside it 
 The installed indicator or EA should appear on the list 
Step 7: Click then drag the indicator or EA to your chart.
How to configure Renko indicator MT4
In this section I will use the Admiral Markets Renko chart mt4 indicator as an example.
All personalization and configuration of the Admiral Market's Renko indicator is all accessible through the Properties window. 
How to open the Properties window for the indicator?
The Properties window below will be the first window to appear once the indicator is dropped on a chart from the Navigator panel.
Once the Renko chart is active, you can open the Properties window at any time by: 
Right click on any area of the chart > Select Indicators List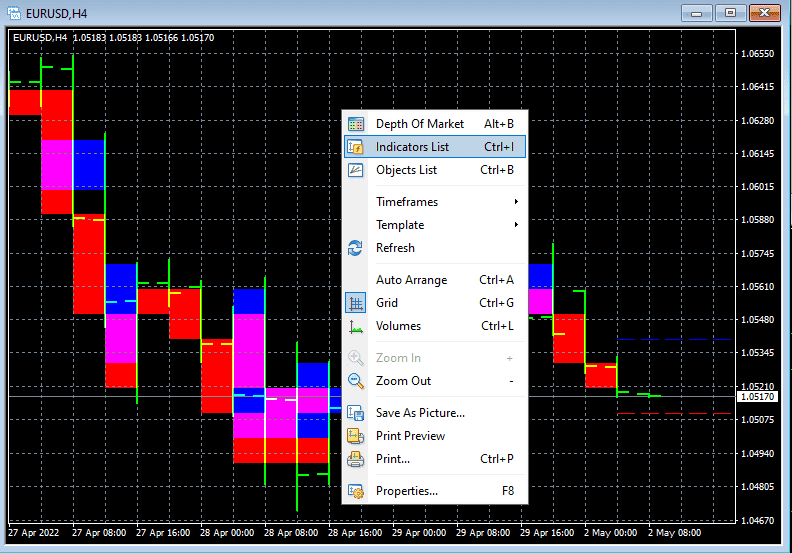 or
Keyboard shortcut: CTRL + I
This will open a small window: 
The active chart will be shown on the header 
Select Admiral Renko indicator 
Click Edit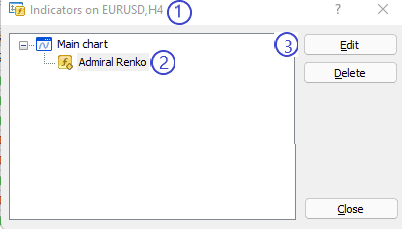 The Properties window for Admiral Renko will then appear: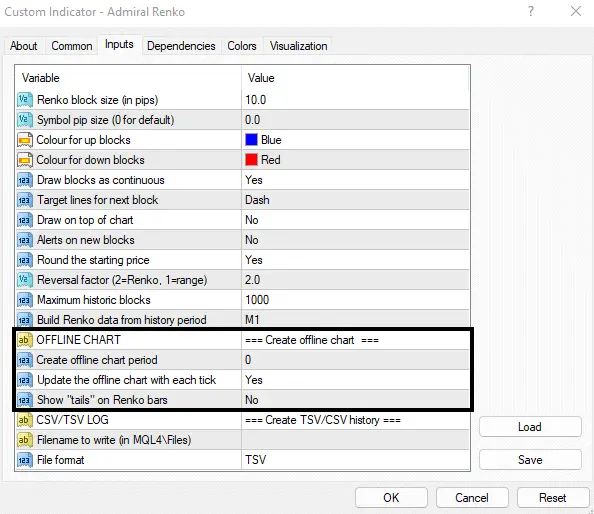 Default settings of Admiral Renko: Inputs tab
Here are the important parameters to set-up: 
| | | |
| --- | --- | --- |
| Variable | Overview | Default |
| Renko block size (in pips) | Users can decide to choose the number of pips for the Renko brick size | 10.0 pips |
| Colour for up blocks | Change to the colors of your choice for up bricks | Blue |
| Colour for down blocks | Change to the colors of your choice for down bricks | Red |
| Maximum historic blocks | Indicates the number of blocks back in history that the user wants to display on the chart | 1,000 |
| Target lines for next block | Two horizontal lines that represent the potential position of the next brick | Dash |
Setting up Admiral Renko as a new chart: Inputs tab
As mentioned previously, this Renko indicator by default will appear as an overlay.
To view the Renko as its own separate chart, the table below will show the parameters to be adjusted. 
Under OFFLINE CHART in the Inputs tab See black box above
You need to enter a value for the offline chart period that is different to the standard MT4 timeframe (M1, M5, M15, M30,  H1)
Variable
Overview
Default
Create offline chart period
Important: the indicator requires the user to use a value that is different from the standard timeframes on the platform. 

0 as the offline chart is disabled by default.
Update the offline chart with each tick
If yes is selected, brick will show live per tick updates.

If no is selected, the chart will be static and will only update once a new brick has formed.

Yes
After setting the Offline Chart parameters, one final step is to open the offline chart: 
Step 1: Click File on the main toolbar
Step 2: Click Open Offline See black box below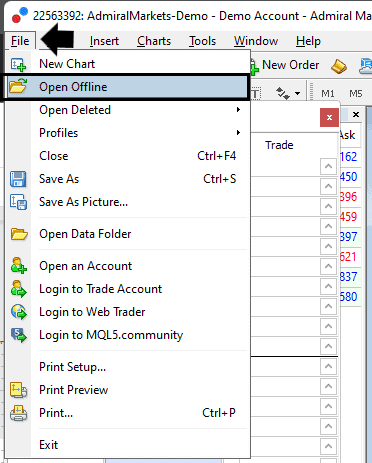 You will see a list of charts with different currency pairs and timeframes. 
Step 3: Locate the Offline Chart that match the parameters you have set > Click Open
Using the illustration of Offline Chart parameter setup above, I have selected the EURUSD, M6.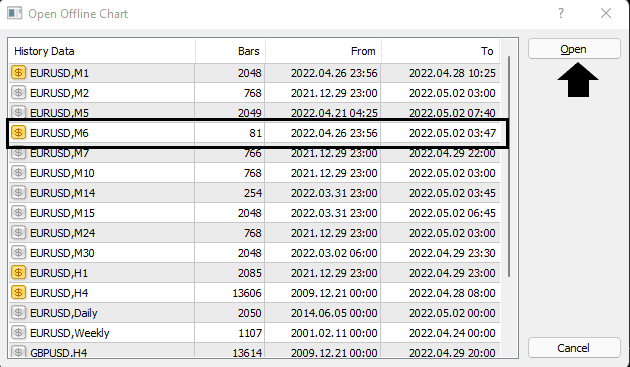 The Offline Chart will open on a new chart window. 
Step 4: Click Candlesticks on the toolbar or keyboard shortcut ALT + 2 See circle below
The Renko bars mt4 will now appear as a separate, offline chart. See sample illustration below: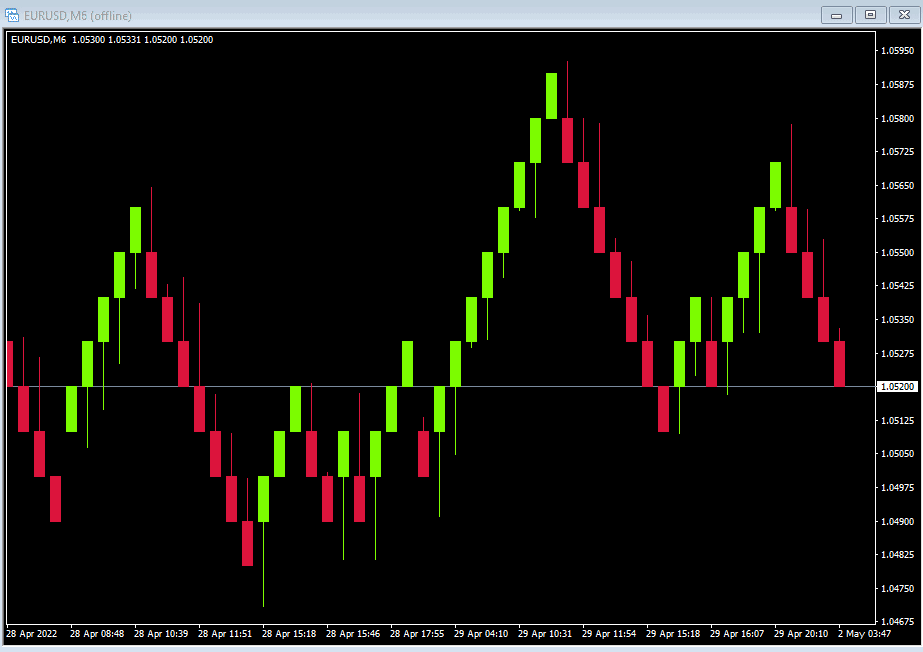 How to change Renko brick size?
Brick size is the main parameter for Renko. 
The Renko brick size can be changed on the Properties window under the Inputs tab. 
Follow the steps below for a quick overview of how to change the brick size: 
Step 1: Open the Properties/Settings window 
To open the properties window with the indicator already applied to a chart, double-click the Renko indicator. 
Step 2: Go to Inputs tab
Step 3: On Renko block size (in pips), input your preferred number of pips for the Renko brick size. 
How to Use Renko Charts for MT4?
Once you have installed the Renko chart mt4 indicator. They can be used similar to most other mt4 charting options. Below I've listed some of the key benefits of using Renko charts that can be used to build a strategy around using Renko charts
---
Important note: When using Renko charts it's important to have a solid understanding of how each brick is formed. (See 'How are Renko Bricks formed and calculated?' section above).
Remember Renko bars don't graphically display the full range of price movement within each brick. This is distinct from candle stick charts that display wicks for bar high and lows. If you want this feature use the "wick' setting available with most Mt4 Renko indicators.
---
The simplicity of Renko charts make them perfect for:
Identifying support and resistance levels
Thelarge clean trending moves that typify Renko charts makes identifying support and resistance levels / areas easy.
Identifying trends
Renko charts are characterized by large trending price action. This makes it really easy to identify historical trends. Plus newly forming ones.
Catching large moves
Because renko charts bias the current market trend direction. A strong move is required in the other direction to form a counter trend Renko bar. This offers a clear signal whether to remain in a trade or not.
Removing market noise
Renkos bias to the current market trend direction eliminates smaller counter trend price movements. This helps eliminate price volatility.
Reduces overtrading
Less market noise and clear trend trading signals reduce the temptation to jump in and out of trades.
Better stop loss and take profit placement
Clear signals for counter trend moves makes placing stop loss orders and take profit orders simple.