Building a comfortable, functional and effective trading monitor setup is a cornerstone of any traders craft. Many traders overlook the importance of building an effective working environment for specific to their own trading needs.
This post aims to provide a guide for building a trading monitor setup for your specific trading needs. The key factors for building an effective monitor setup are: Monitor type, how many monitors do you really need, ergonomics, the best arrangement of these monitors and how to best setup your monitors. 
Table of Contents
Things to consider for a trading monitor setup
When people think of trading, they might imagine elaborate computer setups with huge banks for monitors displaying charts indicators and the latest news events scrolling across the screen. Trading can be as elaborate as you want. The reality is that each trader has their own hardware needs. A single monitor be all a trader needs to effectively trade a market. Others might need more.
The purpose of this post is to help individual traders build an effective trading monitor setup for their own needs.
In this post I'd like to cover the following topics worth considering when building a trading monitor setup. These include:
Types of monitors
Number of monitors best for your own strategy
Ergonomics
Monitor arrangement that works best for you
How to best setup multiple monitors for your workstation
Monitor types
There is a huge range of monitor styles, resolutions and sizes available on the market today. Choosing the best monitor type is an important consideration when building you trading workstation.  
Best monitor size and resolution for trading
Monitor selection is an important first consideration. thankfully good quality monitors are relatively cheap these days. Its possible to pick up a good quality monitor for a few hundred dollars if that's your budget. A good quality monitor with quality resolution makes reading charts clearer and also reduces eye strain and other over use conditions developing. Investing in a good quality monitor is definitely worth the investment.
Your monitor selection is a function of two things: physical size and pixels. For the best user experience, I suggest a minimum size is 24" with a minimum resolution of 1080p. 
A 24" monitor size will give you ample room to accommodate multiple chart windows or other trading tools on a single monitor. 1080p is a good resolution for this size monitor. Your images will appear crisp and clear.
If you prefer a large physical screen size also consider upping your resolution specifications. If you would like to learn more about screen size versus resolution check out my previous post 'Best monitors for day trading'.
Going with 1080p, 24" monitors has loads of options for a good quality monitor for a relatively cheap price.
If you prefer bigger sizes (27" and above), with higher pixel specifications this will generally translate to higher price tag. Below is a list of my preferred monitors for various sizes:
My Favorite Monitors
For a balanced view, below is a list of really good quality monitors from 24 inch 1080p through to a 32 inch 4K monitor.
1080p Monitors
DELL U2415 ULTRASHARP
My favourite 1080p monitor has to go with the Dell 2415 Ultrasharp monitor. This is a great value for money option with some really nice design features. 
Features include: 
1930 x 1200 pixel resolution
1x HDMI 
1x DisplayPort 
5x USB 3.0 connections 
What I really like about this monitor is the ultra-thin bezel which works extremely well when you have a multi-screen setup. It creates a seamless visual experience between monitors making it appear like continuous single large screen. 
1440p Monitors
HP Z27N G2
If you want to up your monitor size a great is the HP Z27N. It offers a 27 inch monitor with higher screen resolution of 1440p.
Features include: 
2540 x 1440 pixel resolution 
1x HDMI
1x DisplayPort
1xDVI
3x USB 3.0 
2x USB-C
This monitor is great for multiple monitor setup as it comes with a 3-sided micro edge for a seamless multi-screen display. The monitor can also daisychain up to 2 displays using the DisplayPort connection. 
4K MONITORS
For those who want the best visual experience. A 4k monitor is the way to go. These options require a larger budget as compared to the prior options, it is still within a reasonable price range especially for those who only have one to two monitors in their setup. 
HP Z27
Believed to have one of the most accurate color displays in the market, the HP Z27 like its cousin 1440p cousin above, also features a thin bezel edge creating a seamless visual experience when used alongside another monitor. 
The HP Z27 has a 27-inch screen with a 3840 x 2160 pixel resolution display. This monitor effectively acts as a docking station where you can use its various ports to daisy chain other devices. 
To get to specifics, here's a rundown of its features:
1x HDMI
1x Mini DisplayPort
3x USB type A
2x USB type C: where you can connect and charge devices like laptops and smartphones. 
BENQ PD3200U 32″ 4K DESIGNER MONITOR
Finally, I really like the BenQ PD3200U. It offers a large screen with beautiful crisp images. This monitor is a massive 32 inch with 3840 x 2160 pixel resolution display sacrificing little in the image quality department. 
Similar to HP Z2Z, the BenQ PD3200U is also loaded with various ports. However, it does not include the very useful USB type C.
5x USB 3.0
2x HDMI
1x DisplayPort 
1x Mini DisplayPort 
Another standout for me is the stand flexibility making angle manipulation very easy. The stand allows the monitor to tilt up and down or left and right. 
Of course, this top tier designer monitor comes with a hefty price tag especially when compared to the prior 4K monitor option. Nonetheless, if budget allows, the BenQ is indeed a worthy investment. 
How many monitors do I need for day trading?
A multiple monitor setup makes viewing multiple charts, news feeds and chat rooms undoubtedly easier. Switching between one window after another is frustrating. Switching windows risks making mistakes and missing opportunities.
Personally I prefer to think in terms of screen area. That is you can choose to have more smaller monitors or less bigger monitors. Whats important is the amount of information that can be displayed clearly.
The number of screen are any one trader needs is a subjective.
To determine how much any one trader needs its important to consider what information is necessary to trade effectively based on their own strategy and markets being traded. Its also important the ergonomic comfort of much screen. in the following section I will attempt to answer these questions based on my own experience:
How much screen real estate do you need?
Its helpful to design your trading monitor setup to completely avoid having to switch windows. Carefully considered what information you really need to trade. If a piece of information doesn't have a purpose get rid of it!
I find using 3 x 24 inch is the perfect amount of screen area for my needs:
One screen for my trade execution chart. Another for supplementary charts such as market profile, volume indicators etc. Then the third monitor is for my news feed and internet browser.
More or less might be better for you based on the information you NEED to trade!
Do I need to move to much to see all the screens?
A larger screen area means you are going to have to physically move your head and neck to see all screens.
Consider designing your screen area so that it is small enough to reduce the need to move my neck to much to see all the screens yet big enough to display all the information you need.
Also consider strategically arranging charting windows so that the most used chart is directly in-front of you. Also cluster related charts next to each other.
You may also want to consider arranging monitors in a specific geometry to acheive a simalr result. There are a variety of monitor stands available to mount monitors vertically, horizontally or any a range of other compositions.
I will go into detail about this in the following section:
My favorite monitor stands
Consider using monitor stands to customize your trading monitor setup geometry.
Using monitor stands has several key benefits:
Customize monitor geometry
Efficiently mount multiple monitors of your desktop – I prefer the clamp design
Free-up desktop surface area
Broadly there are two types of monitor mounting systems: desk mounted or wall mounted.
This is a matter of preference. I personally prefer desk mounted as it promotes more flexibility in making angle and placement adjustments.
Desk mounted options are also great for adjustable height desks – perfect for traders!
Monitor stand features
The following is list of the key features that I consider important when considering investing is a monitor stand:
1. Fully adjustable monitor arms
Fully adjustable arms is an important feature worth considering when selecting any monitor stand.
Tilt, swivel, rotation, and orientation options are flexible ways to customize your workspace. Fully adjustable monitor arms provide the flexibility to make small adjustments to fully customize monitor position and angles that that are ergonomically fitted for you.  
2. Elevation
Monitor stands elevate monitors off your desk surface. This frees-up big areas of desk surface area that would otherwise be filled with several monitors.
Tiered monitors mounted above each other is a great way to efficiently add additional monitors into a small area. Monitor stands are typically found with two tier mounts. 4 monitor mount and 6 monitor mount stands are available for traders wanting large banks of monitors within a small area. 
3. Monitor mount
Desk mounted monitor stands are typically available in two mounting styles: Free standing mount or desk clamp. I prefer the desk clamp style since it maximizes available desk surface area. I also find them more stable and secure. Free standing mounts are easier to move and adjust.
4. Configurations
Monitor stands are available in a variety of monitor configuration setups to suit your needs. The following table illustrates several monitor configurations available.
Personally I prefer 3 horizontally mounted monitors. My main monitor is mounted in the center and peripheral monitors either side. This setup provides a really nice wrap around trading monitor setup.
My Favorite Monitor Stands
Below is a list of favorite VIVO monitor stands. These are great quality monitor stands for an affordable price.
Monitor stands are available in a variety of configurations to suit your needs:
How do I set up multiple monitors?
Setting up multiple monitors depends on your computer hardware and operating system.
Your computers graphics card will determine how many monitors you can connect to your PC.
The first thing you need to determine is the capacity of your graphics card – how many monitors can it support? For an easy way to determine how many monitors your graphics card can support, refer to my previous post. 
I have written several posts relating to setting up multiple monitors. For more information checkout the following links:
Setting up multiple monitors in Windows 10
Setting up multiple monitors in Windows 10 is relatively straight forward. For full instructions on how to do this. See my step by step instructions.
In these instructions I describe how to: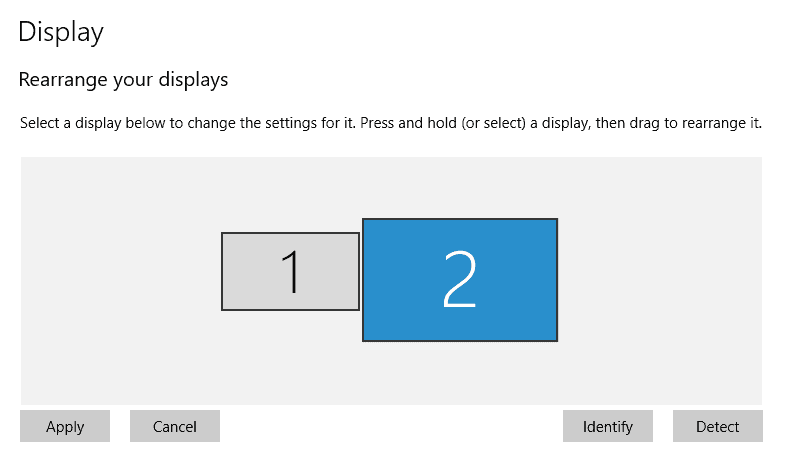 Best Multiple Monitor Arrangement
How best to arrange your monitors depend on your aesthetic preferences, ergonomic comfort, budget and the amount of desk space available.
Your trading monitor setup has a large impact on how productive you're going to be at your desk. Therefore it's really important to take the time to consider what works best for you.
Personally I prefer 3 monitors mounted horizontally across the width of a wide desk. My main monitor in the center and 2 supporting screens either side.
However there are a huge variety of ways to setup your preferred monitor setup. The selection of monitor stands discussed above provide several options for developing a trading monitor setup best for your needs.
As I guide I suggest considering two important guidelines what ever setup you go with.
Most used monitor – Orientate your most used monitor directly in front of you. Don't place the bezel or join of two monitors directly in front of you as you sit at your desk. This will reduce the need to turn your head when doing the most of your work.
Monitor Height – Use your monitor stand to adjust your monitors to eye level. I will discuss this more in the next section.
My favorite Desks
Finally let's talk about something that I think is really important when building a trading workstation – your computer desk. 
Finding the correct monitor height and position is crucial otherwise it will be a source of neck and shoulder discomfort if done incorrectly. 
Typically, optimal monitor placement is a function of desk height. The height of your desk plays a big role in building an ergonomic workstation. 
Desk height is specific to every individual. For this reason I like investing in an adjustable height desk.  
These desks are a fantastic investment for anyone spending large amounts of time sitting behind a desk.
They offer the flexibility to customize desk height position for each individual in a sitting or standing position – with programmable height settings that can be automatically adjusted with a press of a button! Fantastic!
Preview
Title
Fully Jarvis Standing Desk 72" x 30" Natural Bamboo Top - Electric Adjustable Desk Height from 30"...
Preview
Title
Fully Jarvis Standing Desk 72" x 30" Natural Bamboo Top - Electric Adjustable Desk Height from 30"...