Ninjatrader is a brilliant trading platform – offering an easy to use trading platform blended with a full-service broker. Despite requiring a funded account to unlock some features, Ninjatrader gives free access to plenty of it's capabilities. Including access to a huge range of free Ninjatrader indicators. 
In this guide, I will explain set by step how to access the Ninjatrader library of indicators from the user App Share library. I will also discuss the indicator download process and how to import indicators into the NinjaTrader platform. 
Table of Contents
What is Ninjatrader?
Ninjatrader is a trading platform and as a full-service brokerage offering Futures and Forex as well as CFDs and equities through partner brokers. 
Ninjatrader is an advanced platform which features an easy to use interface as well as a C# framework for developers wanting to create custom indicators. 
Ninjatrader users have access to real time charts, technical indicators, live quotes, trading, and order execution; although some functionalities and features may require a funded account. A great feature that is accessible to all user of the platform is the library of free Ninjatrader indicators. 
If you would like to learn more about the Ninjatrader 8 platform, see my previous post that goes in depth on its features and step-by-step how to use the platform. 
How to get free Ninjatrader indicators
Built-in Indicators
NinjaTrader comes with a comprehensive library of built in technical indicators that can be easily added to charts.  You can choose from over a hundred technical indicators which includes the popular ones such as MACD, RSI, Stochastics, among others.  
Custom Indicators
If you can't find the indicator you are looking for from the inbuilt indicator library. The Ninjatrader community has built a huge library of custom-made indicators produced by third-party developers and NinjaTrader users. 
The list is extensive and continues to grow as more and more traders share custom built indicators.
Ninjatrader User App Share and Third Party 
The NinjaTrader ecosystem offers two libraries of indicators. Users can either purchase an indicator from third party developers or select a free indicator in the User App Share (NinjaTrader trading community). 
In this post I will be explaining how to access the free indicator library or Ninjatrader User App Share. 
Ninjatrader User App Share
The User App share is a trading community where traders can contribute and share strategies, indicators, among other things. 
To access this library, click here. The image below shows the typical layout of the User App Share page in the NinjaTrader website.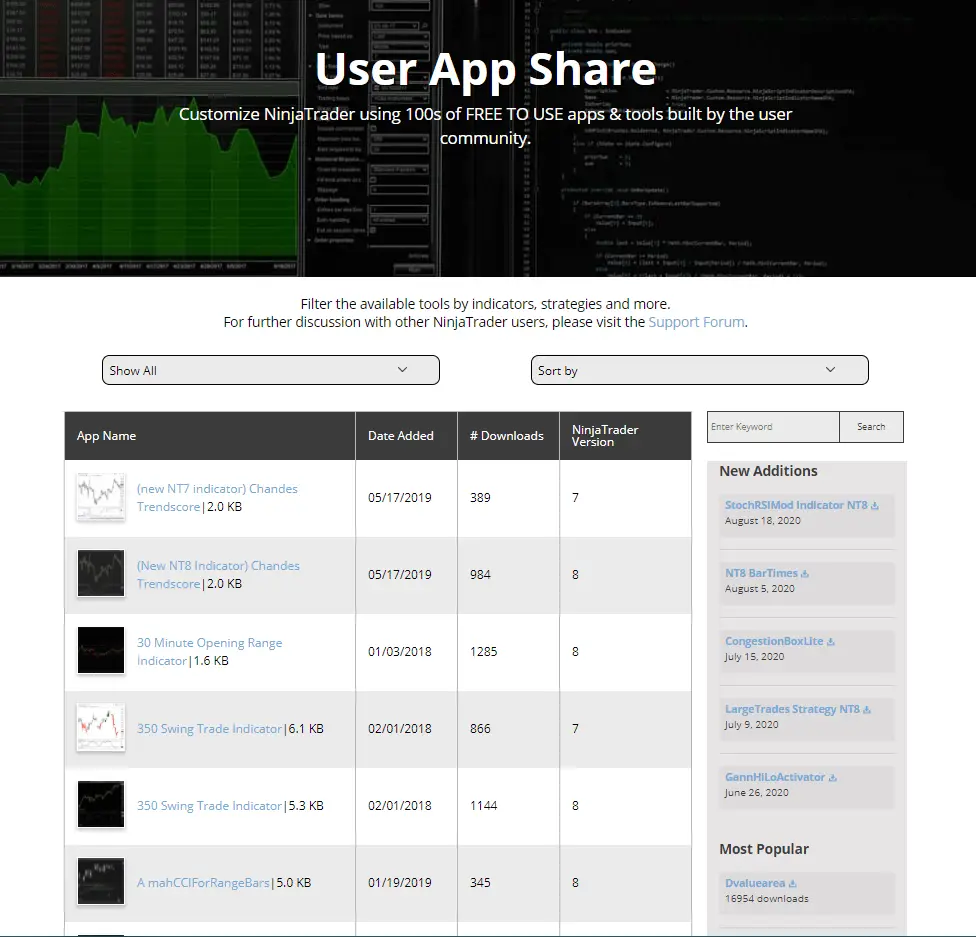 This webpage houses a huge list of indicators AND strategies – created and shared by NinjaTrader users.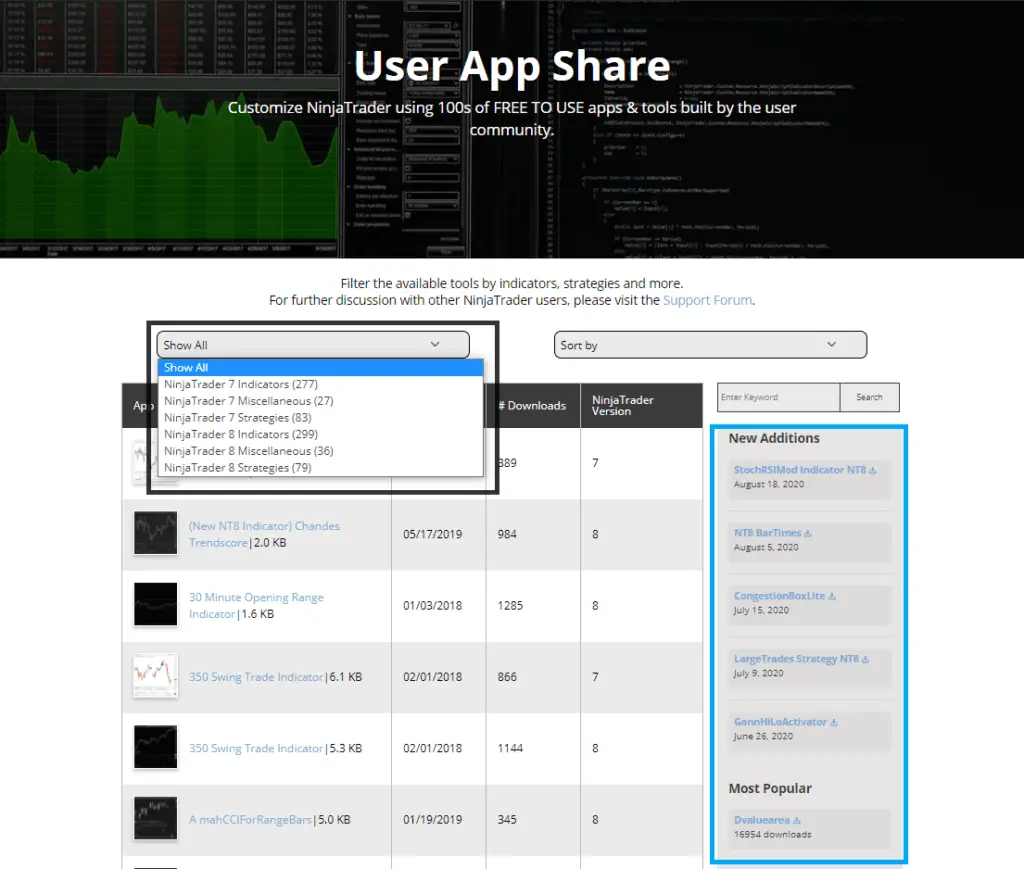 The filter tool gives users the option of choosing indicators for NinjaTrader 7 or NinjaTrader 8. Each platform has their corresponding list of Indicators, Strategies, and Miscellaneous filters.
The blue box, on the right hand side, shows the most popular and newly added tools for easy reference.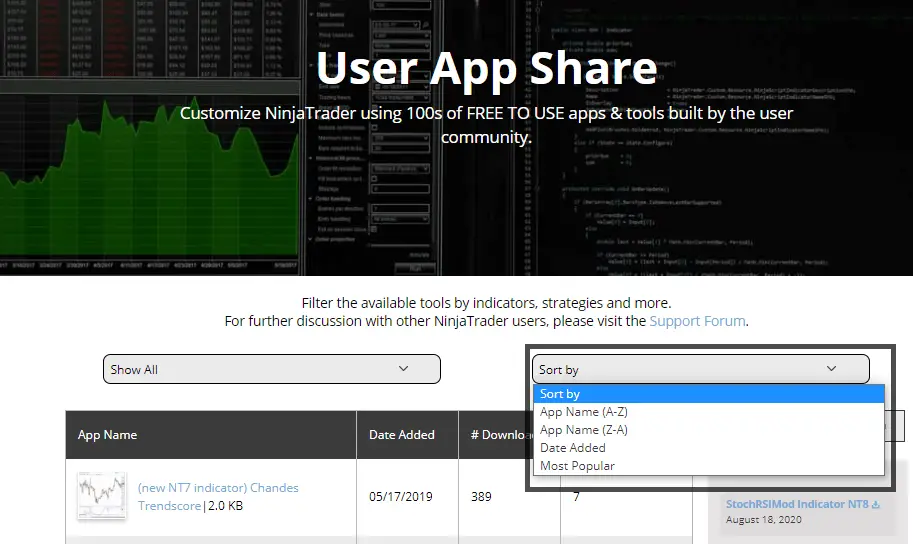 The black box in the image above is the sorting tool. Selecting a criteria will sort the filtered results in accordance to your preference.  
Sort options: Alphabetical, Date Added, Most Popular. 
How to download and import NinjaTrader Indicators
The following are step by instructions for downloading and importing indicators from the Ninjatrader User App Share. 
Before we begin the quick download procedure, it is important to note that your chosen indicator should be compatible with your installed NinjaTrader version (either 7 or 8). 
To ensure compatibility, you can use the filter tool to create a NT version criteria or simply double check the version compatibility by clicking the indicator. 
To begin the download and import process, follow these 3 simple steps: 
1. Download your preferred indicator 
To begin, click the indicator name highlight blue or click the blue download button beside the indicator name. See red circle below: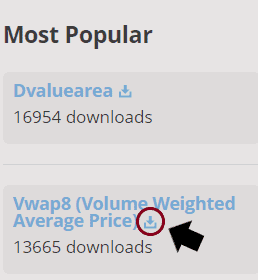 You will be directed to the chosen indicator's page where an information overview will be displayed. General details include indicator creator, NinjaTrader version, file size, creation date, and # of downloads
To proceed, click "Download" Refer to black box above 
A Terms and Conditions window will appear. Read these terms > click "I Accept" > then click Download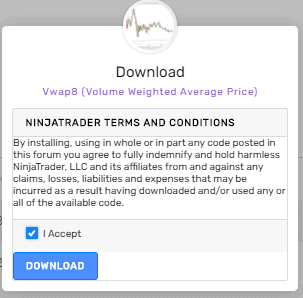 A zip file will automatically begin downloading
2. Open NinjaTrader 
This is where the import process begins. Open your NinjaTrader platform 
On the NinjaTrader Control Center window, click "Tools" (yellow arrow) on the toolbar above > select Import (green arrow) > click NinjaTrader Add-On (orange arrow)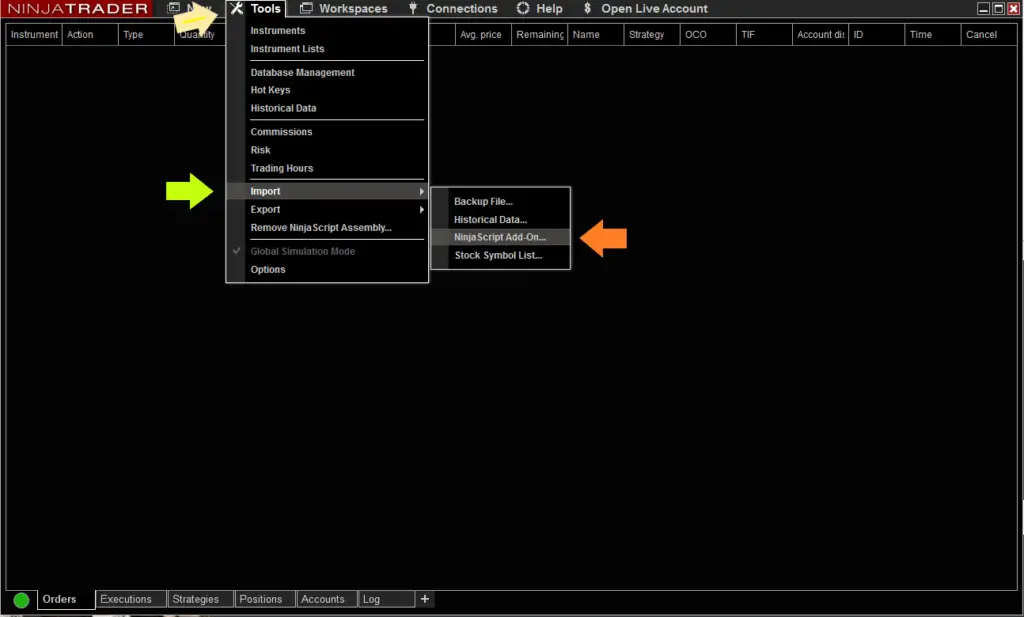 3. Locate and select your downloaded zip file
Your file manager will appear. Locate your zip file then click "open"
A warning prompt will appear ensuring that you are aware that an Add-on may potentially adversely impact the performance of your platform
If you agree, click "OK"
If successful, the following prompt should appear on your screen: 

To check that your choosen indicator has imported: Click "Indicators" on your NinjaTrader Chart window > then try to locate your downloaded Add-On.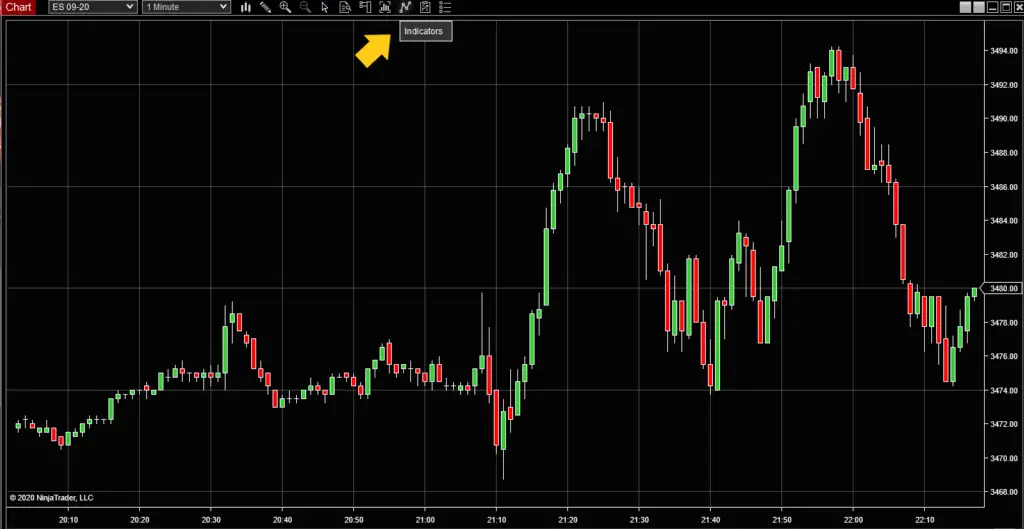 See the following example below, my indicator add-on is titled VWAP8, and it is found on the indicator window:
Best Free NinjaTrader Indicators
The NinjaTrader ecosystem houses hundreds of technical indicators. It continues to grow in number overtime as more traders join the community and contribute. 
In this section I'd like to share 3 of my favorite NinjaTrader indicators which I find to be really useful and effective.
Whilst I'm not a huge proponent of indicators in my own personal trading. These 3 indicators are fantastic for adding a useful level of detail to my charts.
All 3 indicators have NT7 and NT8 versions.
Time zone colors
Specifications
| | |
| --- | --- |
| Creator  | monpere |
| Version Compatibility  | NinjaTrader 7 |
| File Size  | 3.8 KB  |
| # of Downloads | 4691 |
Timezonecolors specifications
| | |
| --- | --- |
| Creator  | NinjaTrader_Jesse |
| Version Compatibility  | NinjaTrader 8 |
| File Size  | 3.8 KB  |
| # of Downloads | 2867 |
Timezonecolors specifications
Indicator Description
The Timezonecolors is a free indicator that colors specified areas of the chart to highlight different time zones assigned by the user. By default, time zones selected are Tokyo, London, and New York. 
In the 30-minute chart of a Futures contract above, Dark Slate Gray represents the Tokyo timezone; Maroon represents London time zone; Dark Magenta represents New York timezone.  
Notice that when two time zones overlap, the indicator automatically merges the 2 time zone colors. 
I love this indicator because it allows me to quickly see where the start on the current session and the end of the previous day session. This tells me where price opened at the start of the session. It also gives me a quick reference for whether price has gapped up or down overnight.
The indicator times and colors are easily customized.
News (Forex factory)
Specifications
| | |
| --- | --- |
| Creator  | Aa88qinc |
| Version Compatibility  | NinjaTrader7  |
| File Size  | 7.9 KB  |
| # of Downloads | 1,210 |
| | |
| --- | --- |
| Creator  | NinjaTrader_AlanP |
| Version Compatibility  | NinjaTrader8 |
| File Size  | 7.9 KB  |
| # of Downloads | 828  |
Indicator Description
The Jteconnews 2A pulls and displays economic news data from Forex Factory in real time. 
Why I love this indicator is it makes keeping tabs on upcoming news events simple! It also eliminates the need for a dedicated screen for displaying news events. News is efficiently and discretely displayed directly on my chart.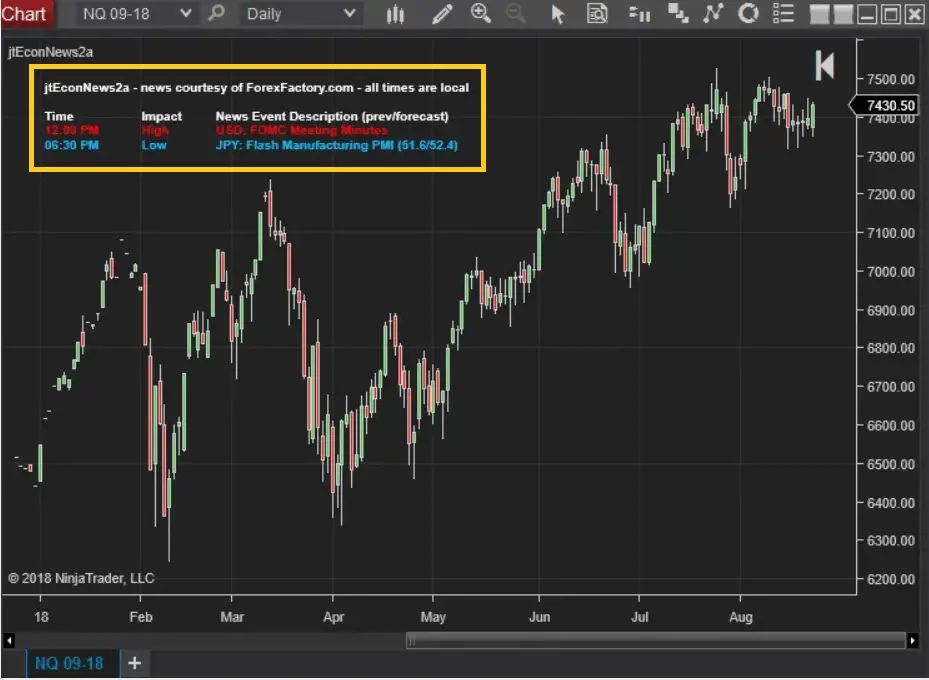 The indicator displays time, impact, and news description (yellow box) Previous/forecast data is also displayed within the 'News event description section.  
Tick counter
Specifications
| | |
| --- | --- |
| Creator  | MJT |
| Version Compatibility  | NinjaTrader 7 |
| File Size  | 3.6 KB |
| # of Downloads | 2,156 |
| | |
| --- | --- |
| Creator  | NinjaTrader_Paul |
| Version Compatibility  | NinjaTrader 8 |
| File Size  | 2.6 KB |
| # of Downloads | 915 |
Indicator Description 
If you trade with tick charts this is nice addition to your chart. Why I like this indicator is it provides a really simple gauge for the speed of the market. It also gives advanced notice for when a bar is about to close.
Tickounter 3 is the 3rd version of the Tickcounter series. The indicator displays the total number of remaining ticks left on the current bar. 
Tickcounter3 is only available for NT7. A similar indicator, Tickercounterenhanced, was developed for NT8.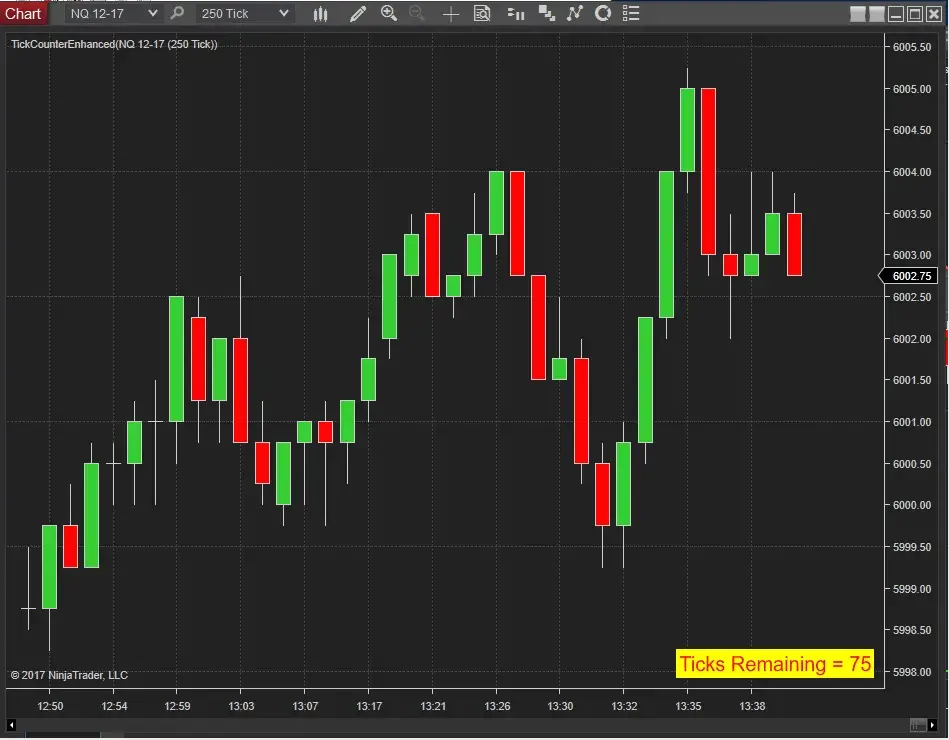 The yellow highlighted text at the bottom right corner shows the ticks remaining to complete the tick. 
The indicators appearance and placement of text can be easily customized.